You've successfully copied this link.
China's $1.7 trillion online retail market and how to profit
By Juwai, 23 October 2017

Online retail in China raked in $752 billion in sales last year, a 9.6% increase that from 2015.1
That's close to double total online sales in the US2, ten times sales of $74 billion in Germany3, and nearly 20 times the $38 billion seen in India.4
Online retail's explosive performance in China is even more astonishing given that China saw only $3.5 billion of online retail sales in 20065, meaning the online retail market has exploded by more than 200x in the last decade!
China: World's largest, fastest-growing, and most dominant retail market
This eye-catching performance has cemented China's online retail market as: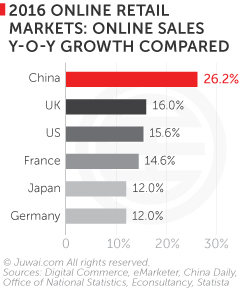 The world's largest: Boasting annual sales of $752 billion in 2016, China's online retail sales totally dwarfed the $395 billion charted in the US, as well as the $100.3 billion in Japan.6

The fastest-growing: Expanding at a 26.2% clip compared with 2015, China's rapid growth has outstripped all competitors in terms of pace and magnitude, with retailers booking an extra $157 billion in sales in 2016, more than double total sales in Germany.

Most dominant: Online retail accounts for 26.2% of all retail sales in China7, the largest penetration of any retail market in the world.
Online retail has been so successful that, according to a recent survey by the Consumer Technology Association, 60% of Chinese consumers buy at least one product online each week, while 48% buy all the products they want online.8

Platforms a priority to penetrate China's 1.3 billion consumer market
The rapid adoption of smartphones lies at the foundation of this trend.
China is home to 751 million internet users – equivalent to the entire population of Europe – and 96.3% of them (724 million) access the internet via their smartphones in H1 2017.9
That's an astonishing increase from the 695 million mobile internet users charted merely six months earlier at the end of 2016.10
Such exponential growth is also a massive leap from slightly over ten years ago in 2006, when the total number of Chinese mobile internet users was estimated at only 17 million, based on data from the China Internet Network Information Center (CNNIC).11
Online retail sites have tapped into Chinese consumers' buying habits by developing user-friendly apps, such as WeChat and Taobao, which not only offer rich product content but also enabled integrated payment functions like WeChat Pay and Alipay.
According to research by Boston Consulting Group, these functions have met with considerable success, channeling some 61% of online sales through mobile phones in 2016.12

Online retail has not only succeeded because retailers have adapted to China's huge smartphone user base, but also because the most successful sites have developed rich platforms capable of cost-efficiently penetrating far and wide across China's colossal land base.
Platforms like Taobao have created a new norm for Chinese consumers' online behaviour, which differentiates it from that in other countries. That's why, unlike in the US and UK, Chinese consumers rarely visit company or brand websites, because they are used to finding what they want from online marketplaces like Alibaba's Taobao, which has evolved to include many different sales lines.
Online retail success stories
This model of master platforms offering access to a whole range of differentiated products has been the foundation for other online retail success stories in China, including:

#1 JD.com
JD.com debuted in 1998 as an electronics retailer13 but grew to become the second largest B2C online retail platform in China. Offering a full range of goods from furniture and food to fashion, JD.com booked a huge RMB 372 billion ($55 billion) in sales in 2016.14
Today, JD.com has a full range of retail options on its platform, ranging from Walmart to Calvin Klein15, and capitalises on the increasing demand from Chinese consumers for outstanding customer experience by offering seamless, rapid delivery – often within 24 hours – from its network of warehouses across the country.

#2 Ctrip.com
China's leading online travel agency saw a 76% y-o-y increase in revenues to reap $2.8 billion in 201616, and forecasts further revenue growth of 40%-45% in 2017.
Ctrip.com offers a full range of travel booking services – ranging from air, sea, and train tickets to bespoke luxury tours17 – to China's increasingly discerning, diverse, and adventurous market of overseas travellers, which is booming stronger than ever.
By 2020, China's outbound tourist boom is set to expand to 200 million trips, and will likely account for 10.9% of global travel bookings.18
Ctrip's immense success and rapid growth even recently gained its CEO Jane Sun a spot as one of the top 50 businesswomen leaders in the world on Fortune's 'Most Powerful Women International' list.19
Focus on driving factors for success
Still, there's another all-important factor defining the success of China's new online retail behemoths – these companies profiled have not only leveraged highly attractive platforms, but focused clearly on key demand drivers shaping Chinese consumers' buying behaviour.
In the case of JD.com, the company has capitalised on Chinese buyers' demand for not only online goods, but also outstanding service and unique customer experiences. In the case of Ctrip.com, that company is focused on growing demand for overseas travel from Chinese.
That's where going online to sell property to Chinese can be a game changer for your business. Chinese buyers are on the lookout for properties across the globe, and are expected to invest over $80 billion in overseas real estate in 2018.20
The US is one example where Chinese buyers have been a significant force. Total investment in US residential real estate came to $31.7 billion in 2016, up 16.1 % y-o-y, taking the total invested between 2010 and 2016 to $120.7 billion, according to the National Association of Realtors (NAR).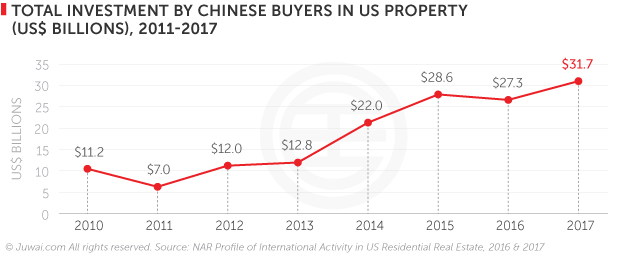 With these examples in mind, plus Chinese investors' increasing demand for overseas real estate, online channels offer an outstanding opportunity to tap into an increasingly vibrant and lucrative source of sales.
So get focused, prepared, and proactive to capitalise on Chinese buyer demand by building an effective online presence to stake a claim for this lucrative market, because China's online revolution is going to run and run, with Goldman Sachs projecting sales of $1.7 trillion in 202021 as Chinese increasingly favour online channels to manage all aspects of life.
New to the Chinese market? Learn more about the challenges Chinese real estate buyers face when venturing overseas, why education and f clean environments are huge motivators for them, and why Chinese buyers consider overseas property to offer much better value.
Sources: 1. China Daily: China retail sales grow 9.6% in 2016; 2. Internet Retailer: US e-commerce sales grow 15.6% in 2016; 3. eMarketer: Germany's retail ecommerce is growing; 4. Statista: Online retail sales in India from 2009 to 2016 (in billion U.S. dollars); 5. LinkedIn: Is Indian e-comm about to hit inflection point?; 6. Statista: E-commerce share of retail sales in Japan; 7. Digital Commerce360: Online shopping in China grows 26.2% in 2016; 8. SCMP: How WeChat, China's social media colossus, can get bigger still if smartphones are used more for work, survey shows; 9. China Internet Network Information Center (CNNIC), June 2017; 10. China Internet Network Information Center (CNNIC), January 2017; 11. Tech in Asia: China now has 731 million internet users, 95% access from their phones; 12. Boston Consulting Group: What China reveals about the future of shopping; 13. Wikipedia: JD.com; 14. Globe Newswire: JD.com announces fourth quarter and full year 2016 results; 15. Forbes: With new partnerships and fashion strategies, JD.com pushes hard against Alibaba's reign in China; 16. PR Newswire: Ctrip reports unaudited fourth quarter and full year 2016 financial results; 17. Forbes: Ctrip's strategic investments complementing its efforts to gain market share; 18. CLSA: Chinese outbound tourism remains on track to reach 200 million by 2020; 19. PR Newswire: Ctrip CEO Jane Sun made Fortune's List of Most Powerful Women International; 20. Asia Property Report: Chinese overseas property buys breach USD100b-mark for the first time; 21. Alizila: Online shopping in China to double by 2020: Goldman report;
Liked this article? Sign up for free to get Juwai Juwai Asia Market updates!