You've successfully copied this link.
3 biggest challenges Chinese face when buying property abroad
By Juwai, 25 May 2017

73% of Chinese buyers spent less than 6 months of property research before purchasing in 2016, according to our Juwai Chinese Consumer Survey 2017.1
Another 11% said they purchased within 6-11 months1, which means Chinese buyers were pretty fast movers last year.
This year, despite tightened foreign exchange rules in China and a series of policy changes and restrictions in certain international property markets, Chinese buyers are still actively searching for international property, albeit at a slightly calmer pace.
53% of Chinese buyers plan to spend more time researching property before purchasing, while 47% intend to spend the same or less amount of time.1
This presents an opportunity for you to leverage, by offering them invaluable advice and assistance in their hunt for overseas property. However, to do so, first you must understand what are the biggest complications faced by Chinese property investors when buying property abroad.
Top 3 challenges for Chinese investors when buying property abroad
We asked our Chinese buyer respondents which part of the buying process did they consider to be the most difficult, and this is what we found: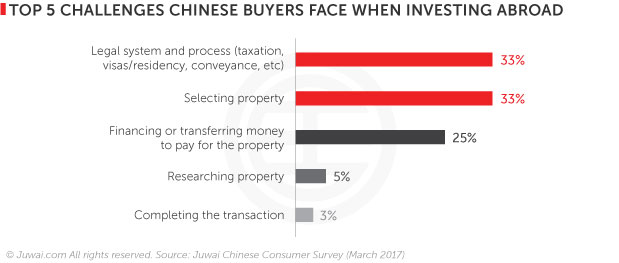 #1 Legal system and process
From taxation to conveyance, as well as visas and residency, most Chinese buyers find these to be some of their biggest difficulties when purchasing property abroad. This is understandable, seeing as the legal system and overall process – ranging from sales to visa applications – differ from country to country, and is vastly different from what mainland buyers are used to back in China.
This could present a whole range of issues for many Chinese property investors, who may find themselves entirely baffled by various fee payments, property tenure rules, required legal checks, and surveyor reports that they may have never even heard of before, much less comprehend them.
Faced with such complications, it's easy to see why some first-time Chinese buyers may feel intimidated and give up. Hence, having an international agent who not only understands these challenges but is also well-prepared can make a whole lot of difference for Chinese homebuyers when they invest overseas.

#2 Finding the right property
For many Chinese property investors, finding a property to meet their targets and satisfy their aspirations can be a challenge, simply because not all international agents or brokers understand that not all Chinese are the same. For example, although news about rich Chinese splurging on luxury mansions or penthouses have often made headlines worldwide, not every Chinese buyer you meet is after high-end properties.
Fact is, every Chinese buyer is different with varying motivations and requirements. Those motivated by education purposes may be seeking for an apartment close to schools or universities for their children planning to study abroad, while those seeking for investment purposes may prefer property within the CBD or wherever that offers better yields.
As for those intending to migrate abroad, it's highly likely that they would look for property with proximity to Chinese communities, and let's not forget other growing factors, such as retirement or quality medical and health planning. In other words, your Chinese clients cannot be tarred with the same brush, thus you cannot be showing the same generic list of property listings and expect to reap success with them this way.

#3 Financing the purchase
The Chinese government's newly-introduced capital controls has led to Chinese real estate buyers being on the lookout for ways to get around it, so figuring out how to finance or transfer money to pay for their overseas property has become a concern for some mainland buyers.
However, banks in certain countries, such as Australia and New Zealand, have recently imposed either bank loan restrictions or tougher lending measures for foreign buyers. That's why Chinese buyers are increasingly eager for information on conditions and providers in overseas markets, with particular attention paid towards mortgage financing options available to them as foreign property investors.
This means agents in such countries should find ways to offer other loan alternatives, while those in other countries without such loan restrictions should capitalise on this by playing up this advantageous angle.
How can you help Chinese buyers address such challenges?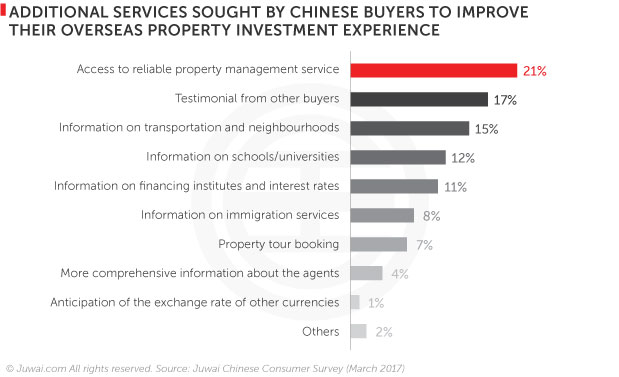 Knowledge is power, and never have such words rung truer. Chinese buyers are a sophisticated and incredibly well-informed group of investors who do plenty of research well beforehand, therefore we asked our Chinese survey respondents on what additional services they believed would be of help to them when investing abroad.
Survey results revealed that 21% desired access to reliable property management services, followed by testimonials from other buyers (17%), indicating the importance of trust.1
Unsurprisingly, Chinese property investors are also looking for more in-depth information about neighbourhood amenities and transportation options (15%), nearby educational offerings (12%), financing institutes and interest rates (11%), as well as immigration services (8%).1
Interestingly, 7% of Chinese real estate buyers also seek information on property tour bookings too1, which goes to show how important it is to make sure you get it right by tailoring your property tour specifically for Chinese buyers.
6 tips to improve your Chinese buyers' overseas investment experience
Taking all these into account, here are 6 tips to help you better assist your Chinese clients overcome the above challenges:

#1 Clarifying criteria
Drill down to the little details when you ask your Chinese clients for their criteria, risk appetite, and budget so you can have a clear idea of what they are looking to invest in. This way, you can present an ideal range of property selection for them to pick from, thus increasing their possibility of finding the home of their dreams, and your chances of rapidly completing a deal.

#2 Maximising listing details
Be sure to provide as much detailed information as possible about your property listings, including extensive and high-quality photos, number of rooms, nearby amenities and schools, travel connections, and property yields, to name a few. Chinese property investors tend to prefer having as much information as possible, especially as many would be doing plenty of research online back home in China before deciding which country and city to invest in. After all, if your property listing isn't comprehensive enough to attract them to contact you, what are your chances of even getting them to fly over?

#3 Introducing expertise
Maintain a wide network of lawyers, surveyors, and mortgage consultants, so that help for your Chinese clients are never too far away should they seek clarification on getting a deal done. Even better, consider introducing them when you're bringing them around on a property tour. This way, your Chinese buyers would feel more assured, knowing that you are prepared to assist them every step of the way.

#4 Explaining with examples
Use various case studies that will depict all stages of the sales process and required fees. Having real examples for them to refer to will not only make it clear for your Chinese client just what it takes to get a sale over the line, but will also help build up their trust and instill more confidence in you as their agent at the same time.

#5 Listing mortgage providers
Break down a list of local mortgage providers, plus their loan conditions, such as fees, minimum down payments, and payment horizons. If possible, prepare a Chinese translator to be present, and have everything translated into Chinese by a professional. All these will help simplify matters for your Chinese client, who may already be feeling overwhelmed by all the unfamiliar procedures and materials, much less in a foreign language.

#6 Outlining visa policies
Keep up to date with visa policies, and build a list of immigration consultants for your market so your Chinese buyers will know just what's available to them, and where they can get help to process their applications. Alternatively, it may be of use to send updates on visa policies via WeChat to your Chinese clients even after they have returned home to keep them in the know. Who knows? Your constant updates may have them coming back to you.
Liked these tips? Learn 10 tips to better success with Chinese buyers or 11 sales-boosting tips to market better to Chinese!
Sources: 1. Juwai Chinese Consumer Survey (March 2017);
Liked this article? Sign up for free to get Juwai Juwai Asia Market updates!