You've successfully copied this link.
5 things you should know about Chinese property buyers amid a pandemic
By Juwai, 27 November 2020

For those targeting Chinese cross-border property buyers, an understanding of their profile and motivations will help you reach and engage with them easier.
International real estate investment by Chinese consumers is evolving rapidly as they gain in wealth, motivation and sophistication. To the Chinese, homeownership symbolises success and buying a home is often seen as one of the most important and prudent financial investments one can make. According to research, Chinese citizens devote as much as 74 per cent of their savings toward housing.1
#1 Profile and motivations
To give you an understanding of the makeup of the Chinese cross-border property buyer, here are some data based on enquiries Juwai received on its websites Juwai.com and Juwai.asia, which have 5.5 million users each month, for the first half of 2020:
Potential buyers are mostly quite young. Those aged between 25 and 34 years old account for 52.4 per cent of total enquiries, followed by those aged between 18 and 24 years old at 20.9 per cent.
Most (70 per cent) cite own use as a prime motivation while 60.9 per cent say it's for investment purposes.
Those looking for properties in the USD50K-25K price range account for 38.5 per cent of total enquiries while 27.8 per cent are seeking homes priced between USD250K and USD500K.
More men (63 per cent) made enquiries than women (37 per cent).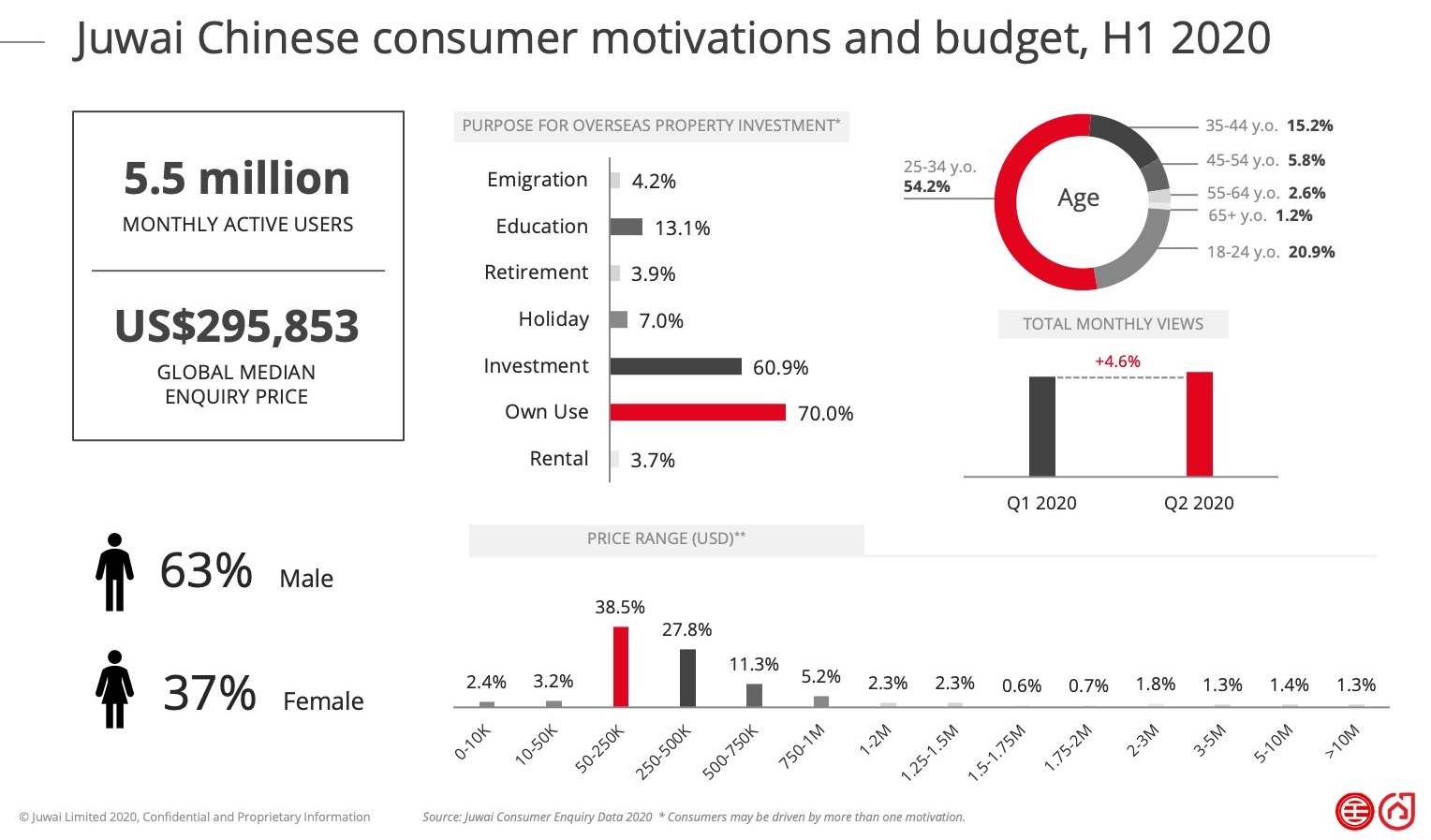 #2 Going online for everything
China is home to the largest online community in the world. According to research carried out by South China Morning Post, out of a population of 1.4 billion, 63 per cent or 904 million Chinese use the internet. Smartphones play an important role in China's rising internet population with 62 per cent or 897 million Chinese accessing the internet through their mobile phones. To pay for goods and services, 53 per cent or 765 million users use mobile payment methods. Chinese mobile users spent over 70 per cent of their daily time online.2
This large and engaged mobile internet population has provided a wide range of opportunities to hi-tech companies in China, including those in the real estate sector. A popular trend now is livestreaming which has allowed real estate marketers to reach and continue engaging with huge numbers of Chinese consumers who are spending a significant amount of time online because they can't yet travel to sign contracts, do in-person inspections or take possession of homes.
For many real estate marketers, livestreaming has become a natural extension of e-commerce. For instance, Juwai IQI together with Baidu (China's version of Google), hosted a virtual summit in Shanghai in May on overseas home and garnered nearly 400,000 viewers. It's recent virtual #ADAPT technology and entrepreneurship conference in mid-November attracted over 280 speakers, all eager to reach out to stay-at-home Chinese consumers.
#3 Chinese find real estate a safe haven
Real estate continues to rank as the top investment pick for the majority of high-net-worth Chinese. Experts say these buyers are adding haven assets through real estate as the China economy slows and inflation rises because real estate continues to offer good risk-adjusted returns that are less correlated to other asset classes.3
As such, many rich Chinese have been busy doing their homework online, in their search for foreign real estate as a good hiding place from the economic fallout caused by the Coronavirus.
#4 Transactions should rise again in the coming months
Outbound Chinese property investment in 2020 by all counts will be constrained due to the pandemic which has restricted overseas travel by Chinese consumers as border closures in many countries have restricted incoming visitors.
However, most industry observers say transactions will start rising again in the coming months albeit at a more sluggish pace when virus restrictions eased. In the meantime, virtual tours and webinars have been able to seal deals, indicating how transactions are evolving from offline to online.
According to Real Capital Analytics (RCA), which tracks deals costing more than USD10 million, Chinese investors accounted for USD21.7 billion or five per cent of global real estate investment activity from January to September this year. In 2019, they contributed USD41.7 billion or four per cent of the total.4
#5 Which countries are Chinese buyers eyeing?
Despite the lack of international travel, some markets in Europe and Southeast Asia saw active transactions this year. Chinese buyers who have benefitted from the recent stock market boom are now eyeing destinations that offer long-term foreign residencies through passport-for-cash schemes or diversifying their investment portfolio into less volatile markets.
In Europe, Portugal has seen a flow of incoming capital from mainland Chinese property investors. Chinese investors have rushed into Lisbon and Porto to take advantage of the country's golden visa programme before the Portuguese government removes both cities from the scheme in 2021.
Juwai's data shows Portugal as the top destination in Europe for Chinese home buyers as enquiries surged 176 per cent in the first nine months this year. Chinese investors spent €37 million (USD43.9 million) on Lisbon's residential market in the second quarter alone, according to property agents in Portugal.5
Meanwhile, traditional markets such as the US, the UK and Australia have seen a drop in Chinese buyers' interest due to either surging Covid-19 cases or tense political and trade relations. Deals involving these three destinations have dwindled over the past two years and are likely to remain depressed in the near term, experts say.
In the case of Australia, international students locked out of the country this year due to border closures have severely impacted property markets in Sydney and Melbourne. Juwai's data shows Chinese buyer enquiries are down to just half the level of a year ago. However, experts believe the market will bounce back once borders are open.
In Southeast Asia, Singapore, in particular, has seen Chinese buyers account for almost a quarter of the total foreign property purchases in the first three quarters this year, according to data from Cushman and Wakefield, a property consultancy. Last quarter, their purchases of non-landed homes more than doubled to 271 from the previous quarter, statistics from the Urban Redevelopment Authority show. Experts say Chinese investors appreciate the merits of staying or investing in Singapore especially given the positive capital appreciation of many properties in the city republic.6
Sources: 1. South China Morning Post: China property: how the world's biggest housing market emerged, 2: South China Morning Post: China Internet Report; Statista: Number of internet users in China from 2015 to 2019 with a forecast until 2025, 3: Bloomberg: Rich Chinese snapping up luxury homes from Singapore to Sydney, 4,5 &6: Yahoo News: Chinese property buyers sharpen focus on Portugal and Singapore, shun four spots troubled by geopolitical risks
喜欢这篇文章?免费注册,获取居外亚洲市场的最新资讯!