You've successfully copied this link.
Singles' Day: All you need to know about this retail phenomenon
By Juwai, 10 November 2016

$20 billion – that's how much Alibaba's Singles' Day is expected to rake in tomorrow in terms of sales.1
Singles' Day – the world's largest retail event which generated a whopping $14.3 billion in sales last year in a single day – kicks off in China on 11 November. Popularly known as Double One in China, early signs suggest that Singles' Day is well on its way to becoming a global phenomenon.2
How did Singles' Day come about? It first began back as a student festival at Nanjing University to celebrate singlehood back in 1993.3 Today, it has evolved into a day on which China's single people shop for gifts as a treat for themselves.
The date, the 11th day of the 11th month, is seen as significant for the four 1s, and originally saw single people spending the day by partying with single friends.
Since its humble beginnings, Singles' Day has evolved into becoming not only a national retail phenomenon, but also into the world's largest online retail event far surpassing Black Friday and Cyber Monday, which merely netted $1.7 billion and $3.1 billion, respectively, in 20154, compared to the $14.3 billion gleaned by Singles' Day.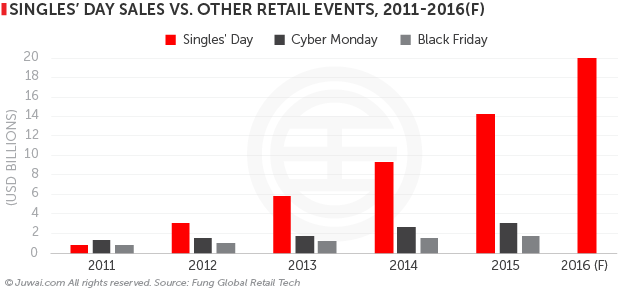 More importantly, today Singles' Day has become a retail event that international brands are falling over themselves to get involved with.1
3 big things expected for Singles' Day 2016
This 2016, China's major online retailers such as Alibaba and JD.com are pulling out all the stops to make this year's Singles' Day event bigger than ever. Here are three things to expect this year:

#1 Major star power for global glitz and attention
David Beckham, Kobe Bryant, and One Republic have been slated to grace Alibaba's Singles' Day Countdown Gala on 10 November, lending it the star power necessary to grab attention from international consumers far and wide. What's more, the Countdown Gala will be produced by none other than David Hill, the producer of X-Factor and Superbowl, who has vast experience in delivering events that capture worldwide attention.5

#2 Walmart will launch a Global Store on JD Worldwide
This Global Store on JD Worldwide – JD.com's cross-border platform – will offer exclusive deals on overseas products for Singles' Day, and provide a two-hour home delivery service from more than 20 Walmart stores nationwide.1 Analysts at Industrial Securities estimate that 2.68 million couriers will be employed on the day, and will deliver 1.05 billion packages – 35% more than last years' Singles' Day.6

#3 Alibaba will go hi-tech and unveil a new world of shopping
The company has also unveiled a virtual reality shopping experience, which allows consumers to connect their smartphones with a VR headset and make purchases as if they were in a physical store in New York City.5 Besides that, Alibaba also has a fashion show lined up, featuring items from international brands that can be directly ordered for purchase whilst viewing.1
Global brands and buyers becoming increasingly involved
What do KFC, Starbucks, Burberry, Maserati, Apple, Estee Lauder, Samsung, Nike, and Zara have in common? Singles' Day, that's what.
Having recognised this huge opportunity that allows them to directly connect with millions of Chinese consumers, as well as the huge potential from Chinese consumers' passion for overseas products, these big brand are all launching promotions and online events for Singles' Day 2016.
Over 5,000 international brands from 25 countries joined in the 2015 Singles' Day event on Alibaba's TMall Global page, which saw more than 30 million Chinese consumers buying imported products.2
Last year, products from the US and Japan received the most amount of orders, followed by other major markets including South Korea, Germany, and Australia. Interestingly, these countries are generally known for their product safety and quality, so this is telling of the growing discernment of Chinese, who now seek and demand for quality goods, if not the best, for themselves and their loved ones.
One thing that has become more apparent, though, is that Singles' Day is no longer just big in China. Singles' Day 2015 saw more international shoppers than ever, with AliExpress – Alibaba's international platform for overseas shoppers – handling 21.24 million orders sold by 62,800 retailers to overseas buyers.7
Singles' Day: a reminder of why China is such a lucrative opportunity
Retailers both domestic and overseas have acknowledged the Singles' Day event as a great opportunity to directly connect with millions of consumers, and to capitalise on their growing preference for overseas products, which is perceived to be of a more trusted quality.
Alibaba alone saw 467 million delivery orders during last year's Singles' Day, and that's because it aimed the event squarely at China's massive population of internet users, which numbered an impressive 688 million users at the end of 20158 – 620 million whom were mobile internet users.
Singles' Day is yet another perfect example showcasing the power of using an online channel to tap into the world's most lucrative and fast-growing consumer base.9
The Chinese market is expected to generate an astonishing RMB 7.5 trillion ($1.1 trillion) in sales by 2018, according to Jefferies Group.9
And while the size of the market is tempting for any China-focused real estate executive, what's more crucial to note is that Singles' Day not only shows the importance of using online platforms to access the China market via a direct and cost-effective way, but also shows the importance of holidays and festivals as being key times to capitalise on China's huge market potential.
Notable examples include Chinese New Year and National Day Holiday, known as Golden Week, which see most of China's working population (estimated at some 760 million people) take holidays and indulge their passions for travel and real estate investment.
That said, with the 2017 Chinese New Year Golden Week scheduled for 28 January, it's certainly time for agents and developers to get their profiles and marketing plans up and ready for Chinese – even more so as we've seen a 37% increase in Chinese buyer enquiries for overseas property on Juwai.com YTD as of end of September, which heralds a potential deal bonanza in the coming months that you'd be loathe to miss out on.
Sources: 1. Fung Global Retail Tech: Aiming high as Alibaba pairs shopping with entertainment & social media; 2. Fung Global Retail Tech: Alibaba kicks off Singles' Day global shopping festival; 3. Wikipedia: Singles' Day; 4. eMarketer: Alibaba Singles Day sales to climb 40% this year; 5. Forbes: From virtual reality to personalized experiences: Alibaba is bringing us the future of retail this Singles Day; 6. SCMP: Brace for Singles' Day as Chinese consumers click and swipe to shop; 7. Clickz.com: How China's Singles Day smashed global e-commerce sales records; 8. CNNIC: Statistical report on internet development in China; 9. China's online retail sales to double in three years, analysts say
喜欢这篇文章?免费注册,获取居外亚洲市场的最新资讯!