You've successfully copied this link.
5 must-knows to capitalise on China's booming online market
By Juwai, 12 July 2016
China's online market raked in $589.6 billion in total revenues in 2015.1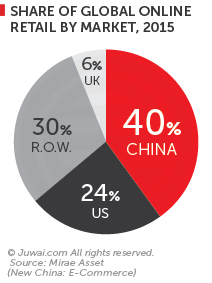 Thanks to an aggressive roll out of online sales platforms by savvy businesses, China's online market now accounts for 40% of global online sales.2
That makes China the world's largest – and most lucrative – online market.
Despite China imposing stricter Internet controls than most countries3, its online retail industry has still welcomed an additional 150,000 new shoppers per day to the mainland's online customer base, according to estimates from Bain & Company.4
How did China's online market become a goldmine for thousands of operators? We look at five underlying factors, and reflect on what takeaways international real estate professionals could learn when marketing to Chinese property buyers.
5 reasons explaining China's booming online market
#1 Far-reaching and dexterous
Online platforms that have access behind China's Firewall are far reaching, allowing for coverage that extends to China's 9.4 million sq.km land area. This allows firms to connect with China's fast-growing regional markets, which may have been under-serviced before due to the prior requirements of having a physical presence.5 That means consumers also enjoy new access to products, which they couldn't previously get their hands on, very easily.

#2 Quick and easy logistics
China's superbly efficient delivery services is key in facilitating consumer adoption of e-commerce in China. Same-day delivery is the norm in China now, which means delivery time for ordering a new pair of shoes vs. ordering your lunch is virtually the same, and this has greatly helped Chinese consumers quickly adopt a habit of online purchasing and internet research.

#3 Trust in foreign products
With fraud and scams prevalent in China, Chinese consumers have become more confident with online purchases of foreign products, and have embraced its endless range of choices from companies overseas. For small-scale purchases from foreign websites for personal use, China has even allowed for these purchases to be cleared more quickly in trade zones at customs checks.

#4 Wide range of competitive options
Marketplace platforms have been a hit, and McKinsey estimates they account for 90% of total sales online6 – especially market leaders Taobao and TMall sites, whose popularity lies in the fact that buyers can swiftly compare across markets and products. This model is different to most other countries in the US, Europe, and Japan, where large, specialised retail chains have already established themselves in the e-commerce arena.

#5 Mobile internet usage is booming
China's mobile netizens grew from 50.4 million users in 2007 to 630 million users by the end of 2015. By putting the world of retail into consumers' hands, China's online retail sales surged from 56 billion yuan ($8.51 billion) to 3.877 trillion yuan ($589.6 billion) during the same period.1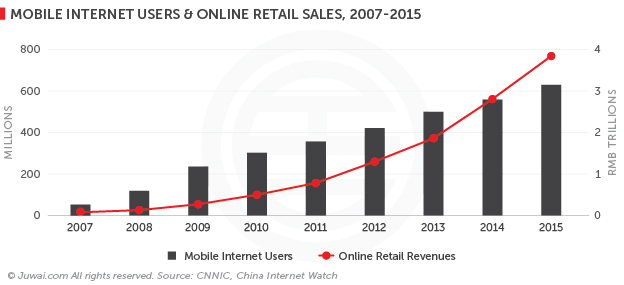 5 ways to leverage China's booming online market
Online is clearly where the money's at, and it will continue to be the battleground for Chinese consumers' hearts, minds, and wallets in the years ahead.
With these five drivers in mind, it's time to turn them into your advantage. Here are five strategies to play on China's lucrative retail market.
Meet buyers' expectations: Buyers in China are used to being saturated with content-rich websites laden with a wealth of information to pique and keep their interest. Now, faced with the pressure of growing competition, quality content makes all the difference, so be sure to go the extra mile with your listings and offerings, such as providing extensive photo galleries, video tours, local area descriptions, as well as market trend information and updates.

Match the market: Online platforms are not only the most direct and efficient way of entering the China market, they are also a goldmine of customer information. Search data analysis can tell you what customers are looking for, which price points, and even where they are coming from. Using this data (such as through the Juwai IQ data service), you can precisely adjust your pitches and directly target your key markets.

Segmented sales pitches: China is a huge and varied market, so it's natural that Chinese buyers and investors have many different motivations. From educational and retirement to business and tourism-related purposes, to name a few, this differentiation provides you with a range of property niches to sell to that, in time, you can plan to dominate.

Embrace social media: A social media presence is especially essential in China because it not only drives customer interest and sales by efficiently marketing new products, but also acts as a communication platform between buyers and sellers, as well as a platform for transactions. That's why companies like Burberry7 have shifted their focus away from physical store development in China in favour of developing a state-of-the art presence on WeChat and Weibo, two of China's most popular social media platforms.

Partner for profit: Engaging a growing online consumer base – one that numbered 413.3 million individuals at the end of 20158 – is a huge task, but not one that's impossible if you partner with a solidly established local ally. With the right partner, you can limit the time and money spent on building local infrastructure and maintaining a local presence – two benefits that will allow you to spend more time focusing on what you do best: sell property!

That said, we hope that you've been enlightened with what we've shared above. So if you have previously underestimated the power of e-commerce, we suggest you do a turnabout, stat.
After all, considering that Chinese spending on cross-border e-commerce is expected to grow 50.1% y-o-y to a record $85.8 billion in 20169, now is the time to up your game and ride the wave of China's booming online market before you miss out on a Chinese windfall.
Sources: 1. Internet Retailer: China's online retail sales grow a third to $589 billion in 2015; 2. Mirae Asset: New China: E-commerce; 3. Freedom House "Freedom on the Net: China"; 4. Bain & Company "China's E-Commerce: The New Branding Game"; 5. World Bank: Global Land Area Indicators (sq.km); 6. McKinsey: China's e-tail revolution; 7. Jing Daily: Burberry gets festive for Chinese New Year; 8. Statista: Number of online shoppers in China; 9. Alizila: China's cross-border e-commerce booming to $85.76B in 2016;
Liked this article? Sign up for free to get Juwai Juwai Asia Market updates!