You've successfully copied this link.
6 reasons Vietnam is set for a Chinese buyer boom
By Juwai, 17 July 2017

Chinese enquiries for Vietnam properties grew 442% y-o-y on Juwai.com between January and May 2017.1
We shed light on 6 factors fuelling Chinese investor interest in this rising Southeast Asian hotspot.

#1 Vietnam's Law on Residential Housing (LRH) change
Vietnam real estate is hot property after the Vietnamese government passed game-changing new rules in 2015 to relax its foreign ownership rules, which opened up the Vietnam real estate market to international investors.
According to the amended Law on Residential Housing (LRH)2, any foreigner who possesses a Vietnam visa and is allowed entry into Vietnam will be permitted to purchase Vietnam residential property – including apartments, villas and townhouses – with a 50-year tenure.2
More impressively, the amended LRH also offers a chance for international buyers married to Vietnamese citizens to obtain freehold tenure of Vietnam properties3, while other foreign real estate investors are presented with a possible renewal of their house ownership certificate upon expiration after 50 years.2
This is a major step-up from before, when foreigners could only consider buying Vietnam property only after working there for a minimum of one year, and only if they met certain criteria. Even then, international investors were only allowed to buy one condominium.2
As such, this real estate rule change opens up a wealth of opportunities in Vietnam to Chinese investors, especially seeing as the Chinese government has introduced its strictest purchase controls on the domestic market yet.
Cooling measures including higher downpayments, increased interest rates, and curbs on multi-home ownership have dampened the Chinese real estate market, with sales in Beijing alone dropping 38% y-o-y in May 2017.4

#2 New transport links brings Vietnam even closer to China
Vietnam and China already share a common border that not only spans 1,350km, but also sees seven Vietnamese provinces border China, making Vietnam one of the nearest Southeast Asian countries to China, alongside Laos and Myanmar.
Although Vietnam already has numerous rail and road links with neighbouring China, it's getting even more convenient for Chinese to visit now, thanks to a raft of new flight links connecting Chinese cities to Vietnam's vast array of hotspots.
VietJet Air launched a direct flight connecting Zhengzhou with Da Nang in January 20175, while April 2017 saw China budget airline carrier Spring Airlines bringing in four new flights between Shanghai and Ho Chi Minh City.6
Most recently, Vietnam Airlines launched direct flights between Nha Trang and Changzhou on 28 June 2017, with two more upcoming routes between Nanning and Ho Chi Minh City, as well as Da Nang and Lanzhou, to begin in early July 2017.7
Even the cruise ship industry wants a slice of the China pie – a brand-new luxury cruise liner will soon connect Guangxi to Da Nang and Nha Trang come August 2017.8

#3 Visa-friendly policies brings an upsurge in Chinese visitors
Vietnam has been making all the right moves in boosting its tourism appeal, and now it's reaping the fruits of success – Vietnam has just been named by the United Nations World Tourism organisation as one of the fastest-growing travel destinations in the world.9
Vietnam ranked #7 on the list, and was the only Southeast Asian country to make it into the top 10.9
In fact, Vietnam is already a rising short-haul outbound travel spot for Chinese that saw Chinese visitor arrivals increase by 51.4% y-o-y to hit 2.7 million Chinese visitors in 2016.10
And yet, Vietnam is set to welcome even more Chinese travellers this year, thanks to its approval of online e-visas for short-term Chinese visitors, as well as its relaxed visa rulings to allow Chinese travelling by car and in groups a 3-day visa-free entry into the northern province of Quang Ninh.11
These two moves were both launched on 1 January 2017, and have been more than successful in drawing more visitor arrivals from China – Chinese arrivals in Vietnam were up 63.5% in Q1 2017.10
Buoyed by these relaxed visa policies, plus the new transport links mentioned above, Vietnam is expecting a further 48.1% y-o-y increase from last year's 2.7 million Chinese visitors to hit 4 million by the end of 2017.12


#4 Vietnam's economy to outpace region in 2017-2020
With an average economic growth of 5.9%, Vietnam's fast-growing economy has generally outperformed the Southeast Asia's 5.0% and Asia-Pacific region's 5.5% over the past five years.13
More importantly, this strong performance is expected to continue, with 6.3% growth forecast between 2017 and 2020.
Compared with 5.3% in Asia-Pacific, and 5.1% in Southeast Asia13, Vietnam's economic growth is strong and almost on par with China's rate of 6.7% in 201614 and projected rate of 6.5% for 2017.15
Faced with such stable economic conditions, Chinese foreign direct investment (FDI) into Vietnam has spiked, with Chinese investing $823.6 million into Vietnam to account for 10.86% of its total registered FDI in Q1 2017 alone.16
And while China is currently only the third-largest foreign direct investor in Vietnam behind South Korea ($3.74 billion) and Singapore ($910.8 million)16, this could possibly change in the future.

#5 Attractive property prices and investment returns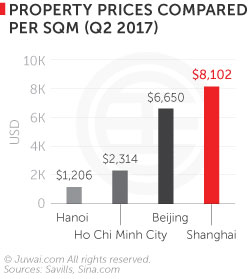 Aside from Vietnam's strong economic prospects, real estate assets are not only very attractively priced, but also offer robust returns when compared to China.
Properties in Hanoi, Vietnam's capital city, are approximately one-sixth of the price, on average, in Beijing. Housing prices in Ho Chi Minh City are approximately a third of prevailing prices in Shanghai.
Clearly, Vietnam properties offer value for money and an enticing prospect, especially since JLL is expecting prices to grow in 2017.17
Vietnam's strong rental returns is the further icing on the cake – return on rental properties in major Vietnamese cities are roughly 2.5% higher than those in Bangkok, Singapore, and Hong Kong.18 Need we say more?

#6 Vietnam's international education market set to flourish
With education being a key attractor for Chinese property investors, recent reforms in Vietnam's education industry may also work to pique Chinese buyers' interest.
The Vietnam government recently opened its education sector to foreign investors19, and that means a boom in international-standard schools and universities is coming.
Already, early childhood education chain Montessori has just launched its largest overseas campus in June 201720, and Vietnam Australia International School is planning to expand its operations as well.21
Top 3 Vietnam cities for Chinese real estate buyers
Where are Chinese buyers eyeing in Vietnam? According to Q1 2017 Juwai Data, it's Ho Chi Minh, Da Nang, and Nha Trang that are leading the way in terms of popularity with investors from China.

#1 Ho Chi Minh City
Formerly known as Saigon, Vietnam's business centre and the mainstay of the economy that accounts for around 20.2% of GDP22, Ho Chi Minh city is a highly attractive location for Chinese buyers.
Ho Chi Minh City was voted the second-most popular market in Asia for investment into residential apartments, according to Urban Land Institute's 'Emerging Trends in Real Estate Asia Pacific 2017' report.15
Centrally located areas like Phuong and An Khanh, which are close to the river and right in the heart of Ho Chi Minh City's hustle and bustle, are Chinese buyers most preferred locations. With property prices close to a quarter of Shanghai, it's easy to see why.
To top it off, Ho Chi Minh City's metro is slated for completion in 2020.23

#2 Da Nang
The third-largest city in Vietnam thanks to its busy port, Da Nang is home to Vietnam's most attractive beachfront properties, as well as some the most modern infrastructure in the country, such as the recently-completed Da Nang International Airport.24
Set within close proximity to several UNESCO heritage sites, such as Hoi An, Da Nang offers average CBD real estate prices of around $875 per sqm25, and its resort residences, world-class leisure and heritage attractions bring a unique and compelling appeal to Chinese investors, particularly those seeking lifestyle property or investment yields.
Da Nang's local government also offers investment-friendly policies that has earned it the title of the best business-friendly environment out of Vietnam's 63 provinces.26

#3 Nha Trang
The population of this popular coastal tourist location is expected to double by 2025, and one look at Nha Trang's beautiful bay area is enough to see why.
Nha Trang is Vietnam's most popular tourist hotspot, and it's seeing huge interest from Chinese visitors, with an estimated 510,000 Chinese visiting in 201610, and the prospect of having a holiday home is driving strong growth in Nha Trang-related searches.
5 tips to leverage the Chinese demand for Vietnam real estate
With this surge in popularity for Vietnam real estate amongst Chinese buyers, now is an ideal time to step up your game to attract clients from China if you have listings in Vietnam. We sign off with five principles to help you boost your Chinese marketing plan:
Stress the value proposition: China currently boasts some of the most expensive residential real estate in the world, with prices in locations like Beijing and Nanjing up 13.5% and 17.3% y-o-y27, respectively, at the end of May 2017. With prices in key Vietnamese cities a fraction of those in China, put Vietnam's compelling value case front and center of your marketing efforts.

Play to property ownership motivators: Vietnam's move to simplify its real estate laws and open up to foreign investors is one of the most significant policy changes to hit the market in recent years, and this has the potential to be a big hit with Chinese investors. Well-defined property rights – plus the opportunity to obtain freehold ownership – are relatively unheard of in China, and is one of the key reasons why Chinese are keen on overseas assets, which offer full, private, and secured ownership.

Present the process: Buying processes are different the world all over, and that's why Chinese buyers need clear information on prices, taxes, fees, sale registration, and property ownership rules to make sure they can make the most out of their investments. Therefore, it's vital for you to first understand Chinese buyers' concerns and challenges before you can meet their needs and ease the deal process.

Market to motivating factors: Aside from pricing, Chinese buyers are motivated to buy overseas properties because of tourism, education, retirement, healthcare, and long-term investment purposes. Be sure to factor these different motivating factors into your offerings to maximise your appeal to potential Chinese clients.

Build your online presence: Online channels aren't just one way of connecting with Chinese investors, they are the way of engaging China's mammoth online population of 731 million internet users.28 With total online retail sales growing 9.6% y-o-y to $4.84 trillion in 201629, China has become the world's largest online retail market30, making it a highly lucrative sales channel. So don't forget to leverage the online channel and boost your engagement with Chinese buyers.
Sources: 1. Juwai IQ (Q1 2017); 2. Luxury Property: Vietnam foreign property ownership guide; 3. Citypassguide: Foreign property ownership: what you need to know; 4. JSChina: 5月北京新房成交量下滑38% 未来楼市仍将低迷; 5. VN Express: VietJet to launch China charter flights to Da Nang; 6. Routes Online: Spring Airlines launches Ho Chi Minh service from late-Apr 2017; 7. Routes Online: Vietnam Airlines further expands Chinese routes in S17; 8. VN Express: New Chinese cruise liner to sail to top Vietnam destinations this summer; 9. VN Express: Vietnam named among world's fastest growing travel destinations; 10. SCMP: Big rise in the number of Chinese tourists to Vietnam; 11. VN Express: Vietnam to launch e-visas in tourism drive; 12. TR Weekly: Vietnam: Chinese visits to reach 4 million; 13. IMF Datamapper: Vietnam data; 14. Forbes: Why Vietnam's property market is like China's (in a good way); 15. SCMP: China's economy grows 6.9 per cent in second quarter, beating market expectations; 16. Xinhuanet: China ranks third among foreign direct investors in Vietnam in Q1; 17. Property Report: Vietnamese housing market to find its groove in 2017; 18. Tivi Tuan-san: Vietnam: Asia's property hotspot for foreign investors; 19. University World News: Government to ease rules on foreign investment in HE; 20. Modern Montessori launches Vietnam campus; 21. Vietnam Investment Review: TPG Asia sets to become the majority shareholder of VAS; 22. Wikipedia: Ho Chi Minh City profile; 23. SCMP: Vietnam quickly becoming Asia's latest property hotspot; 24. Flight Global: Da Nang opens new international terminal; 25. Numbeo: Property prices in Da Nang, Vietnam; 26. Property Report: Da Nang, Vietnam: Why foreign investors should pay attention; 27. NBS: Real estate price changes, May 2017; 28. Tech in Asia: China now has 731 million internet users, 95% access from their phones; 29. China Daily: China retail sales grow 9.6% in 2016; 30. Emarketer: China eclipses the US to become the world's largest retail market;
喜欢这篇文章?免费注册,获取居外亚洲市场的最新资讯!