You've successfully copied this link.
The thing with cognac in China
By Juwai, 22 February 2012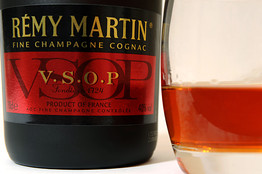 China and Kanye West have something in common: a love for cognac. The Chinese like the French brandy so much that the country is poised to become its largest consumer in four years, according to a recent report commissioned by wine trade group Vinexpo and conducted by International Wine & Spirits Research. Already, China is at second place, behind the U.S., and draining global supplies.
Jason Chow reports for The Wall Street Journal.
February 21, 2012
-- Among the Chinese, cognac is regarded as a status symbol and is often given as a gift between businessmen and poured at corporate events and family banquets alike. Last week, Pernod Ricard said that its Martell cognac brand was growing strong, thanks to Chinese demand. Martell sales grew 28% over the last six months of 2011, compared with the year-earlier period, making it one of the company's fastest-growing brands. Earlier this year, Remy Cointreau SA said its sales of Remy Martin cognac grew 37% over the nine months ending in December. Like Pernod, Remy said Chinese demand was the main factor for the leap in sales. The Chinese obsession with cognac has led its fans to chase down the most expensive and rare forms of the drink. In September, a Hong Kong woman spent more than $150,000 on a bottle of 1858 Cognac Croizet, a world record, at an auction held in Shanghai. Last year, the four major cognac houses – Hennessy, Remy Martin, Martell and Courvoisier, which make up 97% of total production exported from France – said they were looking to diversify by developing markets outside of China. Remy, for example, sends half of its production to Asia and three-quarters of that goes to China. Beverage conglomerates, however, are already expecting tastes to change and some are betting that Chinese consumers will move away from cognac toward other premium spirits, namely high-end whiskies. Gilbert Ghostine, president of Asia-Pacific operations at Diageo, said last week that the beverage maker is pushing its luxury Scotch brands like Windsor and the Singleton partly as a way to divert consumers away from cognac and brandy. But even if some Chinese imbibers take up whiskey in place of cognac, demand is expected to remain very strong. Vinexpo predicts China will drink 3.3 million cases of cognac by 2015. Current annual production of the liquor is at 12 million cases and unlikely to grow substantially in the coming years, which means hip-hop stars like Kanye may have to pay more for their favorite drink in the near future.
Loved this article? Sign up for free to get Juwai China Market updates!