You've successfully copied this link.
More wealthy Chinese said to prepare exits
By Juwai, 12 May 2012
Some immigration lawyers have seen a new increase in the number of Chinese seeking foreign citizenship, a trend they suggest is tied to worries about political turmoil and economic slowdown in China, especially among businesspeople and politicians seeking to protect their families and wealth.
Jason Chow and Angus Loten report for The Wall Street Journal.
May 11, 2012
-- "There's definitely a surge in China for what I call 'let-me-out-now' product," said Jean-Francois Harvey, an immigration lawyer based in Hong Kong who deals with clients throughout Asia. The recent interest builds on a trend of growth in applications from Chinese seeking to emigrate to places like the U.S., Canada and the U.K. in recent years, including to programs that promise citizenship in exchange for investments: In the U.S., 75% of investor-immigrant applicants were from China in fiscal 2011. The rush to apply to the U.S. investor immigration program, known as the EB5 visa, is also partly prompted by Washington politics: The plan has to be reauthorized by Congress in September for it to continue, but applications filed before that date will still be considered. Last time the program was up for review, in 2009, there was a big spike in applications.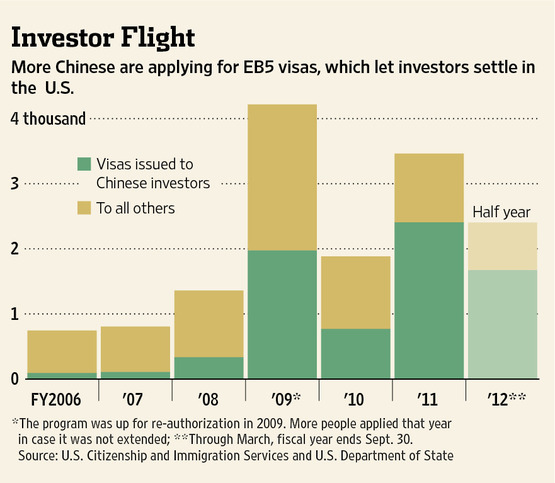 Under the program, applicants and their immediate families receive permanent U.S. residency if an investment of at least $1 million in the U.S. leads to 10 full-time jobs within two years. The requirement is only $500,000 if the U.S. jobs created are in a rural or high-unemployment area. There is little information on the identities and actual numbers of Chinese seeking to leave, but participants in the industry that has grown up around such requests say they have seen increased activity in the weeks since the Communist Party's ouster of senior party official Bo Xilai, which adds to a general feeling of uncertainty ahead of a once-a-decade leadership transition in the fall.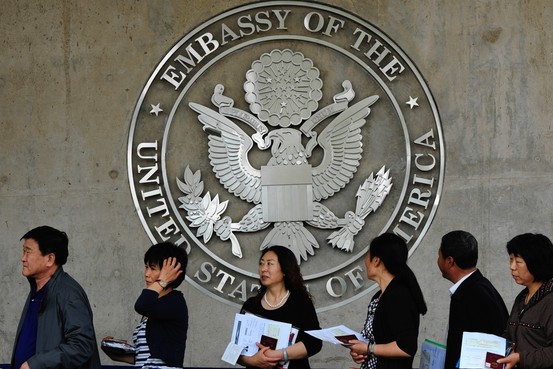 Chinese citizens wait to submit their visa applications at the U.S. Embassy in Beijing.
Mr. Harvey and other lawyers say clients rarely give a reason for wanting to leave, which makes it difficult to say whether the latest headlines are helping to drive the push, though they say anecdotal evidence suggests they are a factor. "The political situation heightens anxiety, and the wealthy people head for the visas," said Richard Kurland, an immigration lawyer based in Vancouver, who said he has seen a rise in inquiries in recent weeks. Mr. Harvey said that as recently as this week he received queries from Chinese consultants about programs under which Chinese clients could secure passports in a short time. Canada was a favorite destination, but its investor immigration program, which required applicants to essentially post an 800,000 Canadian dollar (US$811,280) five-year, interest-free loan for governments in the country's provinces, is no longer accepting new applicants, until at least July, to deal with a backlog that has caused process times of more than three years for Chinese. That has led wealthy Chinese to look to the U.S. and elsewhere. A State Department official said recently that the U.S. immigration agency has been receiving a wave of applications, leading to a backlog of cases in the Chinese city of Guangzhou. However, with wait times for permanent U.S. EB5 visas averaging around two years, the industry that helps Chinese get money out is widening the search for places to go. Hong Kong lawyer Mr. Harvey says the most skittish are asking for ways to get to lesser-known destinations such as the small Caribbean island nation of St. Kitts and Nevis, as well as to Bulgaria. Mr. Harvey said he filed 16 applications to St. Kitts from Chinese citizens in the past two weeks. In the past, he has typically filed only one to two a month. "We now have people looking for short-term products," he said. To obtain St. Kitts citizenship through its investment program requires either a minimum $250,000 donation to the Sugar Industry Diversification Foundation, the government's main development fund, or a real-estate purchase of at least $450,000, a St. Kitts government official said. Getting a passport can take six months to a year, the official said. St. Kitts doesn't require investor immigrants to live in the country and will send a passport in the mail upon acceptance. The St. Kitts official said to date, fewer than 20 Chinese have been accepted for citizenship and many "don't migrate here to live." So far, he added, "we haven't seen a tremendous increase" in applications from Chinese nationals. "Definitely, the St. Kitts benefit to the Chinese is immediate citizenship," said Armand Arton, a Dubai-based businessman who helps put up financing for 500 prospective investor immigrant families a year, about half of which come from China. Eugene Chow, an immigration lawyer based in Hong Kong, says St. Kitts is being pitched as an easy-to-obtain passport, though he says that applicants may be surprised by the vigorous checks. "It's not a passport of convenience. They are very stringent," he said. Mr. Harvey says St. Kitts officials are likely to notice an increased interest soon. "The surge has just happened in the last month, so it hasn't registered with them yet," he said. Bulgaria's investor program requires immigrant applicants to place 1 million Bulgarian levs (US$676,000) into a government bond portfolio for five years. That qualifies for a permanent residency immediately and for a passport in five years. Similar to St. Kitts, there is no residency requirement and applicants can be admitted in six months, according to immigration lawyers and consultants. The same industry participants say the flow of China's rich to the U.S. will likely also increase dramatically this year. Already, the U.S. took in 2,969 applications (each of which can cover several family members) from China for investor immigration in the fiscal year ending in September, compared with just 787 two years earlier, according to the U.S. immigration agency. After Canada imposed an annual cap of 700 new investor applications for the 12-month period starting July 1, 2011, the quota was filled within a week, with 697 of those applications coming from China.
Loved this article? Sign up for free to get Juwai China Market updates!