You've successfully copied this link.
Inside look: China's social media landscape
By Juwai, 02 March 2014

China boasts the world's largest social media market with more than 618 million internet users spending over 40% of their online time with social media. 1
For comparison, Americans spend 20% of their time online on social media.2 That said, here are some of the latest developments in China's social media scene:
#1 Weibo is going out of style
Although still a major social channel used by Chinese, Weibo's user base declined by 9% in 2013. That's a whopping 27.8 million users, 37.4% of which switched to WeChat in 2013.1
#2 WeChat is poised for explosive growth
WeChat – with its 600 million users worldwide3 – has been the hottest mobile and social channel for Chinese lately, driven by constant new service introductions. Just a month after releasing its taxi-finder app in alliance with Didi Dache, 21 million taxi rides were booked via WeChat.4
Last month, 400 million electronic "red envelopes" were sent through WeChat's new "Lucky Money" feature for Chinese New Year. That's over 8 million mobile users who spent a combined RMB 400 million!5 Even outside of China, though, WeChat's global user growth rate skyrocketed 379% from Q2 – Q4 of 2013 to reach 150 million users.6
#3 Mobile internet growth rate will speed up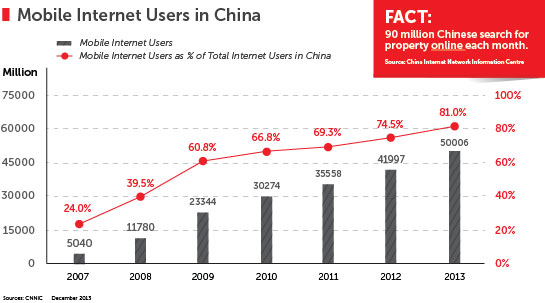 Low-end smartphone penetration is predicted to continue its rise in 2014, and mobile internet usage will continue to outpace the growth of traditional PC internet users. In other words, mobile internet apps are all the rage in China, and analysts predict a bullish trend on its future development.7
With such a vast and receptive audience of 300 million social media addicts8 – engaging consumers through Chinese social media could pay off handsomely.
Read 4 social media tips from Juwai.com Co-CEO, Andrew Taylor, appearing in Inman News here!
Sources: 1. China Internet Network Information Center (CNNIC) 2. McKinsey & Company 3. Jing Daily 4. Techinasia 5. CCTV 6. GlobalWebIndex (GWI) Social Report 7. The Wall Street Journal 8. Inman News
[Image source: Back Home by peng key on Flickr.com]
Loved this article? Sign up for free to get Juwai China Market updates!