You've successfully copied this link.
Latest Chinese investment trends
By Juwai, 19 June 2014

Voted by China's Social Science Academy as the safest country to invest in, Germany has skyrocketed with Chinese investors.1
Overall investment in Germany jumped from 4 deals in 2007 to 20 deals in 2013 (from $150 million to $1.5 billion total investment respectively).1
In fact, Chinese investment in German real estate alone surged from zero in 2011 to over $200 million in 2013.2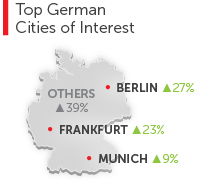 This boost in property demand is likely propelled by Chinese students increasingly looking at German study abroad opportunities, especially its excellent engineering courses.1
There are currently 30,000 Chinese students studying in Germany, and these numbers are poised to continue rising.
Juwai's Andrew Taylor recently spoke to The Wall Street Journal about Germany's popularity.
Juwai data shows that Germany jumped 3 spots ahead to claim fifth place on the list of most popular countries for Chinese buyers.1
Searches for German properties on Juwai.com increased 5 times in just the first 2 months of 2014.1
Elsewhere, property in South Africa is also attracting Chinese investors – who are shifting away more and more from mining investments to property investments.4
China's FDI in South Africa leapt from US$32.1 million in 2005 to US$4.8 billion in 2012,5 and Shanghai Zendai Property – a major Chinese investor in South Africa – is planning the biggest ever mixed-use property investment there.4
Wine is also another allure for South Africa.
Chinese have already overtaken the French and Italians as the world's largest consumers of red wine,6 and they're increasingly exploring South African vineyards for investment.
Following China's surging awareness of South Africa wines, Perfect (major Chinese investor) recently bought 25-hectare Val de Vie wine estate to boost South African wine export to China and East Asia.7


Sources: 1. WSJ; 2. SCMP; 3. Jones Lang LaSalle; 4. SCMP; 5. South African Reserve Bank; 6. WSJ; 7. SouthAfrica.info
Loved this article? Sign up for free to get Juwai China Market updates!