You've successfully copied this link.
Chinese infatuation with wine spurs global vineyard investments
By Juwai, 18 August 2014

Wealthy Chinese are quenching their thirst for wine by increasingly investing in vineyards around the world.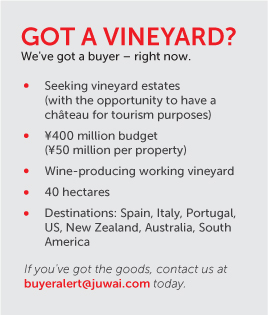 After all, why buy fine wines when you can produce them yourself?
Having surpassed the French and Italians as the world's largest consumers of red wine,1 more and more super-rich Chinese are exploring vineyards and wineries as overseas investment.2
France
French vineyards, in particular, became a popular investment trend among affluent Chinese wine aficionados.2
Late last year, we wrote about how Chinese-owned French vineyards in Bordeaux rose dramatically from two to 25 between 2009 and 2012.3
Now, there are more than 50 Bordeaux wineries that are Chinese owned.3
In terms of Chinese consumption, "French wine makes up about 48% of Chinese wine imports.4"
Interestingly, a popular Japanese manga (comic) even had a hand in driving interest and consumption in Bordeaux wine. "The Drops of God" or "Kami no Shizuku" (神の雫) – which now has a large Chinese following after being translated to Chinese – featured a Bordeaux's Château le Puy vintage red wine, and helped ignite Chinese consumer interest in the wine.4
United States
Once considered as second-grove regions, Napa Valley vineyards are now popular with Chinese investors in the US.
Early this year, Sloan Estate – one of the most coveted vineyards in the Napa Valley – was sold to a Chinese investor for US$50 million.5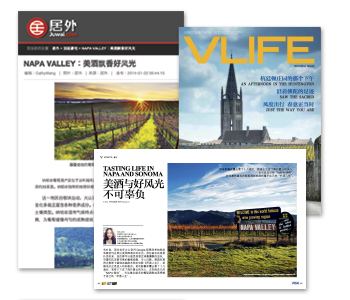 We recently published an editorial feature for our Chinese readers on the Napa Valley wine region, spotlighting famous wineries and celebrity investors such as Yao Ming.
Yao Family Wines turns two years old this year.
The article also highlights Napa Valley's charming rustic lifestyle and gastronomy havens, all of which make the region attractive for lifestyle property investments as well.
For this type of investor, VLife Magazine – the official magazine for Chinese VISA platinum cardholders – recently published a feature article featuring Juwai.com luxury homes around Sonoma and Napa Valley that would be perfect for Chinese buyers.
South America
Argentina and Chile have both seen a record increase in vineyard prices – Mendoza in Argentina and Colchagua Valley in Chile soared 25% and 15% respectively.6
One reason could be attributed to the Chilean head honchos, who recognise the potential of marketing to Chinese. A Chilean government online campaign called ProChile has been launched to actively promote Chilean wines in China.
Another more compelling factor is that quality land is comparatively cheaper in South America.
Vineyards of similar quality to a Napa Valley vineyard (which can cost $135,000 – $600,000 per hectare) can be found in Argentina for a steal at merely $30,000 per hectare.6
For savvy Chinese tycoons, such prices are impossibly tempting.
Combined with the fact that China's demand for South American wine is going strong – 2.4 million Chilean wines were exported to China between April 2012 and March 20137 – investing in South American vines could be a no-brainer golden opportunity for China's wealthy.
One early Chinese investor is Chinese state-owned wine conglomerate COFCO, who acquired Biscottes Winery, one of the top 10 wineries in Chile, back in 2010.8
However, astute Chinese buyers are also looking at investment opportunities beyond France and the Americas. From wineries in Spain to vineyards in Australia and New Zealand – the world is their investment playground.
Sources: 1. WSJ; 2. Center for China and Globalization & Social Sciences Academic Press "Annual Report on Chinese International Migration 2014"; 3. SCMP; 4. The New York Times; 5. SCMP; 6. Knight Frank "Global Vineyard Index 2013"; 7. Grape Collective; 8. Jing Daily;
Loved this article? Sign up for free to get Juwai China Market updates!