You've successfully copied this link.
China's widening luxury landscape
By Juwai, 26 June 2015

If this is supposed to be the 'Chinese Century', then China's luxury consumers have made a pretty fast start in dominating markets for high-end products.
Industry seers McKinsey estimate that China's consumers are now the biggest source of luxury sales in the global economy.1
Looking closer at the data, its not just Wangfujing's wealthy and Huaihai Road's high-rollers who are driving the market.
Instead, it's a larger group of internationally-minded and aspirational consumers from across China who are supporting not only a 155 billion RMB domestic market but a fast-growing and lucrative overseas market for luxury goods.
How did Chinese rise to the fore?
Bain & Company reckons that the option of better value overseas, combined with Xi Jinping's crackdown on ostentatious gifting, caused annual luxury sales growth on the mainland to slump 1% in 2014 – and that follows the meagre annual growth of 2% in 2013 and 7% in 2012.2
However, luxury retailers in overseas markets are fully reaping the benefit.
Bain estimates that spending by Chinese luxury lovers grew 21% y-o-y in 2014.
Indeed, this fits into a picture of Chinese consumers' passion for all things foreign. After all, overseas travellers from the Middle Kingdom spent a total of $164 billion in 20143 – 27.1% more than in 2013, according to the World Tourism Association (WTA).
And by the looks of it, this is one story that will continue to run since the WTA expects Chinese buyers to spend a whopping $264 billion overseas in 2019. To put that in perspective, that's about the size of Finland's 2014 GDP spent in just one year.
From handbags to villas
While media reports often focus on the popularity of luxury handbags4 and clothes5, Chinese buyers actually have much broader interests that feature many more purchases in the luxury category, with real estate prominent at the top of the list.
Hurun's survey of high net worth individuals (HNWIs) in its 2015 Luxury Report highlighted the importance placed on property:
Surveyed Chinese millionaires ranked property as their top investment choice compared to all other investment classes.6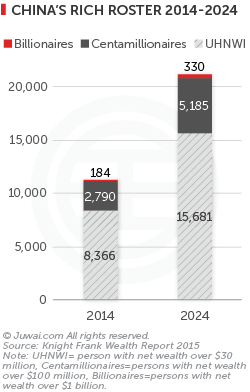 The importance of property reflects Chinese investor's expanding business interests, passion for investment products unavailable in China, and an overriding quest for an international lifestyle.
This desire to expand internationally has seen a net total of 75,200 HNWIs travel outside of China to set up businesses and relocate, making it the largest total of any country in the world.7
That said, Hurun Report estimates that 2.7 million HNWIs still remain in the mainland as of 20148, and wealthy Chinese based in China are increasingly seeking the dream lifestyle flaunted by some of the most highly-visible and successful entrepreneurs from China.
To this end, high-end property investments are becoming a status symbol for wealthy Chinese – many who want to follow in the footsteps of major property investors, such as SOHO's Zhang Xin9 and Hainan Airlines' Chen Guoqing10, who both have recently snapped up luxury apartments in New York.
But it's not just the Big Apple that is at the forefront of Chinese investors' minds, other hotspot locations are popular.
Juwai data on the top 5 locations searched by Chinese buyers shows United States in the top position, followed by Australia, Canada, the UK, and New Zealand.
And it's not just about showing off your Central Park pad, its also about lifestyle. The locations listed in the top 5 give investors access to top schools, urban and modern lifestyles in some of the world's top cities, proximity to established Chinese communities, and attractive climates.
What's more, luxury means different things to different buyers. Surveys of luxury consumers' interests show that waterfront properties, vineyards and wineries, among other features and property types, are scoring high in in popularity stakes.
More than just a passing trend
Though luxury sales growth is on the slowdown in China, here are three reasons why Chinese demand for overseas luxury – and particularly property – has a strong outlook for the coming years:
#1 China has a fast-growing pool of mobile UHNWIs
Knight Frank's Wealth Report estimates there would be a total of 21,196 UHNWIs in China by 2024 – almost double the 11,340 estimated for 2014. With visa rules being relaxed in a number of countries, these individuals will increasingly look to overseas markets to build up property portfolios.
#2 Luxury overseas properties are revered as an ultimate emblem of wealth:
Widespread coverage of internationally-minded Chinese entrepreneurs and their property investments is raising the cachet of having a luxury overseas pad. This is particularly important to wealthy Chinese, who value face and status as a powerful measure of success.
#3 Policy loosening will open the floodgates of investment capital:
China's government recently agreed to once again, scale back controls on overseas investment. Make no mistake, this is a landmark change that will juice international property markets and allow all investors to freely buy properties abroad.
Time to raise your game
Catching big money luxury property deals require big effort but here are four simple steps to raise your game:
Get online and expand your presence. It's the simplest, most cost effective way to reach Chinese buyers. China had 641 million active internet users by the end of 2014 –that's double the population of the United States!
Tailor your listings to suit their tastes. Make a more extensive proposition with your brand in Chinese – ensure your listings are properly translated, choose property photos that best represent the lifestyle, and convince the Chinese buyer of the property's luxury aspect by referencing features that matter like design, proximity to places of interest, famous neighbours, and other cultural reference points.
Spend money to make money. You are not the only one in the game and that means you have to make a difference with service. Successful Juwai clients go the extra mile to get extra exposure for their listings, thus driving more traffic and engagement to their listing and brand. Besides that, some have even laid on seamless, personalised, luxury tours and consultations to guide their customers toward their luxury property dreams.
Luxury means an assortment of A-List locations. Chinese HNWIs are attracted to the prestige and market stability of New York and London, but Paris and Los Angeles are sought after destinations too.12 Knight Frank's Wealth Report goes further and highlights other luxury options in Switzerland, the Caribbean and South Africa, places where Chinese buyers might find better value than in the traditional spots. On Juwai, we recently unveiled to CNBC the top exotic destinations favoured by ultra-rich Chinese buyers, as well as to the Wall Street Journal of the 10 countries where Chinese are most willing to splurge on properties.
So, consider yourself briefed. With new policies set to unleash even more potential buyers from China, it is now more important than ever to get in the game, and we hope these tips and ideas will help you on your way.
Sources: 1. McKinsey & Company, Luxury Without Borders: China's New Class of Shoppers Take on the World; 2. Bain & Company: Chinese luxury demand shrinks; 3. Bank of America Merrill Lynch Wealth Management; 4. Daily Mail: Chinese Shoppers; 5. Wharton: China Luxury; 6. Hurun: Luxury Chinese Consumer Survey 2015; 7. Knight Frank: Wealth Report; 8. China Internet Watch ; 9. Mingtiandi.com; 10. Forbes; 11. Mingtiandi.com; 12. Sotheby's Wealth X Report 2015
Loved this article? Sign up for free to get Juwai China Market updates!