You've successfully copied this link.
Chinese developers taking on the world
By Juwai, 09 September 2015

Undaunted by the RMB's recent devaluation, Chinese real estate developers are forging ahead with their foray into property investments abroad – driving $34.6 billion worth of property investment outflows from China into markets around the world.1
Even as mainland stock markets endure a bumpy ride, these Chinese developers are seeking to further capitalise on the ongoing global property market recovery by targeting China's vast and ever-expanding market of overseas property buyers and tourists, and are expected to continue to invest in the coming years.
Developers drive an increased flow of capital
Since 2010, investment outflows from China have grown from a mere trickle to a steady stream.
Total investment has steadily increased from $2.5 billion in 2010 to hit $11.7 billion in 2014 – a new record for outbound flows that is five times the 2010 figure.2
As investment has taken off, so has the footprint of developers' projects, which have expanded across the globe.
At the start of the surge in 2010, developers stuck close to home, favouring projects in Asia. Within the past five years, though, North America, Europe, and Africa have begun to feature more prominently in developers' sights, with those three continents accounting for 45% of total project investment made by the end of May 2015.
US leads as developers' favourite, followed by Australia and the UK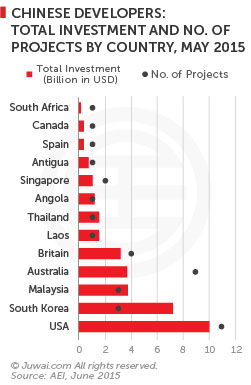 On a country level in terms of popularity with Chinese developers, the US is the clear favourite, receiving $10 billion of investment spread across 11 of 47 projects in 13 countries between January 2010 and May 2015.2
Australia and the UK follow in second and third positions with nine and four confirmed major projects, respectively.
These countries' prominence in developers' plans can be put down to a number of factors but, chiefly, they are the most popular destinations for residential property investors from mainland China, and this is not hyperbole – Juwai data shows that the US, Australia, and the UK accounted for three of Chinese buyer's top four most sought after locations in 2014.
So far, Australia has been the stellar performer for 2015 – accounting for three of seven announced investments and $1.62 billion (27%) of $5.9 billion in total outflows. This is in line with recent data showing a splurge of Chinese investment in commercial real estate.3
Australia ranks highly for China's property developers and its growing market of internationally-minded property investors. Even more so now that China and Australia have developed a Premium Investor Visa (PIV) – a 1-year accelerated channel for foreign investors to acquire permanent residency, which greatly appeals to Chinese looking to emigrate.
Australia also boasts excellent weather, quality education, and a well-established Chinese business community – all of which are key attractors to mainland property investors.
Which Chinese developers are leading the charge?
AEI's data tracking shows that 22 Chinese property development companies have been stretching their wings overseas. To put that in perspective, that's a small share of total developers in China and a sign that there is much more to come, since the total number of developers from mainland China is estimated to be more than 500.
Of those most active, Greenland stands out in terms of deals completed and amounts spent by far, racking up a total of eleven deals at a total cost of $13.3 billion in Asia, Europe, the US, and Australia.
What's more, it averages $1.2 billion in investment per deal, which is far from small change, and a strong indicator of both its ambition and conviction about the potential for overseas sales.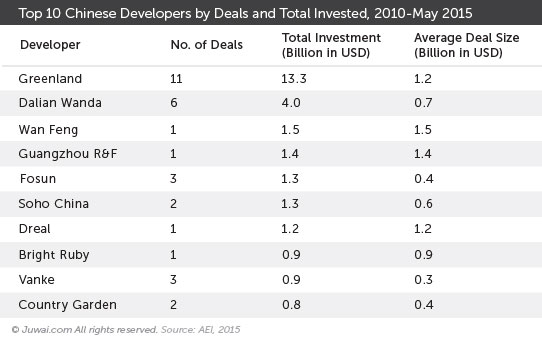 Click here to check out some of the iconic property deals sealed by Chinese developers last year.
3 factors propelling outbound activity
With many active players, there are many motivations, with three in particular being:
Allure of overseas markets: Spiralling land prices and increasing taxation have taken some of the lustre out of China's domestic real estate markets. In contrast, recovering markets of Europe, North America, and certain parts of Asia – as seen in Juwai's Q1 Global Property Report – are registering strong price growth and look comparatively attractive.

Business diversification: Having all of your eggs in one basket is never a wise business strategy, so stretching operations to guard against market risk makes a lot of sense, given the frequent policy changes in mainland China.

Tapping into the flow of Chinese buyers: Chinese buyers are increasingly looking overseas, and well-known developers from China know this, hence the trend to begin targeting them more fiercely. These buyers are also often on the lookout for security, and under the belief that a known brand will more likely provide the assurance they need.
Catering to Chinese buyers and their differing needs
To cater to this demand, developers are pushing ahead with high profile new development projects.
Greenland lavished $3.2 billion on a twin-tower project in Seoul, South Korea, which it plans to develop into residential and commercial facilities.4 Fosun, another high profile Chinese company with significant property interests, will develop a new luxury development project in Manhattan's famed Madison Avenue.5
In both of the above cases, the two companies will market the properties to wealthy buyers from mainland China where huge demand for luxury homes never goes stale.
But its not just about marketing to high net worth property investors from China.
Developers increasingly see the potential to market not only residential units, but also leisure facilities to China's increasingly prominent tourist base.
China's tourists are expected to spend $264 billion overseas by 2019, and developers want in on it.
Fosun is a prime example. Not only has it increasingly invested in tourism companies6, it's also acquiring and developing resorts and hotels – such as Club Med – in order to position itself for projected growth in demand from Chinese tourists.7
According to Dennis Ye, Executive Director of Strategy & Development of Fosun Holding Group, Fosun is aiming big in their expansion abroad via myriad investments, which begun about five years ago.
"We [Fosun] have an ambitious target to really build up overseas property business. That means in three to five years time, we want to manage or invest in more than US$15 billion worth of assets in other countries," shares Ye during his stint as a speaker at the Juwai China Agent Summit in Shanghai last October.
Dalian Wanda, China's largest private property developer, has a similar outlook and has been buying projects all over the world, such as resorts on Australia's Gold Coast8, with the intention of marketing them to the increasingly large throng of outbound tourists from China.
All this adds up to the increasingly significant and global presence of Chinese developers, who all have their eyes on the prize – China's high-potential consumer market and its burgeoning demand for overseas properties.
Underlying trends look solid for future growth
You can expect this story to continue running. For starters, 2015 has already got off to a strong start – total investments between January and May alone reached $5.9 billion, up 22% y-o-y compared with the same period last year.2
Also, as property demand recovers across the world, overseas assets are looking increasingly attractive to Chinese developer capital. More significantly, the Chinese government is pushing developers into global markets by relaxing policy controls and making it easier than ever to make outbound investments.
Finally, developers are getting ready for a major push: in H1 2015, Chinese developers tapped capital markets with total bond issuances exceeding RMB 200 billion ($31.6 billion)9, which will be used to store up capital, ease debt financing burdens, and fund overseas investments.
Sources: 1: American Enterprise Institute: China Global Investment Tracker; 2. American Enterprise Institute (AEI); 3. Australian Financial Review; 4. Reuters; 5. Mingtiandi.com; 6. WSJ; 7. Financial Times; 8. Business Spectator; 9. Winshang
Loved this article? Sign up for free to get Juwai China Market updates!