You've successfully copied this link.
4 reasons Singapore is set for a Chinese real estate boom
By Juwai, 13 December 2017

Chinese buyer interest in Singapore is on the rebound, with Chinese enquiries up 21.2% q-o-q on Juwai.com in Q3 2017.1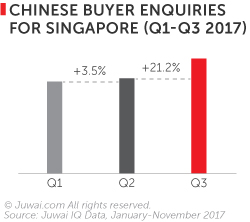 Strict cooling measures from the Singaporean government – including the 15% additional buyer stamp duty (ABSD) levied on foreign buyers – and a sluggish economy have seen Singapore's property market on a slump over the past few years.
However, foreign property investors are now making a comeback, with many investors believing that Singapore's property market has neared the bottom – a belief further buoyed by the fact that housing prices only fell 0.1% between Q1 and Q2 2017, compared to the 12% decline since 2013.2
A recent report by the Urban Land Institute (ULI) and PwC further supports this belief.3
Findings from the 12th edition of the 'Emerging Trends in Real Estate® Asia Pacific 2018' report, which offers an outlook on property investment trends, now rank Singapore in third place on its list of top five regional markets for investment and development next year, marking a huge leap from its near-bottom position in the year before.3
Singapore primed for a resurgence in popularity with Chinese
Singapore's highly attractive real estate market have long been an evergreen favourite with homebuyers from China, who have reigned as the largest group of foreign buyers in Singapore over the last five years, based on data from Singapore's Urban Redevelopment Authority (URA).4
We delve into 4 factors that are possibly reigniting Chinese buyer interest in Singapore below:

#1 Property prices set to grow up to 10%
Real estate prices in Singapore have remained stable as prices in Hong Kong have skyrocketed during the past two years, and current forecasts indicate that prices are on the brink of a rebound.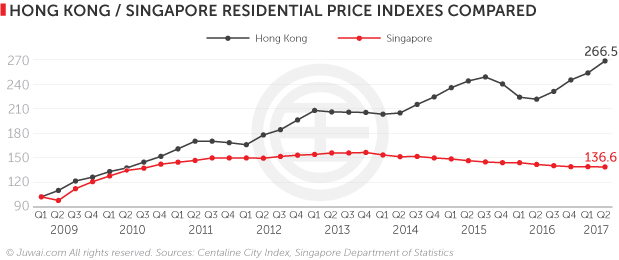 In tandem with this, real estate analysts from both Morgan Stanley and UOB Kay Hian, one of Asia's largest brokerage firms backed by the UOB Group, have also predicted that average residential real estate prices in Singapore will see 5-10% gain by the end of 2018.5
Already, Singapore's real estate market is seeing an upturn in transactions, with developers reporting a 50% y-o-y increase in YTD sales to 7,147 units at the end of July6, as well as a further y-o-y increase of 165% in August alone.7

#2 Chinese buyers increasingly unfazed by Singapore's 15% ABSD
As many other competing destinations begin to levy foreign buyer taxes, Singapore's 15% additional buyer stamp duty (ABSD) is becoming less of a barrier to Chinese property investors.
For example, Canada – one of the top 5 investment destinations for Chinese buyers on Juwai.com – has similarly imposed a 15% foreign buyer tax in British Columbia and Ontario.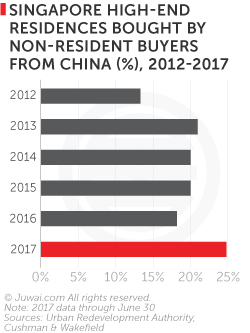 And while Singapore's 15% foreign buyer tax may seem like much when compared to the various stamp duties and surcharges in various states in Australia that ranges from 3% to 8%, it pales in comparison to Hong Kong's 30% stamp duties, as well as Taiwan's punitive divestment-gains tax of up to 45%.
In fact, China buyers have accounted for 30% of all properties bought by non-residents in Singapore since 2013, including so far this year, according to Cushman & Wakefield.6
A further look also revealed that mainland Chinese investment into Singapore's luxury residences in H1 2017 have already far surpassed the purchases recorded over the past five years.8
All these suggest that homebuyers from China may not be find the 15% ABSD to be that much of a snag when compared to the strong appeal of Singapore's real estate.

#3 Singapore to see stronger economic growth in 2018
Although Singapore was bogged down with an economic slump in recent years, its economy is now well on the road to recovery.
Results from the Survey of Professional Forecasters conducted by the Monetary Authority of Singapore (MAS) have most recently projected Singapore's full-year growth to hit 3.3%, up from an earlier outlook of 2.5% in September.9
This outlook is even more positive than an earlier forecast from IMF, which estimated a 2.2% pick-up in growth for 2017 – compared with 1.9% in 2016 – followed by stronger annual growth of 2.6% in 2018 and 2019.10
With this increasingly improving economic outlook, prospects for investment in Singapore real estate look strong indeed.

#4 One Belt, One Road (OBOR) a boost for Singapore
As China rolls out its ambitious One Belt, One Road (OBOR) strategy, Singapore will be right at the heart of the action, and will see itself as the execution hub for financing and project planning, thanks to its strategic position as a bustling business hub at the core of the fast-growing Southeast Asian region.
As one of the most open economies in the world, Singapore offers one of the most attractive and efficient business environments in the world, thanks to its robust legal system, ease of company registration, and infrastructure quality.11
Singapore ranks as the second-easiest place in the world in which to run a business, slightly behind New Zealand, according to the 2017 World Bank's 'Ease of Doing Business Report'.11
It also helps that Singapore has earned a reputation as a safe investment haven due to its political stability, good governance, low corporate and personal taxes, as well as transparent real estate policies.
Additionally, Singapore's Changi Airport, currently being renovated and expanded into one of the largest capacity air hubs in the world, offers a multitude of regional and inter-continental links that put travellers within reach of a whole host of destinations.
This makes Singapore an exceptional business base for China's growing market of internationally-minded professionals and entrepreneurs seeking to drive forward their OBOR-related strategies and businesses.
Singapore's multi-faceted investment case
Seeing as Chinese property demand for Singapore held steady even throughout the slump period, the above 4 factors of are likely to drive a potential increase in Chinese buyer interest for Singapore next year.
After all, its attractively priced real estate market, clear price growth prospects, improving economy, extensive travel links, and strategic positioning in China's One Belt, One Road strategy make Singapore an eminently enticing option for Chinese real estate investors.
With Chinese investors primed to acquire a potential $1.5 trillion worth of overseas assets over the next ten years – up to half which could go towards international property – Singapore is excellently positioned to reap benefits from this colossal outflow.
Sources: 1. Juwai Data, January-November 2017; 2. The Wall Street Journal: Singapore's real estate is a hot property in China; 3. Business Insider: Singapore rises from the bottom to become one of region's top real estate investment markets; 4. The Edge Property: 5 foreign nationalities snapping up Singapore property in 2017; 5. Bloomberg: Singapore property analysts turn bullish, predict 5-10% price gain by end-2018; 6. The Business Times: Singapore home sales surge even as foreign demand stays subdued; 7. The Straits Times: Sales of new private homes in August up 12% from July, jump 165% year-on-year; 8. Urban Redevelopment Authority (URA) and Cushman & Wakefield; 9 The Straits Times: Singapore likely to clock 3% growth in 2018: Economists; 10. IMF: Singapore Economic Outlook; 11. World Economic Forum: These are the world's easiest places to do business;
Loved this article? Sign up for free to get Juwai China Market updates!