You've successfully copied this link.
How China is dominating the global movie market
By Juwai, 04 March 2016

China's box-office sales raked in $548 million during Lunar New Year this year – smashing the world record of takings in a single week.1
For comparison, Chinese cinemas only racked up $327.5 million in sales during the whole of 2006, which is just over half of the Chinese New Year sales.
As China grows to a $6.3 trillion consumer market2, its movie market is the latest in a long-line of industries that is being revolutionised and propelled to record-breaking levels by strong demand from China's rapidly developing and internationally-minded consumer base.
And with sales skyrocketing, China's movie market will see an estimated box-office take of $10 billion during 2017, drawing it close to the US market as the largest in the world, according to estimates by Citigroup.3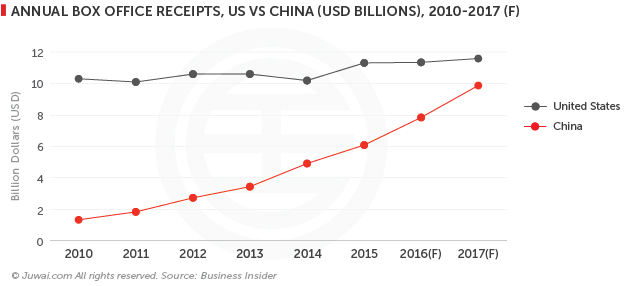 Amidst China's economic slowdown, this is good news indeed, as the box-office revenue is largely considered a good yardstick to gauge China's consumer spending power and potential.
China, world's fastest-growing movie market
By 2020, China's booming consumer market could be worth up to $6.3 trillion, says the Boston Consulting Group.2
It's this prospect of a high-growth market – driven by both an increasingly confident consumer base and new markets opening in China's wide geographical base – that is attracting investment from some of the world's largest film studios.
Here are two big Hollywood names clamouring for a foothold in China in their bid to capitalise on the Chinese audience gold mine:
Dreamworks: In January 2012, the US studio behind worldwide hits such as Shrek, Kung Fu Panda, and Shark Tale started a $350 million joint venture with the trio of China Media Capital, Shanghai Media Group, and Shanghai Alliance Investment to produce movies for the Chinese market, as well as to develop other sources of movie-related income.4

Warner Brothers: Producers of the top grossing Harry Potter and Batman series, Warner Borthers recently signed a joint venture deal with China Media Capital to produce content for distribution throughout China and around the world.5

Lions Gate Entertainment Corp.: A three-year $375 million co-production deal is currently being in the works with China's Hunan TV – the second most watched TV channel in China – to develop English-language movies with one motive: to promote Chinese values and culture worldwide via the transcendent soft power of the silver screen.6
Investing on performance + potential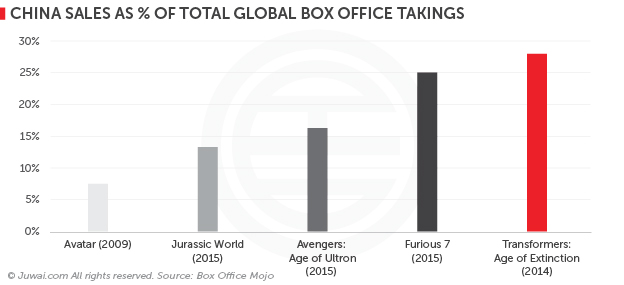 Movie industry big-hitters are not just investing on potential, they are also investing on performance, with the following film franchises doing astonishing business in China in recent years7:
Fast and the Furious 7: The seventh installment in the series took $379 million in China last year, making it the most popular Western film ever in the mainland, so far.

Transformers: Age of Extinction: Featuring scenes shot in China, along with the appearance of major Chinese stars Li Bing Bing and Han Geng, this 2014 installment swept $308.9 million in China to date, making it the most successful of the series.

Avengers: Age of Ultron: Earning a strong showing of $34 million on its first day – a record opening day take for a Marvel release on the mainland – Age of Ultron went on to pull $228.8 million in China since its release in 2015.

Jurassic World: Scoring $221.9 million in China so far, that's three times the total taken in Japan and ten times the total taken in India, according to Box Office Mojo.8

Avatar: The China-influenced floating landscapes of Pandora's Hallelujah Mountains – inspired by the Tianzi mountain pillars in Zhangjiajie National Park of Hunan, China – resonated well with mainland audiences, generating $209.4 million in ticket sales in 2009.
It's clear to see that China is becoming increasingly important in terms of global takings for top movies. Case in point: China sales for Transformers: Age of Extinction alone accounted for 28% of the film's total global ticket revenues.
Chinese investors cashing in on market expansion
With cinemas proliferating in China's cities and towns, it's nigh impossible to ignore the meteoric speed of China's movie market evolution and expansion.
Beyond delivering rip-roaring growth in ticket sales, China is becoming a major source of investment capital for the film industry as well. Notable recent deals including the following:
Dalian Wanda's $3.5 billion investment into US-based Legendary Entertainment, the studio company behind hits like Jurassic World, is part of the company's strategy to develop content for the Chinese market.9

Alibaba Pictures, Jack Ma's film unit, announced an investment in Mission Impossible – Rogue Nation, as well as exclusive rights to sell merchandise and online tickets to the film in China.10 Alibaba Pictures has also recently started its own Netflix-style video service, known as TBO, as part of its overall strategy to dominate this fast-growing market.11
Evidently, film studios and other activist investors are betting on China's movie business and the success of Western films in China.
That's because the potential rewards are colossal: IMAX is planning to build approximately 1,000 theatres in China in the coming years12, almost doubling its current global footprint of 1,008 theatres.13
That's a whopping $1.07 billion that IMAX is projected to pocket from the China movie market by 202514, compared to $181.8 million in 2015.15
At the core of this phenomena is the lucrative goldmine of Chinese consumers' seemingly limitless passion and interest for all things foreign – a key part of China's burgeoning cross-border mentality – which is at the centre of China's rapidly growing consumer market.
It's no wonder that Goldman Sachs CEO Loyd Blankfein has described it as 'the 21st Century Story'16, which canny investors would do well to tap into.
Sources: 1. Hollywood Reporter; 2. BCG: The New China Playbook; 3. Business Insider; 4. Wikipedia: Oriental Dreamworks; 5. LA Times; 6. International Business Times; 7. Wikipedia; 8. Box Office Mojo; 9. Reuters; 10. Alizila.com; 11. Tech in Asia; 12. Seeking Alpha: IMAX: Taking the Middle Kingdom; 13. IMAX.com; 14. Foster School of Business; 15. IMAX China: FY 2015 Financial Results; 16. Bloomberg
Loved this article? Sign up for free to get Juwai China Market updates!