You've successfully copied this link.
Inside the high-end housing market
By Juwai, 19 February 2012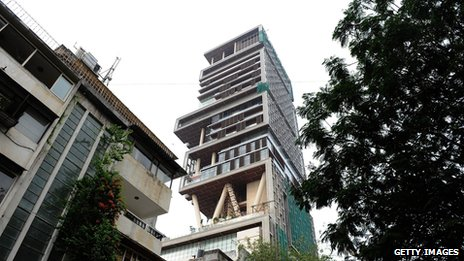 The Antilla tower is thought to be the most expensive private home in the world
The property market may be in poor shape in many parts of the world, but the super rich continue to spend eye-watering sums on new homes. Brian Wheeler reports for BBC News. February 18, 2012 -- The latest deal to grab headlines is a penthouse apartment with panoramic views of New York's central park, sold to a Russian fertiliser magnate for $88m (£56m). Dmitry Rybolovlev is thought to have bought the palatial pad for his 22-year-old university student daughter, Ekaterina Rybolovleva. The 6,744 sq ft (627 sq m) apartment in Central Park West is the highest value individual property sale in New York history. It works out about $13,000 (£8,204) per square foot, which could well be a new record. An estate in Hong Kong's ultra-exclusive Peak, 10 Pollock's Path, which sold last summer for $102.7m (£65m) was previously thought to have held that title, with a per-square-foot value of $12,188 (£7,704), although no official record is kept. The high-value real estate market went quiet after the 2008 financial crisis, as the world's billionaires fretted about their investments or bided their time until they could pick up a bargain. 'Ultra luxury' But professional wealth watchers say it has bounced back with a vengeance and is now almost entirely detached from the ups and downs of the conventional housing market or, arguably, reality.
Liked this article? Sign up for free to get Juwai Juwai Asia Market updates!