You've successfully copied this link.
Oenophile Chinese buy Bordeaux bottles for $470
By Juwai, 25 February 2012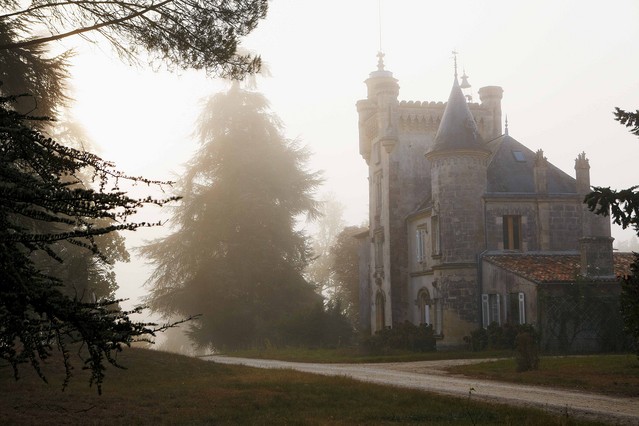 Chateau Latour-Laguen in Bordeaux, France. (Roberto Frankenberg/Bloomberg Markets via Bloomberg)
Chinese investors are buying up estates in Bordeaux to quench the thirst for premium wines on the mainland.
Elin McCoy reports for Bloomberg Markets Magazine.
February 24, 2012
-- On a glass coffee table in his Hong Kong high-rise apartment, Peter V. Kwok eagerly unrolls an aerial photograph of the wine estate he bought in November. His Chateau Tour Saint-Christophe grows merlot and cabernet franc grapes in the St.-Emilion appellation of Bordeaux. With his finger, he traces the outline of its 17 hectares of old vines -- and then points out a dark-green slope. "Those vines may produce the best wine," says Kwok, managing director of USI Partners Ltd., a Hong Kong holding company with investments in hotels in China, including in Tibet. Kwok, 63, is one of at least 12 Chinese investors who have recently bought a chateau in Bordeaux, France's world-famous wine region noted for great reds such as Ch. Petrus and Ch. Mouton Rothschild. Since 2008, these investors have purchased mostly small, little-known and sometimes distressed wineries, and at least 10 more deals are in the pipeline, according to the chateaux and local real-estate firms, Bloomberg Pursuits reports in its premier issue. Kwok, who bought Tour Saint-Christophe from French wine, beer and soft drinks company Castel Group, declined to reveal the price. A Bordeaux estate similar to Kwok's but with one-third the vineyard area was being offered in January for 3.5 million euros ($4.5 million). During the past two centuries, Bordeaux's grand stone chateaux have attracted buyers from Belgium, Germany, Japan, the Netherlands, the U.K. and the U.S. In 1997, Kwok bought his first estate, Ch. Haut-Brisson, also in St.-Emilion, where the Romans planted grapes in the second century.
Chinese Demand
On a sunny morning in June, Kwok walks through his vineyard at Haut-Brisson, taking in the landscape that attracted him to wine country. Bees buzz above the leafy vines behind his chateau, a cream-colored building with a tile roof and a stone terrace edged with purple lavender. "I like to feel the beauty of these surroundings," Kwok says. He adds that he's giving this chateau to his elder daughter, Elaine, 31, who helped tend these vines when she was a teenager. Kwok and other investors are buying chateaux as demand for expensive Bordeaux wines soars in China. Consumers on the mainland swallowed almost 20 percent of Bordeaux's exports in the year ended on Oct. 31, a 122 percent jump over the previous year, according to the Bordeaux Wine Council. With that increase, China became the biggest importer of Bordeaux wines by volume, surpassing Germany.
Symbol of Power
The Chinese proprietors are spending to improve their wines before selling some or all of their production directly, without a distributor, through their own hotels and wine stores in China. "For an individual, having your own wine is a symbol of power, achievement and good taste," says Jean-Luc Coupet, managing partner of Paris's Wine Bankers & Co., a mergers-and-acquisitions advisory firm specializing in the wine business."And in China, Bordeaux is the most famous wine region." For Kwok, making wine in Bordeaux is part of his long love affair with French culture. His Chinese parents raised him in Saigon, Vietnam, where he says he learned to admire French architecture, dark-roast coffee and crunchy baguettes. He earned a Ph.D. in finance from the University of California, Berkeley, and later served as chairman of Citic Resources Holdings Ltd., the energy subsidiary of China's biggest state-owned investment company, Citic Group, from 2002 to 2007.
Art Collection
Today, a pastel by French artist Edgar Degas hangs in his apartment's entryway in Hong Kong. Part of his Dong Bo Zhai collection of Chinese bronze drinking vessels, gold objets d'art and marble Buddhist statues was on display in 2011 at the Musee du President Jacques Chirac in Sarran, France. Kwok, who bought Haut-Brisson as a family vacation spot so his three children could learn French, began taking wine production more seriously a few years later. He added vineyards with better terroir after realizing that soil was all-important for quality and, in 2004, hired Michel Rolland, the region's most influential wine consultant, to make more improvements in the vineyards and cellar. "The wine business isn't easy; you need to have passion,"Kwok says. "The wines absolutely have to be good. Achieving that took me nearly 10 years." Kwok -- who in January bought his third chateau, in the much-sought-after appellation of Pomerol and neighboring Lalande de Pomerol -- now sends 30 percent of Haut-Brisson's annual production of 90,000 bottles to the hotels he owns in China. His 2006 Haut-Brisson La Reserve fetches 1,050 yuan ($166) a bottle at his Four Points by Sheraton and St. Regis hotels in Lhasa, Tibet's administrative capital.
Rolex, Maserati
He also plans to sell the wine at his Westin hotel in Xian, the capital of Shaanxi province in central China. That hotel opened in January, he says. On an iPad, he flips through photos of the St. Regis's 24-karat-gold-mosaic-lined pool and its lively wine bar named Decanter by Haut-Brisson. "People are worried about fakes now," he says. "They know our wine isn't one." Newly rich and status-conscious Chinese consumers are splurging on luxury products in the world's second-biggest economy. And in buying up items such as Rolex watches and Maserati sports cars, they're keeping the global luxury market afloat. Sales of luxury goods surged more than 25 percent on the mainland in 2011 and rose 8 percent in the Americas and 7 percent in Europe, according to estimates by Boston-based Bain & Co.
Consumption Falls
"It's no longer a secret that the high demand for luxury from emerging markets like China is sustaining the industry's growth," says Uche Okonkwo, executive director of Paris-based consulting firm Luxe Corp. In France, per capita wine consumption has fallen for more than three decades, according to FranceAgriMer, a government organization that oversees the food and wine industries. The decline has hurt smaller chateaux in less prominent Bordeaux appellations and has provided opportunities for Chinese buyers looking for a foothold in the region -- and good deals. Properties in less fashionable Fronsac, located northwest of St.-Emilion, sold in 2010 for an average of only 30,000 euros per hectare, less than half the price in 1991, according to Safer Aquitaine-Atlantique, a government-controlled regional agency that gathers statistics on vineyard sales in Bordeaux.
15th-Century Towers
Haiyan Cheng decided to buy run-down Ch. Latour-Laguens in 2008 after viewing the green vineyards and blooming cherry trees from atop one of its 15th-century gray stone towers. Cheng, who goes by the name Daisy in France, heads the wine division of Qingdao-based Longhai International Trading Co., which her father owns. She's renovating her 60-hectare (148-acre) estate, adding an elaborate tasting room, a grand French-style kitchen for entertaining and accommodations for Chinese tourists and wedding parties. "My father loves to drink wine, and because of that, I became very fascinated by wine when I was younger," says Cheng, 33, who grew up in Qingdao, in the eastern province of Shandong."To work in that world became a passion and aspiration for me." Jean-Baptiste Soula, Cheng's estate manager and technical director, and Stephane Toutoundji, a winemaking consultant, have replanted vineyards and purchased barrels at 600 euros apiece to improve the chateau's once rather ordinary wines. They're making them smoother and less tannic, in the style Chinese drinkers prefer. The new, embossed, gold label is also designed to appeal to Chinese customers.
8,650 Estates
Cheng sells all of her bottles, from $41 to $476, in a chain of 10 Latour-Laguens shops located in Jiangsu and Shandong provinces that are partly owned by Longhai's wine unit. The chateau's basic bottling used to cost $18 in France. Soula says the chateau may show its 2010 vintage at European wine trade fairs after it's bottled. "Chinese clients want to see it on shelves in places like Paris," he says. "That validates its quality." While Chinese investors own only a tiny fraction of Bordeaux's 8,650 winegrowing estates, their arrival has spurred concern among some locals. A few owners selling their chateaux have expressed vague fears about the Chinese gaining too much control over Bordeaux's wine economy, says real-estate agent Noelle Digieaud of Libourne-based Immobilier des Coteaux.
China Luxury Chain
Daniel Carmagnat, owner of Sainte-Foy-la-Longue-based A2Z Agency, which had a contract to sell Latour-Laguens, says that Chinese buyers could help revitalize regions such as Entre-Deux-Mers, where Cheng's chateau is located, and make Bordeaux wine better known in China. He says the Chinese are much like the earlier investors from Europe, Asia and North America who have given Bordeaux a financial boost. "We see our role as participation, to respect the French tradition," says Cheng, who plans to introduce Chinese visitors to local culture through tastings and cooking and wine classes led by a French chef and a French sommelier. Richard Shen Dongjun, chief executive officer of Tesiro, a Nanjing-based fine-jewelry-store chain, trumpeted his February 2011 purchase of Ch. Laulan Ducos to residents of Bordeaux. Dressed in black tie and sporting a bright-blue silk pocket square, Shen, 42, announced the deal at a signing ceremony and reception for press and local dignitaries under ornate chandeliers at the Grand Theatre de Bordeaux. He repeated the announcement at Beijing's Park Hyatt hotel for the cameras of 10 Chinese news networks.
Zhang Ziyi
Shen is trying to create buzz for Ch. Laulan Ducos's 2009 vintage, which he plans to sell in China for $238 a bottle. The wine, which will be promoted in Tesiro's 200 shops, appeared at the Berlin International Film Festival, of which Tesiro is a sponsor, and was the exclusive pour at the opening of Museum Aan de Stroom in Antwerp, Belgium. Chinese film star Zhang Ziyi, whom Shen said is a fan of Laulan Ducos's wine, visited the chateau in May, and a photo of her holding a glass while perched on a barrel appears on its website. Even with all of his marketing savvy, Shen says the quality of the wine is paramount. "I saw 40 chateaux but fell in love with the wine here as soon as I drank it," he says. "That's the most important thing." So far, no Chinese buyer has purchased a famous chateau listed in the all-important 1855 classification that ranked Bordeaux's top properties from first growths, makers of the best and most-expensive wines, to fifth growths. But it's only a matter of time before a Chinese investor lands a premium property, Wine Bankers' Coupet says. Ch. Lascombes, a second growth in Margaux, sold in July for almost 200 million euros. The losing bidder was Chinese.
Liked this article? Sign up for free to get Juwai Juwai Asia Market updates!