You've successfully copied this link.
CEOs look to China for market expansion
By Juwai, 17 March 2012
The country remains an attractive proposition for business leaders. About 30 percent of global CEOs rank China as their top growth market this year.
Hu Yuanyuan reports for China Daily.
March 16, 2012
-- That's because there is no sign of a pickup in the eurozone and US economies, PricewaterhouseCoopers LLP said in a report on Thursday. "The Chinese economy may be slowing down, but the China story remains attractive and critical to global CEOs' growth strategies," said David Wu, PwC China Lead Partner for Beijing. According to PwC's latest Annual Global CEO Survey, 63 percent of CEOs in Japan, 56 percent in Australia, 48 percent in the US and 45 percent in the Association of Southeast Asian Nations believe that China will play a critical role in their growth plans. Although the central government has lowered China's growth target to 7.5 percent for 2012, the projection is still more than double the growth rate for the global economy. China's rapidly increasing middle class - expected to account for 40 percent of the country's population by 2020 - will from a vast consumer market that is expected to drive the economy and provide business opportunities for multinational companies, according to PwC. Meanwhile, Chinese CEOs are also expanding their businesses overseas. According to the survey, 75 percent of businesses in China expect growth in their Southeast Asian and East Asian operations. That's followed by 66 percent expecting growth in Latin America, 57 percent in Australia and 51 percent in North America. Moreover, the supply of talent could prove to be decisive for the growth prospects of Chinese companies. According to the survey, more than half of Chinese respondents - far higher than the global average of 31 percent - say the talent crunch has prevented their businesses from innovating effectively. To bolster their workforces, half of China's CEOs plan to expand their headcount by more than 5 percent this year. However, 59 percent say it's becoming increasingly difficult to hire in their industries. The difficulties are cutting across all sectors, and there is an acute shortage of senior and middle managers. In response to the talent shortfall, Chinese CEOs are looking at alternative channels. Two-thirds are investing in workforce development outside of their own companies to build a bigger base of potential employees, while 59 percent expect to source more workers globally, according to the report.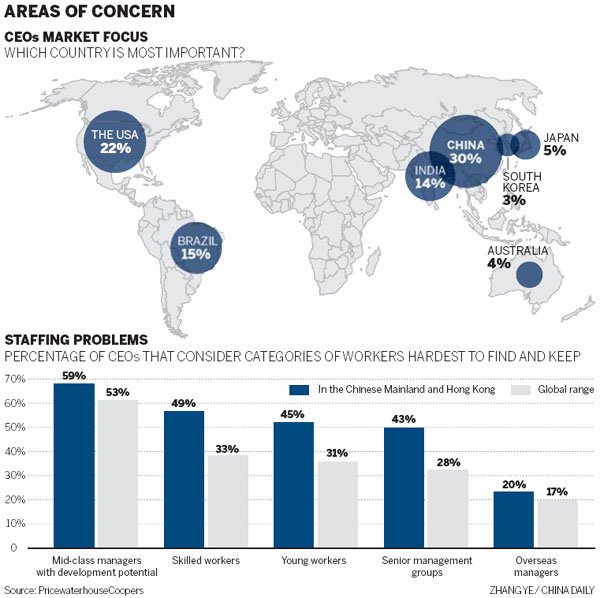 Liked this article? Sign up for free to get Juwai Juwai Asia Market updates!