You've successfully copied this link.
China 'wealth exodus' underestimated
By Juwai, 17 March 2012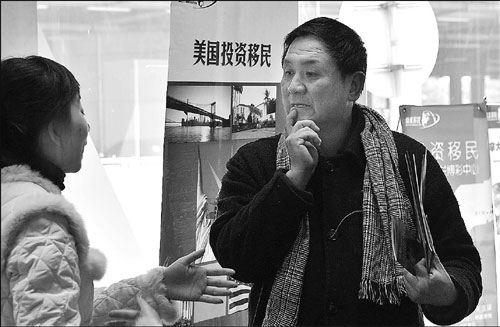 An emigration agency helps a client in Nanjing, Jiangsu province. Of about 960,000 Chinese with assets worth more than 10 million yuan ($1.6 million), 60 percent were either thinking about emigrating or taking steps to do so, according to the Private Banking White Paper 2011, released by Bank of China Ltd and the Hurun Report last year. An Xin / For China Daily
New figures reveal the true cost of the country's 'investor emigration'. The scale of the exodus of wealth from China caused by investor immigration is much larger than previous estimated, according to China Daily's interviews with emigration agents and experts.
Tania Lee reports for China Daily.
March 16, 2012
-- Last month, Legal Evening News, a Beijing metropolis daily, said 10 billion yuan ($1.57 billion) has found its way abroad annually since 2009. The figure was based on the investor emigration requirement and the number of investor emigrants publicized by the governments of the United States, Canada and Australia. Investor emigrants to those three countries are believed to account for 80 percent of the total number of Chinese emigres. However, emigration agents said the figure underestimates the real scale. That's because many people will transfer more money to their new 'home' countries once they've obtained permanent residency. "Usually they will at least buy a house after they get residency," said Cai Hong, a manager with emigration consulting company HHL Overseas Immigration & Education. "And they usually make a one-off payment,"Ma said, referring to the fact the emigrants have no need to resort to a mortgage. Considering the average price of a house in the major cities of the United States, Canada and Australia - the countries where Chinese investor emigrants are most likely to settle - and the fact that around 80 percent of them will buy a house, an estimated 10.3 billion yuan finds its way into the property markets of the three countries per annum. Adding in the money invested to secure permanent residency, which China Daily estimates to be 21.49 billion yuan, and the estimation that the three countries account for 80 percent of the emigrant population, the total wealth exodus could reach at least 39.75 billion yuan a year.
The Canada case
For its safety, relatively short waiting time to obtain permanent residency and good returns on investment, Canada has always been the premier choice for wealthy Chinese looking to obtain permanent residency through investment, emigration agents said. Prior to 2010, a foreigner simply had to invest C$400,000 ($405,600) and prove net assets of C$800,000 to apply for permanent residency. However, in 2010, Citizenship and Immigration Canada, the country's immigration authority, doubled the threshold to limit the explosion in applications. Demand has been so strong that Canada imposed a cap of 700 applications per annum, starting on July 1, 2011. That quota was quickly filled, with 697 of the 700 applications coming from China. The cap put a brake on the fever. The number of successful applicants from the Chinese mainland dropped from around 2,000 in 2010 to 697 in 2011, according to figures from the Canadian immigration authority. However, potential immigrant investors quickly found another point of entry through Quebec's investor immigrant program. Since last July when the federal government's door closed, the Quebec program has seen the initiation of 200 applications from Chinese people every month. "We expect the federal government's program to reopen this year and another 2,000 Chinese investors will get permanent residency," said Ma Yuan, an emigration expert with J & P Star Consulting Co Ltd, a Beijing-based emigration consultancy. She said the Canadian program is particular favored by Chinese investors for its safety. Unlike the US program, which requires investment before permanent residency is granted, applicants to Canada invest their funds only after permanent residency is approved. The C$800,000 seed capital is returned to the applicants five years after residency is granted. Applicants can even invest just C$220,000 and obtain a loan of C$580,000 from Canadian banks to bridge the gap. The C$220,000 will be transferred to the bank that issued the loan as interest five years later. By comparison, the United States' investor immigrant program, the EB-5 program, despite its lower initial threshold (the minimum investment requirement is $500,000), does not guarantee against a loss of investment, which means that applicants might lose their seed capital and still not obtain permanent residency. Another reason that people favor Canada is the country's welfare system. "Most of the investor immigrants go to Canada for their kids' education," Cai said. The country offers free pre-college education for permanent residents, and their children can enjoy a college education at less than one-third of the tuition fee paid by international students pay. Relatively cheaper house prices are another attraction. A detached house usually costs from C$500,000 to CS$600,000 in Vancouver, and C$400,000 to CS$500,000 in Toronto, much cheaper than in Beijing or Shanghai. Based on the assumption that 80 percent of the 2,000 investor immigrants would buy a house at an average price of C$500,000, Canada's investor immigrant program alone could draw C$2.4 billion from China.
US a top destination
Despite its risks, the US investor immigration program remains a popular choice for wealthy Chinese. A total of 2,969 Chinese people applied for the EB-5 visa in the fiscal year 2011, accounting for three-fourths of total applicants, according to figures released by the United States Citizenship and Immigration Services. Although many are still awaiting a decision, 934 permanent residencies have been granted. The US is the top emigration destination, followed by Canada, Singapore and Europe, according to a joint survey by Bank of China Ltd and the Hurun Report last year. The report found that 60 percent of about 960,000 Chinese with assets of more than 10 million yuan were either thinking about emigrating or taking steps to do so. Australia, another popular destination, requires foreigners to apply for a provisional visa before applying for permanent residency four years later. There are various visa types under the "Business Skills visas" system, which allows overseas investors, senior executives and entrepreneurial talents to settle in Australia by developing businesses in the country. For example, the 890/892 visa allows provisional visa holders to obtain residency if they have had an ownership interest in a business in Australia for at least two years, with significant personal and business asset turnover. Applicants for the "Business Skills visas" from China totaled more than 9,000 last year, nine times the number from South Korea, the second-largest group, according to the Australian immigration authority. Kevin Stanley, executive director of global real estate consultancy CBRE Group Inc, said it has seen very strong interest from Chinese individuals looking to buy apartments, predominantly for family use and particularly in connection with children studying in Australia. Chris Bevan, a real estate agent in Melbourne, said that his recent sales to buyers from Shanghai ranged from two bedroom apartments priced at A$300,000 ($314,000) to a luxury beachfront home for A$18 million. Strong demand from Chinese buyers has already pushed up real estate price worldwide. Investors from the Chinese mainland account for between 20 and 40 percent of foreign property investors in Vancouver, Toronto, London and Singapore, according to a report from the real-estate consultancy Colliers International on Feb 28. In Vancouver, the property price has been pushed 9 percent higher in the last year, because of Chinese investors.
Reaction
People in industries related to the boom, such as the property market and emigration advisory services, have welcomed the trend. Bevan said that Chinese and other foreign investors have helped Australia continue to grow in a market that has seen an international downturn in the last 12 months. Local residents interviewed by China Daily approved of the development. John Harper, a town planner in Melbourne, said the total number of Chinese immigrants contributing to population growth in the city was somewhere between 3 to 4 percent. "I doubt that figure would create a significant impact on house prices," he said. "You never hear about New Zealand or British immigrants pushing up housing prices. These two groups make up about 30 percent of people moving to Australia, or three times the number of Chinese, I guess," he said. "I don't really mind the 'influx' of Chinese going for permanent residency. I think there are guidelines and controls overseen by the Australian government," said Jeremy Lam, a financial analyst in Australia. "And these rules and regulations are gradually becoming more and more stringent over time." But back in China, the news of the wealth exodus has sparked mixed sentiment. "Nobody in the world can ever stop China's property speculators," according to a sarcastic post from one netizen on the micro blog Sina Weibo. Some netizens have blamed the domestic cap on property sales imposed by the Chinese government for the overseas purchasing spree. Chinese experts warn that talent is flowing out with wealth, which is a more worrying trend. "If this trend continues it will not only hurt the Chinese economy in the long run, but also prevent it from building an 'olive-shaped' society with a large middle class, because a great proportion of the emigrants are middle-class professionals," said Zhang Monan, an economic researcher with the State Information Center.
Liked this article? Sign up for free to get Juwai Juwai Asia Market updates!