You've successfully copied this link.
London's China economy
By Juwai, 15 March 2012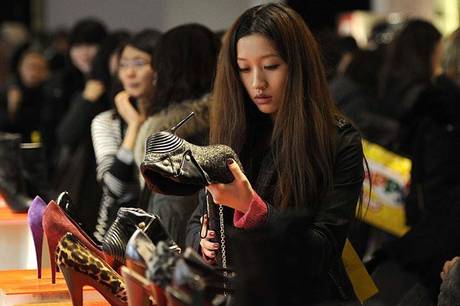 A woman's right to shoes: London's upmarket shops are a powerful draw for wealthy Chinese people
A new business school, a student explosion, a property boom and fashion-hungry tourists — London is the destination for China's new wealthy middle class.
Mira Bar-Hillel reports for London Evening Standard.
March 14, 2012
-- I was born in Beijing and went to boarding school near Brighton. I then read economics at the University of Bath. I worked at an investment bank and then for Savills estate agent in Shanghai before coming to London four years ago." Meet Cici Dong, the first London face many Chinese property buyers see. Her customers are a growing band of foreign investors who regard London as a safe haven for their money. While western economies stagnate, retract and fret, China's new wealthy are increasingly looking to London for investment opportunities. A growing number are keen to educate their children here as well. Cici is herself an example of the Chinese appetite for an English education. "My parents wanted me to have a truly international background so they chose to send me to England to be educated," she says. Chinese students now make up the largest overseas student group in the UK, having recently knocked India off the top spot. Late last year, the Mayor of London, Boris Johnson, estimated that London had more Chinese students studying here than any other foreign city. And since Chinese students contribute around £2 billion to our economy, universities are keen to attract them. About 90, 000 are currently scattered across British institutions. London Design schools in particular have experienced a massive influx. The University of the Arts currently has around 1,200 Chinese students. Schooling is highly valued in China and many Chinese parents are willing to spend as much as possible on a good education for their children, despite the fact that the fees for foreign students at British universities can reach a staggering £27,000 a year. Chinese institutions are now also looking to open schools in London. Last September, the Cheung Kong Graduate School of Business — the leading independent Chinese business school — launched an office here in the capital, underlining the rapid expansion of London-based Chinese businesses. There are now more than 400 Chinese-owned companies operating in the capital. Cici herself was keen to join London's property industry — whose links with China are booming. Aged 27, Cici lives in St John's Wood with her golden retriever Pasca and travels to China at least every three months to visit clients. Her boss, James Talbot, Savills' director of international sales, explains: "We set up a Russian desk in 2006 as it was clear that what the Russians liked was to deal with an expert in the London market who understood them and spoke their language. As interest from China grew, establishing a similar proposition for them was a natural progression." But business and education aside, the Chinese are also drastically boosting our tourism and fashion industries. Around 109,000 Chinese tourists visited the UK in 2010, a 15 per cent increase since 2005, and London is considered their top attraction, due in part to the draw of our city's shopping. The average Chinese visitor spends around £1, 700 — which is three times the global average spend. Department stores and high-end shops are the biggest beneficiaries with many —including Harrods — installing China Union pay terminals which allow customers to pay directly from their domestic Chinese bank accounts without incurring extra charges. Selfridges, which has also installed these terminals, reports that Chinese customers have increased their year-on-year spending by 65 per cent. But for many, a flying visit — whether for shopping or business — is simply not enough, and they are looking to find a permanent London base. "Chinese buyers are different from those from the rest of South-East Asia," explains Cici. "They are less familiar with the market, the geography and the actual buying process — there is a lot of market education involved. Chinese buyers have tended to be more conservative, more likely to buy where their friends have, or to stick to trophy locations like Knightsbridge and Kensington." But as more children are being sent here to be educated, and travelling to the UK gets easier, Chinese investors have got to know London better. They will now consider locations such as Islington and even parts of south London. What is strictly off the menu, though, is a basement flat — many Chinese people are guided by the principles of feng shui when picking a property. Also out are apartments where the lift is directly opposite the front door. This apparently causes wealth to "flow out of the home and down the lift shaft". Conversely, riverside properties are popular because flowing water is good feng shui. Sarah Van der Noot, managing director of London Property Search, says: "I was out with a Chinese client who immediately said no to a house with a spiral staircase. I have since looked into feng shui so I don't make any more such mistakes. For instance, a Chinese buyer will reject a property if the building's street number has the figure '4' in it anywhere." The Chinese buying in the capital also prefer new homes to period buildings. Modern decor, security and an onsite pool, gym and spa are key considerations. Rather than the open-plan kitchen, dining and living areas native Londoners are used to they will often insist on a separate kitchen. And, of course, location is all-important. When buying for their children they like flats to be near the major London colleges. And though their children may be overseas, the Tiger Mother is never far away — parents buying for boys opt for a property with one-bedroom — flatmates could distract him from his studies.
Liked this article? Sign up for free to get Juwai Juwai Asia Market updates!