You've successfully copied this link.
Insight: Bullish China shops in industrial Germany
By Juwai, 04 April 2012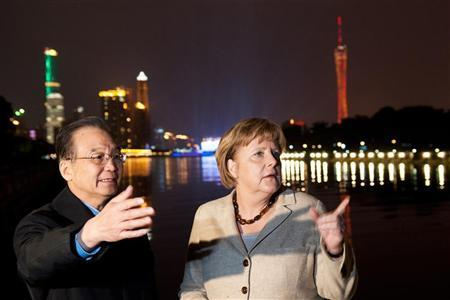 German Chancellor Angela Merkel and Chinese Premier Wen Jiabao (L) stroll along a bank of the river Pearl in Guangzhou February 3, 2012. (Credit: Reuters/Bundesregierung/Steffen Kugler)
German businessman Norbert Scheuch was bowled over by his red-carpet treatment on a visit to China late last year and by how fast the country's largest construction firm sealed the deal to buy his company.
Reuters report.
April 3, 2012
-- The head of Sany Heavy Industry, which is controlled by China's richest man, Liang Wengen, personally gave Scheuch a tour of their plant and then had a top manager drive him to the airport and wait with him for his flight home. "Nobody would ever do that in Europe," said Scheuch, CEO of concrete pump maker Putzmeister. "The Chinese made it very clear from the beginning they wanted the company immediately," he added. Barely a month later, Sany's top negotiator Xiang Wenbo was in the offices of law firm Shearman Sterling in Frankfurt at 3 am to sign the deal to buy Putzmeister for 360 million euros ($472 million) after a nine-hour session with the notary. The purchase, which gives Sany a technological edge over its rivals, illustrates how Chinese investors are becoming more savvy about foreign takeovers, not just to gain access to raw materials or patents but as an engine for growth. By keeping the German management in place after its acquisition and announcing that Putzmeister would become its new international distribution hub outside China for concrete machinery, Sany also defied the clichés about Chinese practices and assuaged local anxiety among employees. "I had to promise (the Chinese) solemnly that our management would stay on board," Scheuch said. Germany, Europe's largest economy and home to many small and medium-sized companies famed for their technological know-how and exporting prowess, is especially attractive for cash-rich Chinese businesses looking to build a global profile. Some German and other European companies also look cheap to Chinese buyers after the euro zone's sovereign debt crisis.
Deals in pipeline
"We are expecting a wave of Chinese-German transactions. There are some very big deals in the pipeline right now; negotiations are ongoing," said Yi Sun, China expert from accounting firm Ernst & Young. Chinese bidders are currently involved in up to 20 M&A transactions in Germany, including some with a volume of more than a billion euros, investment bankers say. That is more than in any other European country and marks an increase from 15 last year and just six in 2008. Last year, 158 Chinese firms launched investment projects in Germany, against 110 from the United States, 91 from Switzerland and 53 from
France
, said Germany Trade & Invest (GTAI), an agency that promotes Germany as a place to do business. "China is the most important investor in Germany," said GTAI head Michael Pfeiffer. Including purchases of shares, loans and other securities, China contributed 15.5 billion euros of a total 93 billion in net capital investment in Germany in 2010, according to Bundesbank statistics. In the last few months, for example, Chinese car parts maker Hebei Lingyun agreed to buy German peer Kiekert. And China's XCMG is currently finalizing talks on investing in German concrete pump maker Schwing, sources close to the transaction told Reuters. "Five to seven years ago, we never saw any Chinese bidders. Now they are there all the time, and they behave highly professionally, are well prepared, get things lined up in time," said the head of a large German private equity group who experiences Chinese bidders as increasingly competitive rivals. "They are spoiling prices."
Up the value chain
Putzmeister, whose concrete pumps helped build the world's tallest building in Dubai and the Panama canal, lacked the means for a big international expansion. Its 79-year-old founder, Karl Schlecht, was talked into considering more than one bidder when a European rival approached him in October 2011. The four Western-based groups attracted by investment bank Morgan Stanley dropped out quickly, leaving the field to Sany and four other Chinese bidders, each of which Putzmeister CEO Scheuch visited during his road show before Christmas. "The Chinese immediately leapt into action. Their drive to expand was very clear," Scheuch said. China has a five-year development plan that puts emphasis on industries such as high-end manufacturing equipment, information technology, alternative energy, biotechnology, advanced materials and environment-friendly technologies. The world's most populous nation has said it will invest up to $1.7 trillion in these sectors over the period using both state and private money and a host of incentives, from cheap land to tax perks and credit from state-owned banks. The European debt crisis has opened a door. The market value of the euro zone's 50 biggest companies fell 17 percent in 2011, a drop of 380 billion euros, though they have recovered about 8 percent this year. "This is the opportunity that occurs only once in a thousand years," Zheng Xinli, an influential Chinese government adviser, was recently quoted by a Hong Kong newspaper as saying. China's outward foreign direct investment (FDI) hit $68 billion in 2010 after more than doubling in 2008 to $52 billion from $23 billion in 2007, according to Karl Sauvant, from the Vale Columbia Center on Sustainable International Investment at Columbia University and an expert on global FDI. Sauvant's institute estimates China will strike $1-2 trillion in FDI deals over the coming decade, adding to its existing portfolio of over $300 billion.
The human factor
In their hunt for overseas assets Chinese firms are increasingly targeting research and development capacity, well known brands and established distribution networks. "Brands are important, as Chinese brands so far hardly play any role worldwide", said Dirk Notheis from investment bank Morgan Stanley, which organized the Putzmeister deal. "Additionally, Chinese investors are interested in know-how." And as the Putzmeister deal shows, the Chinese are not just out to make copycat products or ship machinery back home. "Chinese companies have learned that in terms of technology, people are more important than blueprints," said Moritz Schenck of accountants KPMG, who specializes in Chinese-German deals. "Developers of the machine-building or automotive industries are typically based in (the rural German states of) Swabia or Bavaria and cannot be displaced to China easily," he said. The day after signing the Putzmeister deal, 700 employees protested outside the group's base near Stuttgart over feared job cuts and a transfer of decision-making overseas. At the time, Sieghard Bender from the local unit of German trade union IG Metall, complained that "they sold us down the river overnight". By March he had changed his tune. "Things calmed down after it became clear that the Putzmeister CEO will sit on Sany's board and be our voice in China," he said. Yi Sun, China expert at Ernst & Young, said she had seen a significant shift in attitude towards Chinese groups since 2006 when she advised a Chinese bidder for a German acquisition. "At the time, the owner of the German company didn't even want to show his production site to the Chinese investor, fearing industrial espionage," Sun said.
"Welcome to Germany"
Economists say the changing approach of Chinese investors is part of the country's integration into the global economy. "We are likely to see a development similar to that of
Japan
," said Commerzbank chief economist Joerg Kraemer. It will also foster broader change in China, Kraemer said, as Beijing would recognize that it can only keep money and talent in the country if it respects civil and property rights. Visiting China in February, German Chancellor Angela Merkel's enthusiasm for Chinese investment was palpable. "Chinese companies are very welcome in Germany," she told Premier Wen Jiabao and top executives from the two countries. While previous meetings might have been dominated by calls for China to open its markets to German products, this time a power shift was evident. One Chinese investor asked Merkel during her trip why he should invest in Germany's biggest port Hamburg, given long-running debates over whether to allow it to serve large vessels. He added that rival Rotterdam did not suffer such restrictions. Bilateral trade is booming. It jumped nearly 40 percent in 2010 alone to 130 billion euros. Germany accounted for about a third of China's total trade with the 27-nation EU. German laws impose few barriers to Chinese investment, though government can block deals on national security grounds. Sany manager Xiang Wenbo contrasted Germany's openness with the distrust he said existed in the United States. "The Americans always fear that if they sell high-tech to China, we will build planes, tanks and guns to attack them."
Hurdles
While executives and bankers say Chinese investors have become more adept at M&A transactions, some issues recur. "Chinese buyers take a long time," said Alberto Forchielli, Managing Partner of Mandarin Capital Partners, the largest Chinese-European private equity fund. When Chinese state-owned Citic was in talks to buy German automotive supplier KSM Castings, a few extra weeks had to be granted to allow for the Chinese to get official approvals. In one of the biggest industrial takeovers by a Chinese group in Europe - the $2 billion sale of Norwegian silicon producer Elkem to China National BlueStar last year - Chinese due diligence took 18 months. "I have one Chinese client who has been in talks with a German target company since 2009," Ernst & Young's Sun said. Language barriers, however, are becoming less of a problem, as Chinese companies employ a growing number of English-speaking managers. That lesson hasn't been lost on Putzmeister's Scheuch. "I am studying Chinese intensively at the moment," he said, as he hopes to influence decision-making at the Sany base in Changsha. "For that, you have to be able to do a little small talk in Chinese."
Liked this article? Sign up for free to get Juwai Juwai Asia Market updates!