You've successfully copied this link.
So what is the Lotus position?
By Juwai, 27 April 2012
Rumours continue that the carmaker is to be sold, sparking fears of another MG Rover debacle, but the company's owners deny everything.
Margareta Pagano reports for The Independent.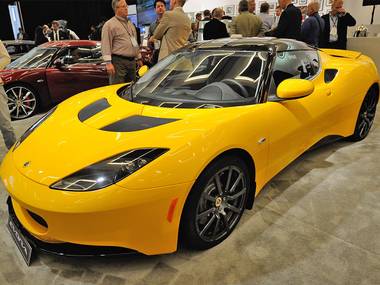 The Lotus Evora GTE supercar
Appil 26, 2012
-- At the International Auto Show in Bejiing this week, one of the flashiest beasts on show is the Lotus Evora GTE, a supercar with a 3.5-litre engine that fires out 444 horsepower. It's the most powerful Lotus road-going model ever and, because the Chinese went so mad about it at the Frankfurt show last year, Lotus adapted it especially for their market; little things like changing the chassis for Chinese roads, and more leather and carbon fibre to make the cars as luxurious and comfy as can be.
Only 118 supercars will be made as part of a new China Limited Edition collection, and each will have a numbered plaque inside so drivers know just how exclusive they are; and why they've paid more than £100,000 for the privilege. Lotus boss Dany Bahar repeated this week that the Chinese market is vital to his five-year revival plan to boost production from 2,600 cars made last year to 8,000 in 2015. Of an order book of more than 1,000 cars this year, more than half are from Asia. While China's super-rich were ogling the supercar, back in Norfolk, the 1,200 workers at the Hethel plant who make Lotus cars were in the dark, still trying to find out whether the latest rumours that the company is to be sold are true. The speculation started a few weeks ago following leaks that the Malaysian owners, DRB Hicom, which acquired Lotus earlier this year when it bought a stake in Malaysia's Proton Holdings, had decided to sell the sportscar maker. Insiders claim Hicom's top brass has decided it can't afford to support Mr Bahar's £800m masterplan to turn Lotus around, which had been backed by Proton up until the recent sale. It's a far cry from when Mr Bahar stunned the motoring world last year with plans to produce five new cars, creating another 1,000 jobs, which he hoped would put Lotus back up alongside rivals Ferrari and Aston Martin. So far Hicom has denied a sale, although the Malaysian industrial conglomerate has appointed KPMG to take a closer look at the Lotus accounts and recommend what to do next. But sources close to the company claim Hicom has agreed a secret deal with China Youngman, which imports Lotus Cars to China, to set up a joint venture to buy Lotus. The apparent plan is that Hicom would then sell full control to China Youngman once the Malaysian elections are over later this summer to avoid the transfer becoming even more politically sensitive. The deal has already involved the British Prime Minister, David Cameron, who asked Malaysia's prime minster to give assurances about Hicom keeping Lotus in the UK on his recent visit. Several attempts to contact Lotus, and Mr Bahar, for comment on the latest speculation have met with silence. But, in a rare interview last week with Norfolk's newspaper, the Eastern Daily Press (EDP), Mr Bahar said it doesn't make sense to move the business, but he couldn't guarantee this. This contradicts what he said on two previous occasions – at the Paris and Los Angeles motor shows – when he revealed the company was considering manufacturing overseas to cut costs, although some claim this threat may have been part of his lobbying for a £10m grant from the Regional Growth Fund. As yet, the money has not been paid. It has also emerged that the Turkish-born Swiss national, who is paid a minimum salary and bonus of £1.2m a year, has a generous agreement with Hicom that he will receive a multimillion-pound payment if Lotus is sold, or floated. His contract includes a payment upon any sale or listing of Lotus worth 5 per cent of the enterprise value, or shares equal to the same amount. In another twist, Mr Bahar is the director of a UK company, Lotus Youngman, which was registered on 13 January, just three days before Hicom bought Proton, with another director, Azman Bin Abdulah. Lotus Cars is one of the UK's most extraordinary companies; the creation of the late Colin Chapman – once compared to Brunel for his design genius – whose cars have beaten Ferrari to be the first Formula One team to win 50 grands prix. Mr Chapman took the lightness of Lotus from the track to the road, creating the Esprit, one of the most elegant supercars of the 1970s and 1980s and the star of James Bond movies – turning into a submarine in The Spy Who Loved Me, and the secret longing of most schoolboys, and girls: think Basic Instinct and Pretty Woman. Lotus made a small profit of £1.5m in 2008, but last year disclosed losses of £26m. Debts are said to be around £200m; another reason Hicom is said to be keen to hand Lotus over. The future of Lotus has triggered a fierce local campaign spearheaded by the South Norfolk MP, Richard Bacon. He warns of an MG Rover-type situation if it is taken over by the Chinese with manufacturing transferred to China, and a devastating blow to the local economy. So far neither Hicom nor Mr Bahar have responded to the MP's requests for more information or guarantees about the future. But Mr Bacon hopes the Government will put pressure on Hicom to ensure that if Lotus is up for sale, buyers can be encouraged which will keep the business in Hethel. Genii Capital, which has close ties with Lotus because of its ownership of the F1 Renault/Lotus team, is thought to be interested, and its boss, Gerard Lopez, is said to have had talks with Hicom, but also with Mr Bahar about a possible management buyout. However, raising enough money to finance expansion may be a stumbling block for most buyers, even the Chinese. Erich Hauser, car analyst at Credit Suisse, said: "Lotus needs a rich, industrial company in the developed world to finance the sort of capital expenditure needed to put it up there with the big carmakers. It's unlikely that even Chinese car companies have that sort of money. Lotus needs a sugar-daddy with deep pockets." Who knows, an Indian sugar-daddy, such as Ratan Tata of Jaguar Land Rover who has done more to revive the UK's automotive industry than any other, might be just the man to take the Lotus position. Lightweight heavy hitter * Lotus's first cars was built by the late Colin Chapman, an engineer, in 1948 in a lock-up owned by his girlfriend's parents. He founded the company in 1952 behind his father's pub in north London. "Simplify, then add lightness," was his driving philosophy. * Lotus employs 1,400 people worldwide, including 1,200 in Hethel, Norfolk, where sports cars such as the Elise, Exige and Evora are made. * Lotus racing cars have won seven F1 constructors' championships, six F1 drivers' championships and the US Indy 500. * Lotus Engineering also designs for the automotive industry; one in ten cars in Europe is said to have something in it that derives from Lotus intellectual property. Lotus made the "gliders" – the bare car, minus powertrain – for the US-made Tesla Roadster, the £100,000 electric car, and created the monocoque bicycle which Chris Boardman rode to victory in the Barcelona Olympics 4,000 metres race.
Liked this article? Sign up for free to get Juwai Juwai Asia Market updates!