You've successfully copied this link.
Hawaii's new foreign real estate buyers
By Juwai, 02 June 2012
Wealthy Koreans and Chinese from three locations join Japanese and Canadian buyers in the local market.
Dennis Hollier reports for Hawaii Business magazine.
June, 2012
-- Honolulu is one of the top 10 real estate markets in the country for international buyers. Maybe you're not surprised, but, according to Inman News, a prominent national source of real estate intelligence, 3.6 percent of all homes sold on Oahu between May 2011 and January 2012 went to buyers with a foreign tax bill address. That's roughly twice the national average. On the one hand, this factoid seems to confirm the obvious. Resort towns have always gotten the biggest slice of the international market, which is comprised mostly of affluent people seeking second homes. In that sense, high-end communities like Kahala, Wailea and Hualalai look like the quintessential market for these wealthy foreigners. But if you look closely at the numbers, the story becomes more complicated.
Bigger Picture
That's because Hawaii differs from other U.S. markets in important ways. First, Hawaii real estate doesn't offer the bargains international investors can find elsewhere. According to the Inman report, we don't have the high vacancy or foreclosure rates that have depressed prices in Phoenix, Las Vegas and Florida. For example, in 2010, Cape Coral-Fort Myers, Fla., one of the top 10 markets for international buyers, had a vacancy rate of 37 percent, the highest in the country. The national figure is about 13 percent. In Hawaii, the vacancy rate is barely more than 8 percent. That same divergence is reflected in the low number of foreclosure sales in the Islands. In Miami, during the fourth quarter of 2011, foreclosure sales accounted for 24 percent of all residential sales. In Phoenix, it was 39 percent. In Las Vegas, the country's distressed property capital, an amazing 58.7 percent of all homes sold were foreclosures. In contrast, just 6.1 percent of Honolulu sales were foreclosures. The comparative health of Hawaii's real estate market hasn't yielded bargain-basement prices, so it's not surprising that most foreign buyers have looked elsewhere.
Home Front
The biggest difference with the Hawaii market may simply be the mix of foreign buyers. Across the country, Canadians make up 23 percent of all international buyers, followed by the English and other Europeans. In Florida, which has six of the top 10 markets for foreign buyers, that trend is even more pronounced, with Canadians comprising more than 70 percent of the international market. In Hawaii, of course, Asian buyers predominate. According to the National Association of Realtors (NAR), Japan-based buyers still account for more than 58 percent of all international sales in Hawaii. Canadians are also an important market, but they make up just over 16 percent of foreign buyers. The next largest group is the fabled Chinese, comprising nearly 6 percent of all international sales. This is a familiar landscape to Hawaii Realtors who specialize in foreign buyers. But there are subtle changes obscured in that data. Those changes aren't lost on Patricia Choi of Choi International, Hawaii Business's Top Realtor for three out of the past five years, largely due to international sales. "Now, we have two or three new sets of buyers," Choi says. "The first is the Koreans. They don't have to have a visa anymore, and they can stay up to 90 days. Because of that, we have more people from Korea who are looking to buy vacation homes here. And they come in all ages, from young ones who've been very successful to older retirees. "The second group is the Chinese – and actually you have three groups of those. You have the ones from mainland China, those from Taiwan and those from Hong Kong." It's the group from mainland China that has some Realtors on the edge of their seats. After all, the country's booming economy has produced hundreds of thousands of new millionaires, and, according to Juwai.com, a popular Chinese real estate portal, as many as 85 percent of them would like to immigrate to the U.S. or send their children to school here. That's why smart Realtors like Choi see so much potential in the China market. Although Choi says that 60 percent to 70 percent of her business last year was from Japan, she's focusing more and more attention on China. "I'll be leaving on a flight to China next week," she says. "This is my third year in a row that I'm going to China." She's also going to Seoul this year instead of Tokyo. Understanding foreign buyers isn't just important for Honolulu Realtors; foreign buyers also play an important, albeit diminished, role in the market for high-end property on the Neighbor Islands. "We currently have about 300 members (owners)," says Rob Kildow, principal broker and director of sales for Hualalai Realty, which handles sales for the Hualalai Resort on Hawaii Island. "It looks like about 3.5 percent of our members are Japan-based. We also have members from Australia, Canada, Holland, Hong Kong, Korea and Singapore; but everybody is less than 1 percent except the Japan contingent." Overall, though, he estimates nearly 20 percent of his sales are to foreign buyers. Given the amount of international money coming in, Kildow, like Choi, is keenly aware of what drives foreign buyers. "Without getting too complicated," he says, "a lot of it has to do with currency valuations. With the weak dollar, that's made us more attractive to international buyers." Probably the best example is the yuan, which is up 34 percent against the dollar over the past three years. That amounts to a 34 percent discount on U.S. real estate for Chinese buyers. That same scenario is playing out with the yen, the Korean won and the Canadian dollar. "Lift is also an important part if it," Kildow says. "Now, for example, there's a once- or twice-a-week flight out of Hong Kong. There was an almost immediate jump in buyers with that. That works whenever you get more lift; you always get a pick-up in interest from those areas. People are creatures of convenience." Probably the most important issue for foreign buyers is the difficulty in obtaining financing. Banks simply don't want to offer a typical mortgage to foreign nationals, which means these transactions often involve large quantities of cash. This is particularly troubling for Chinese buyers, who, because of tight currency regulations, often have difficulty getting money out of China. "You can get money out of Hong Kong or Taiwan," says Pat Choi, "But out of mainland China, you're restricted to something like $50,000 per person per year." This is a serious impediment to buying real estate, she notes. "Some are able to get 50 percent loans. And they have big families. But most of the people doing this are pretty affluent; they're people who have a lot of cash saved up." According to Choi, if young Realtors want to get into the international market, they have to understand all these issues. "They need to educate themselves," she says. "They need to go to the NAR meetings and be active in the international section." Maybe most important, they need to understand the needs of the international buyer. Choi recommends traveling to foreign countries and learning what potential buyers are like in their own environment. She offers one more piece of wisdom: "This doesn't happen overnight. It takes time."
Top 10 U.S. Markets for Foreign Buyers
Foreign buyers as a percentage of all buyers in each market
| | |
| --- | --- |
| Lakeland-Winter Haven, Fla. | 9.2% |
| Cape Coral-Fort Myers, Fla. | 8.5% |
| Orlando-Kissimmee-Sanford, Fla. | 6.9% |
| North Point-Bradenton-Sarasota, Fla. | 6.5% |
| Miami-Fort Lauderdale-Pompano Beach, Fla. | 5.3% |
| Phoenix-Mesa-Glendale, Ariz. | 4.2% |
| New York County, N.Y. (Manhattan) | 3.7% |
| Honolulu | 3.6% |
| Tampa-St. Petersburg-Clearwater, Fla. | 2.9% |
| Las Vegas-Paradise, Nev. | 2.8% |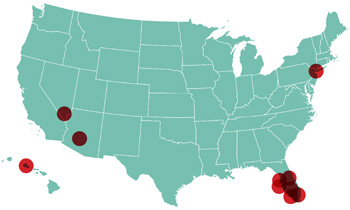 Launch a Business, Get a Green Card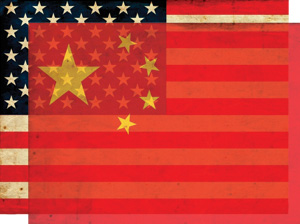 One way Chinese real estate buyers are getting around visa rules and currency restrictions is by investing in U.S. businesses. According to the U.S. Citizenship and Immigration Service, over the past four years there's been a 35 percent up-tick in EB-5 applications, a program that awards permanent resident status to foreigners who invest at least $500,000 in new U.S. business ventures that create a minimum of 10 jobs. Last year, 78 percent of all applicants for the program were Chinese nationals.
Liked this article? Sign up for free to get Juwai Juwai Asia Market updates!