You've successfully copied this link.
U.S. winemakers court Chinese buyers
By Juwai, 15 June 2012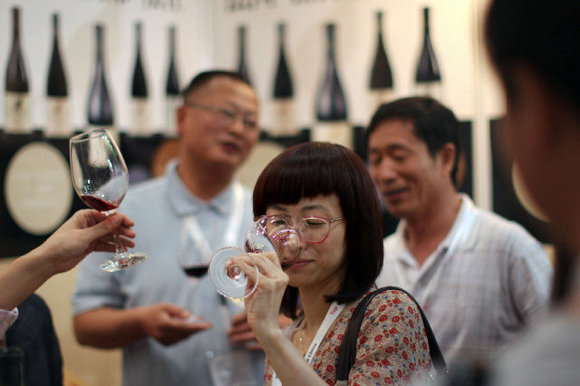 Chinese people visit the Top Wine China 2012 at the China National Convention Center on June 5, 2012 in Beijing, China. China imported a record 1.27 billion U.S. dollars of bottled wine in 2011, up 94 percent year-on-year, according to figures released from the first China Worldwide Wine Summit Forum. (Feng Li - Getty)
With bottles ready for tasting, a group of Lodi wine producers waited anxiously last week for a delegation of monied business people they hoped to impress. The vintners burst into applause when the group finally arrived, over an hour late.
Chris Macias reports for McClatchy Newspapers.
June 14, 2012
-- These honored guests weren't Hollywood moguls or Silicon Valley venture capitalists. They were potential customers and investors from the city of Shenyang in northern China, coming to check out Lodi as a potential source of affordable wine to supply China's rapidly growing market. The rising middle class in China and other Asian-Pacific countries is fueling one of the wine world's fastest growing markets. According to the McKinsey Global Institute, China is expected to add 235 million consumers by 2020 and will account for 20 percent of the global luxury market by 2015. U.S wineries exported $62 million of wine to China in 2011, a 42 percent increase from 2010, according to the Wine Institute, an advocacy group for California's $61.5 billion wine industry. Exports to Hong Kong jumped by 39 percent in the same period, to $163 million. Those numbers – while small compared to the total market – have grabbed the attention of wineries looking for alternatives to the cutthroat competition of U.S. wine sales. California wine comprises 90 percent of U.S. exports. "If you structure the deal correctly, it's both safer and more profitable to sell to China than it is to sell domestically," said Frank Gayaldo, director of international development for the Lodi District Chamber of Commerce, and organizer of last week's tasting. "Imports are eating up roughly 20 percent of our domestic (wine) market, and it's difficult for small wineries to get good distribution contracts." One Lodi winery at the tasting already sells more wine in China than in the United States. Benson Ferry Vineyards has shipped wine to China since 2007, mostly to Beijing. It exported 2,000 cases of pinot grigio and 4,000 cases of merlot in May. "There's over 80 wineries in Lodi, and we're just one," said Wendy Stokes, who oversees sales and marketing for Benson Ferry. "Right now, China's an open market, and we're looking to expand in all parts." Along with a growing taste for designer clothes and high-end watches, China and other Asian nations are deepening their thirst for wine. At first, Chinese consumers were interested mostly in elite California brands and highly coveted "first growth" French wines, such as Chateau Petrus and Chateau Lafite Rothschild, which sell for thousands of dollars per bottle. Now, a softening Asian economy has led to more interest in value-friendly California brands, such as those from Lodi. "They're looking at Lodi and even Napa for bottles in the $20-to-$30 range that are tasting good," said Turino Fuad of VINX International Inc., a Gold River, Calif., wine brokerage. France still leads other countries for wine exports to China, followed by Australia and Chile. Market share for the United States remains small, about 5 percent, said Rex Zhang of the U.S. Agricultural Trade Office in Shenyang, who accompanied the Chinese delegation last week. "In my area, it's even lower," Zhang said of Shenyang. "Americans consume about 80 percent of their total production, and haven't had to depend on the overseas market that much. Now they're seeing big potential in China." The Wine Institute has targeted China with an ad campaign that joins the words "Discover California Wines" with images of the Golden Gate Bridge. The Chinese aren't interested only in buying California wine. Increasingly, they're also looking to buy the wineries and vineyards themselves. The high-end Sloan Estate Winery, which offers some bottles for upwards of $600, sold its property to a Hong Kong conglomerate in 2011 for $40 million.
Liked this article? Sign up for free to get Juwai Juwai Asia Market updates!