You've successfully copied this link.
Assets of Chinese families overtake US counterparts: study
By Juwai, 12 July 2012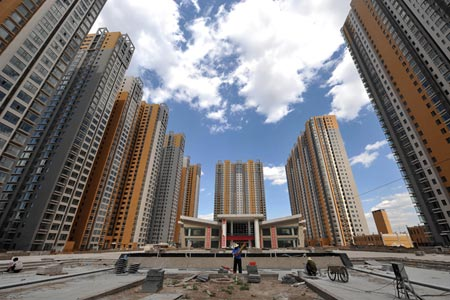 A residential complex in Taiyuan, Shanxi province. (File photo/Xinhua)
The total net worth of the assets of Chinese families is 21% higher than American households due to the country's high property price and larger population, according to a report compiled by Southwestern University of Finance and Economics in Chengdu.
WantChinaTimes.com reports.
July 11, 2012
-- The figure has been queried, however, since China's GDP is less than half that of the United States. Professor Gan Li, one of the academics who produced the report, said their findings were supported by the US Federal Reserve, which announced in June that the net worth of US families in 2010 was US$57.1 trillion while that of their Chinese counterparts was US$69.1 trillion, was around 21% higher than the total for US households. Professor David Wise of Harvard Kennedy School considered the figure reasonable since China's population is four times larger than that of the United States and property prices have already exceeded the US. Gan said China's emerging property market was a main driver of the growth of the net assets of families. Property accounts for a large proportion of household assets in the country, where prices have surged significantly with only a few minor falls since 2007, whereas property prices in the US have declined by 30% over the same period. The professor warned however that Chinese families face a high risk of a property bubble. Property prices have been boosted by demand but the market's main driving force is still properties for investment purposes. The Chengdu university's report said the average return rate of the first home in China is over 300%, making a property bubble likely to form, Gan said.
Liked this article? Sign up for free to get Juwai Juwai Asia Market updates!