You've successfully copied this link.
Chinese firm buys Glasair aircraft builder
By Juwai, 24 July 2012
China's aerospace buying spree just got a little closer to Boeing with the July 20 purchase of Arlington-based Glasair Aviation by Fang Tieji, chairman of Jilin Hanxing Group Co. Ltd.
Steve Wilhelm reports for Puget Sound Business Journal.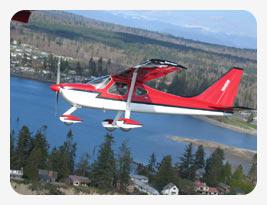 Under Chinese ownership, Glasair hopes to fully certify the Sportsman aircraft.
July 23, 2012
-- Fang intends to keep the company in Arlington and retain its staff of about 35, said Glasair Operations Manager Scott Taylor. Jilin Hanxing Group pursues a variety of endeavors, including running a hotel, managing property, manufacturing construction materials and the automobile business, according to the company website. The purchase price was not revealed. Glasair is tiny but well known in the general aviation industry, producing kits from which buyers can build a low-wing Glasair sports plane or a high-wing Sportsman, which looks like an old Piper Cub. "We've been very successful, that's why the acquisition took place," Taylor said. "We were recognized in the industry as bringing something to the table, and therefore desirable to acquire." Fang's first priority is to fully certify the Sportsman so production can shift to complete aircraft rather than the kits that are now sold, Taylor said. Kit aircraft are in the FAA's "amateur-built" category and are not allowed to carry paying passengers. Friday's purchase, while closest to Boeing country, is only the latest in a series of purchases in the general aviation category by Chinese companies. Earlier in July, Hawker Beechcraft of Wichita, Kan., agreed to be purchased for $1.79 billion by Superior Aviation, Beijing. And in 2001, Duluth, Minn.-based Cirrus Aircraft Corp. was purchased by China Aviation Industry General Aircraft. All three general aviation companies were damaged by the recession and have struggled to survive. China's political leaders have aspirations to break into the global aerospace industry and the Commercial Aircraft Corporation of China, Ltd. (Comac) is building a potential competitor to the Boeing 737, the C 919. Chinese interest in general aviation has been increasing, as greater numbers of people have the financial ability to own or operate aircraft.
Liked this article? Sign up for free to get Juwai Juwai Asia Market updates!