You've successfully copied this link.
Report: Asia now has 1 billion web users, and this is what they do online
By Juwai, 12 July 2012
Asia now has more than one billion internet users – or 1.016 billion, to be precise – who amount to 46 percent of the world's total number of web users. More than half of those are in China. In addition, 623 million access the web via mobile phones. That's the overview of the Asia-Pacific web scene depicted in a new report by the Asia Digital Marketing Association (ADMA), a non-profit organisation backed by corporate donors such as Google, Microsoft, and CNN.
Steven Millward reports for Tech in Asia.
July 11, 2012
-- For that fast-growing regional audience, ADMA cautions brands to think carefully before engaging in social marketing – "Although 60 percent of social networkers say that social networks are a good place to learn about brands, 50 percent also say they don't want to be bothered by brands" – and to take care to note the "fragmentation of online activities" between different nations. Here are five eye-watering biz and marketing stats from ADMA's David Ketchum:
Online advertising spend in Asia-Pacific reached US$24.8 billion in 2011, making the region second only to the US, with $34.5 billion.
Every marketing dollar spent online returns $1.78, exceeding the returns of all other marketing media including TV, print, out of home and trade (according to Nielsen).
By 2015, Asia Pacific is expected to account for a third of all global mobile ad spend, reaching $6.92 billion.
India, China, Australia and Japan are expected to generate $258 billion in commerce sales in 2012 between them, and mobile commerce is on the rise with 34 percent of mobile internet users in China and Korea transacting via handheld devices.
Mobile app downloads reached five billion in 2011, generating $871 million.
Here are some of the key demographic tables from desktop internet users in Asia as a whole. It focuses on who's online, Asia's most trafficked sites (note Chinese web giants Tencent and Baidu), and where folks go for social media, online gaming, and e-commerce:

And here are three of the demographical highlights of mobile web users in Asia in the ADMA report. It's interesting to note just how much more likely Asian mobile users are to do serious, practical stuff on their smartphones or feature-phones: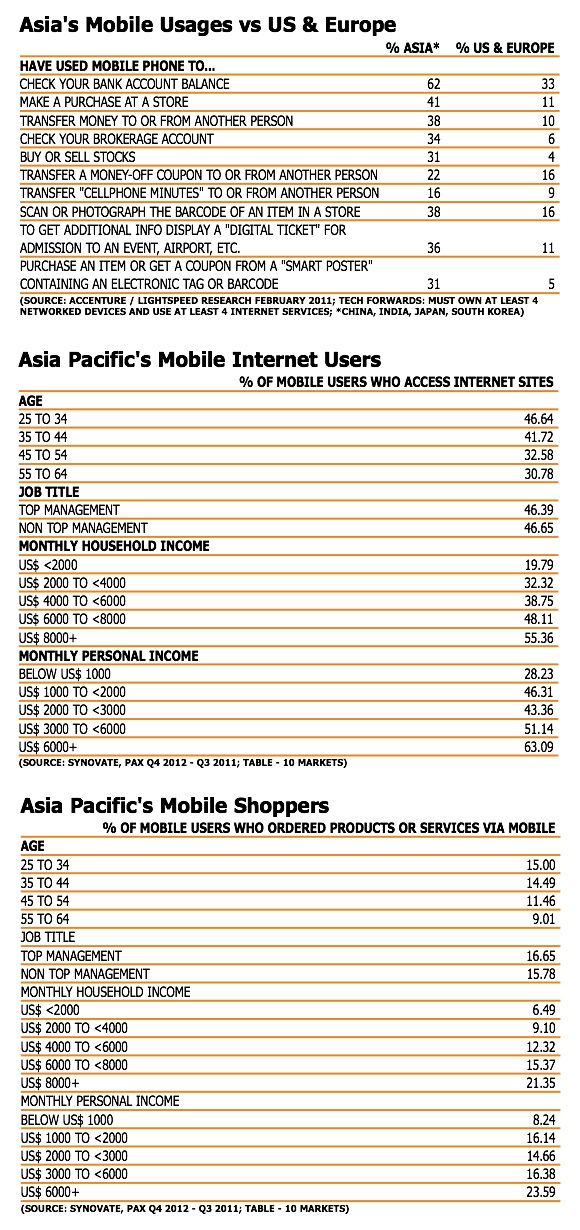 If you're more into the consumer attitudes and marketing aspect of this and want to see ADMA's report in full, grab it at the source link below. [Source: ADMA's
Digital Marketing Yearbook report
for 2012]
Liked this article? Sign up for free to get Juwai Juwai Asia Market updates!