You've successfully copied this link.
Property of the Week: Beachfront Mirage at Port Douglas, Australia
By Juwai, 09 January 2014

Within the exclusive privacy of the Beachfront Mirage Estate, therein lies a stunning and spacious split-level contemporary home that promises the bliss of utter freedom and sheer rejuvenation, every day. Some might say this is the epitome of luxury lifestyle and living, the kind that ultra wealthy Chinese buyers increasingly thirst for.
Strategically located at Port Douglas, which was voted third on the list of "100 Best Towns in Australia" by Australian Traveller magazine, life here offers all the excitement and comforts of a big city encapsulated within a relaxing, small town.
At just less than an hour away from the Great Barrier Reef where scuba diving and snorkelling abound, Port Douglas also boasts a gorgeous, white-sand beach as well as numerous golf courses, swanky five-star resorts – perfect for Chinese buyers who in the past has shown a preference for waterfront properties and a growing penchant for golf.
And when you want to escape from the hustle bustle for some peace and tranquility, home is just a stone's throw away.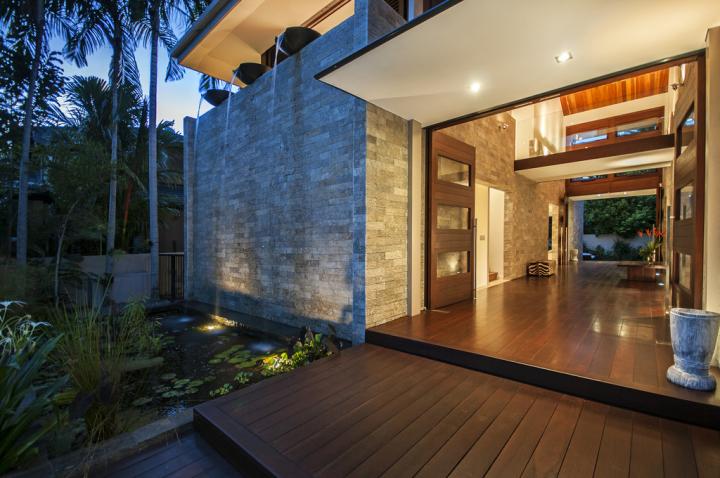 Step inside and be embraced by the soft breeze that greets you at the grand hall foyer entrance. Designed with an open concept that encourages airy spaciousness, natural light spills in from every angle, bathing its spotted gum timber and extensive high ceilings with the tropical warmth of North Queensland.
Featuring 4 large bedrooms and 3 bathrooms, the master suite comes attached with a dream worthy walk-in wardrobe and beautiful ensuite. Creatively planned to offer a sense of freedom and privacy at the same time, the master suite can also transform into a private deck that overlooks the saltwater lap pool.
A large family lounge offers quality family time, while a private study ensures uninterrupted working peace of mind – ideal for the traditionally family-oriented Chinese, especially one with a business empire. Food enthusiasts would also be delighted with the fully-equipped gourmet kitchen, as well as the option to dine either inside or at the outside deck that fuses seamlessly with the dining area – turning entertaining with friends and loved one into an absolute delight, thanks to the beautiful view of the tropical landscaped garden and the balmy breeze.
This contemporary property is available at $2,649,551 (AUD 2,800,000).
View this property on Juwai.com or on Quaid Real Estate.

Liked this article? Sign up for free to get Juwai Juwai Asia Market updates!