You've successfully copied this link.
Juwai launches mobile app for international Chinese property buyers
By Juwai, 11 April 2014

We've officially launched our world-first Chinese-language iPhone app for international residential real estate...
...allowing wealthy Chinese to surf 2.4 million listings in 53 countries!
China's billionaires spend one-third of their time travelling – the richer they are, the more time they spend away, and 42% of Chinese millionaires rate their smartphone as their preferred online shopping tool.1
The new Juwai mobile app gives international agents unparalleled exposure to the Chinese market, and makes it that much easier for buyers to find properties and agents of interest.
3 cool new features on the Juwai mobile app: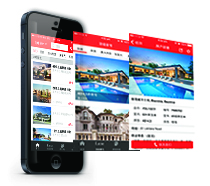 #1 Global Location Based Services (LBS)
Chinese buyers can now search and find properties for sale in their vicinity while travelling overseas – anytime, anywhere, with location-based functionality. This is especially useful for international buyers, who may have limited local knowledge and find it difficult to search by map or neighbourhood name.
#2 Chinese Social Media Integration
Deep integration with China's "hottest mobile social app", the 270-million-user WeChat2, means users can instantly share property listings and search results with their WeChat friends.
#3 Multiple Contact Methods
Once they find a property, buyers can contact listing agents directly, or contact Juwai.com's Customer Support Centre via instant message, email, voice mail or voice call – right from the app.
Read more about the Juwai mobile app from Inman News, OPP Connect and Property Portal Watch!
Sources: 1. Hurun Chinese Millionaire Wealth Report 2013 2. Red Luxury
Liked this article? Sign up for free to get Juwai Juwai Asia Market updates!