You've successfully copied this link.
Chinese developers going strong with offshore expansion
By Juwai, 09 July 2014

Major Chinese developers continue to cast their nets far and wide in search of new opportunities internationally.
Driven by China's tepid and ambiguous real estate market, Chinese offshore real estate investment leapt 25% YoY, reaching US$2.1 billion in Q1 of 20141 – during which residential property investments saw an 80% hike.
This more than US$1.1 billion in residential investments set a new record, shooting past last year's US$600 million.2
In the UK alone, Chinese investments in London property surged 1500% since 2010.3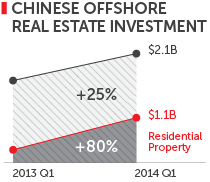 The trend is also driven by several factors that are telling of the strong Chinese consumer demand abroad2:
Stable policies
Opportunity to procure permanent property rights
High return on investment (ROI)
Buoyant property markets overseas
In a conversation with Property Observer, Juwai.com Co-CEO Andrew Taylor notes, "If you're interested in understanding the Chinese buyer, look no further than the Chinese developers," as often this is to attract Chinese investors.
Major investments from China:
China Life Insurance – London tower in Canary Wharf, UK (US$1.35 billion)
Ping An Group – Lloyd's Building in London, UK (US$442 million)
Dalian Wanda
– One Nine Elms in London, UK (US$1.1 billion)
– Plaza de Espana, Madrid, Spain (US$361 million)
Greenland Group – 70% of Atlantic Yards in New York, US (US$200 million)
Sources: 1. Jones Lang LaSalle; 2. Want China Times; 3. Mingtiandi.com
Liked this article? Sign up for free to get Juwai Juwai Asia Market updates!