You've successfully copied this link.
Chinese still favour American universities most
By Juwai, 12 September 2014

Universities in the US outshone other countries – according to a recent survey in China by the Center for World Class Universities.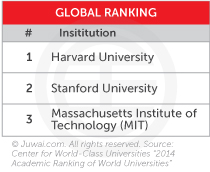 US universities dominated 16 of the top 20 universities favoured for affluent Chinese seeking overseas education for their children.1
Harvard University reigns at the top and has remained as numero uno since the survey was first conducted in 2003.
Stanford University and Massachusetts Institute of Technology (MIT), follow at second and third place respectively.1
Chinese students in the US
There are currently over 333,000 Chinese students enrolled in American universities4, and they've retained their position as the largest group of international students pursuing tertiary education in the US for many years.4
The trend aligns with the popularity of US properties, as many Chinese parents invest in real estate in the destination of their child's university.
Six of the top 20 American universities were in California – the most popular state for Chinese property hunters.2
However, although the US is the most popular for education and property investment, only seven US cities rank in the top 30 cities with the best real estate returns.5 This is according to China's Bank of Communications' Sea Turtle Index, which benchmarks potential ROI in international education.5
Non-American universities in the Top 20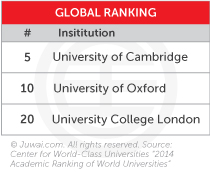 There were also four universities in the Top 20 that were not American.
Three were from the UK, where we've seen an increasing demand for property: University of Cambridge, University of Oxford, and University College London.1
The UK, as we have looked at before, welcomed $1.7 billion in property investment from Chinese buyers6, who un-coincidentally also account for 27% of London's new property sales.7
The last non-American university to make onto the list is the Swiss Federal Institution of Technology Zurich in Switzerland, which came in at #19.1
7.5% of Chinese HWNI's penchant for Switzerland's reputation for "aristocratic education" have propelled it into the list of Top 5 study abroad destinations for the Chinese.8
Top 3 education destinations for Chinese
On Juwai.com, we recently released our Studying Abroad Series, which sheds light on the top three education destinations that are currently preferred by Chinese high net worth individuals – the US, UK and Canada.
Tailored specifically for China's elite, who are progressively turning to overseas education for their children, this series aims to educate on the advantages of studying in those countries, as well as offer comprehensive insights ranging from each country's education system and scholarship opportunities to visa and immigration-related information.

What next?
In recent years, wealthy Chinese have continuously favoured the UK for their children's high school education, with 28.7% preferring the UK to the US (26%).8 However, that could all change soon.
Recent stats have shown that Chinese are now increasingly choosing American high school education for their children.
In 2005, 639 US visas were granted for Chinese high schoolers. Last year, it soared to 31,889 – 50 times more than eight years ago.4
With the US dominating at university level, this rising interest in American high school could further fuel Chinese student interest in US universities post high school, and as a result continue to further boost Chinese buyer interest in homes in the US.
Other countries also welcoming more Chinese students will likely also experience the same phenomenon, as education has been proven to be the main driver for affluent Chinese seeking to migrate.8
Real estate agents in destinations popular for education should take heed of this up-and-coming trend for super-rich Chinese – whether at a university, high school or even primary school level.
Sources: 1. Center for World-Class Universities "2014 Academic Ranking of World Universities"; 2. National Association of Realtors (NAR) on Forbes; 3. SCMP; 4. SCMP ; 5. Bank of Communications Sea Turtle Index/The Economist Intelligence Unit 2013; 6. CoStar; 7. Savills; 8. Hurun Report "Immigration & The Chinese HNWI 2014"
Liked this article? Sign up for free to get Juwai Juwai Asia Market updates!