You've successfully copied this link.
Juwai connects global agents with Chinese agents in Beijing
By Juwai, 29 September 2015

We've just concluded our 2015 Fall Juwai China Agent Summit – the most unique B2B opportunity within the industry for international real estate professionals.
Hailed as a pioneering event, this Agent-2-Agent Summit gives international property agents the insights and knowledge needed to help construct a smart China strategy. Not only that, it also provides the unique opportunity to meet with and forge business connections with local agents in China – valuable connections that can facilitate more opportunities to sell to Chinese property buyers.
This Beijing Summit, 55 international agents flew in from 10 countries across the globe to network with 150 select Chinese agents specialising in property, immigration, investment, and education.
Upon arrival in Beijing, the Juwai team welcomed all international agents with a Meet & Greet session the evening before the Summit, giving international agents the chance to first meet and socialise with each other, as well as to get their bearings on China.
The next morning, the Summit kicked off with morning speaker sessions, which featured 5 veteran speakers acutely focused on the China market.
Keynote speaker Simon Henry, Juwai.com Co-Founder & Co-CEO, couldn't stress enough upon the steady rise of Chinese buyers, even as he dismissed apprehensive speculations generated by naysayers in the West.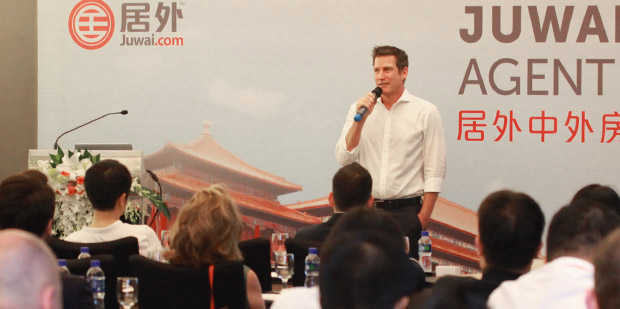 "We're not seeing what's been reported in the West. We do expect [China's growth] will come down a little bit – perhaps 20-25% – but it's on a base of US$52 billion a year. The growth is still large and the growth is still happening," said Henry.
One driving factor sustaining this ongoing trend is education. Chinese students have fast grown to become the largest group of international students in many countries, especially in the US, and nobody knows this better than Andrew Sohn, Co-Founder & CEO of Beijing-based Due West Education.
Sohn shared the in's and out's of how education impacts Chinese property investment overseas, even as he enlightened international agents on the Chinese single-minded zeal in pursuing first-rate education abroad for their child or grandchild.
"The way family dynamic works [in China] is you have two sets of grandparents on both sides, then two parents supporting one child. That's effectively six people supporting one child. [...] So if you think about the money that's available to invest on that one child, it's actually quite large," he explained.
Education aside, emigration is yet another major motivation driving Chinese buyers to invest overseas. Immigration expert Sandra Li, who is also Founder of Aoye Immigration Services sums up the mindset of Chinese HNWIs (high net worth individuals) with emigration in mind.
"What's rooted in the gene of Chinese investors is property. They only trust soil, brick and water – they don't trust anyone but land, brick and water," said Li.
Last but not least, asset diversification is an important element that motivates Chinese to invest internationally. Henry Moo, General Manager of Dah Sing Bank (China) Ltd Shanghai and also Co-Founder of AAP Financial Solutions Group, elucidates this point with a current example.
"Recently [Chinese] people are happier to buy Australian property because it [Australian Dollar] dropped to a record-low of 4.3 RMB to 1 AUD last week. […] So the internationalisation [of the RMB] is also helping people move their assets out of China, into other currencies, into other countries; be it properties, investment or securities."
From all these information, the burning question that surrounded the room ran along the lines of "How do you start marketing to Chinese?" – a questioned answered by Dan White of the Ray White group, who emphasised the need for patience and perseverance when working with Chinese buyers.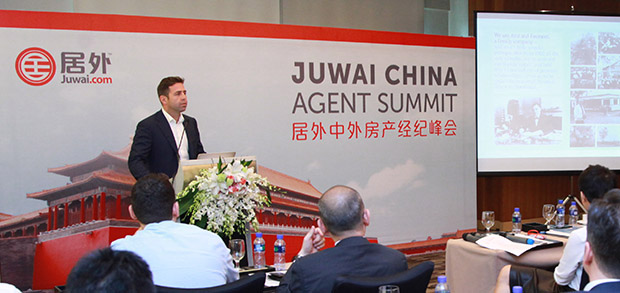 "One of the interesting things is we don't need to be up in China to sell property in Australia, and that's where the challenges are to be faced. We're doing a lot of work […] we're spending a lot of time in a market that is very much a long-term view. Fortunately, we're a family business that is generational because you need that [time, effort and commitment] in China," shared White.
Local Chinese agents attended a separate speaker, featuring Henry, Li, and Vanessa Kaufman of Sotheby's International Realty as speakers. These speakers shared insights with Chinese agents on international investment and real estate markets, which aims to facilitate the working relationship and understanding between the two sides – international and China agents.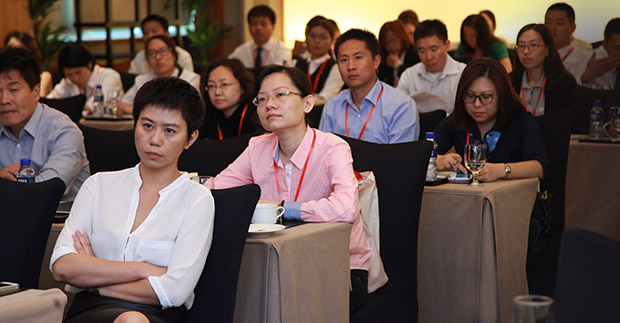 After lunch, the most anticipated part of the Summit commenced: the agent-to-agent networking session in the afternoon.
Even before the networking officially commenced, the room was already abuzz with chatter between international agents and Chinese agents, some facilitated by Chinese interpreters – individually vetted by Juwai to ensure quality of translation and services for B2B conversations – stationed at each table.
Throughout the 3-hour networking session, Chinese agents worked the room in search of international agents representing countries of interest to them. While some Chinese agents took some time to warm up, choosing to prowl the room before approaching international agents who piqued their attention, other more gregarious ones jumped right in to actively engage international agents in discussion.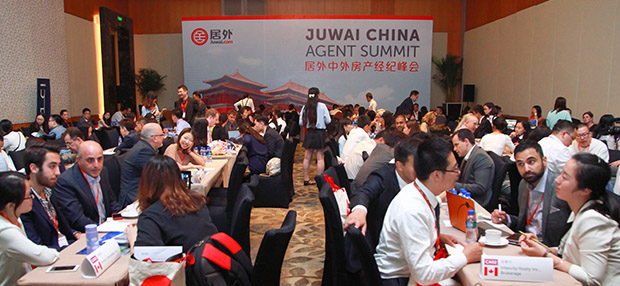 The event concluded with an evening of Chinese cultural appreciation hosted by the Juwai Team for the international agents at the famed Hua's Courtyard Restaurant, which lies tucked away in Beijing's renowned gourmet street, Guijie Street (Ghost Street).
Highlights of the night included the gastronomic experience of Beijing's signature cuisine – including Roast Peking Duck – and traditional Chinese performances, such as mysterious Bian Lian (Face-changing) opera dance and the agile acrobatic Chinese tea-pouring dance, which offered international agents a taste of China culture to end the evening.
After a lively night of revelry, and now equipped with knowledge to build a China strategy, agents bade their farewells. Some international agents left with plans to arrange follow-up meetings with contacts they made earlier int he day, while others stayed on to explore and tour China. Either way, here's what some agents had to say:
Ying Suo, First Team Real Estate, US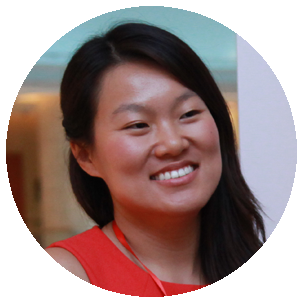 "The best thing for you to be connected with Chinese clients is to get yourself out here to be connecting with agents and the different agencies out here, because these connections can't be made over the internet. And if you can't get yourself out here, definitely visit Juwai to get yourself a membership because they have so many resources and reports published and provided to their members that with those tools and resources, you will be much more equipped to get your clients both domestically and internationally."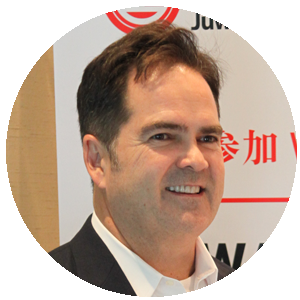 Jeff Albee, Sperry Van Ness, US
"The Juwai Summit provided valuable information for me and my company to create our China strategy. This is a must do for any US real estate company looking to work with the Chinese investors."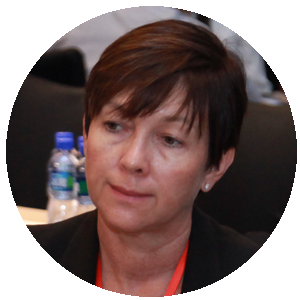 Fiona Nel, MontAzure, Thailand
"I would definitely recommend the Juwai Agent Summit to any foreign developer or agent who is interested to do business in China. Not only were the speakers very informative but being able to liaise with Chinese agents was essential to create an opportunity to expand into the Chinese market. I benefited greatly from the Summit and would like to thank everyone at Juwai.com for making it a well-organised and very worthwhile experience."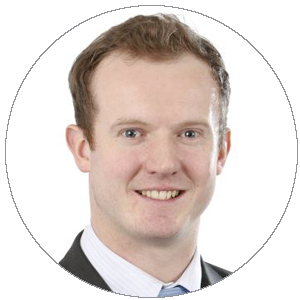 James Littlewood, Select Property Group, UK
"This was the second Juwai [Summit] event that my company has attended, and as an opportunity to network with Chinese agency partners, we have not found a better platform."
Pre-registration up now for Shanghai Summit!
Missed out on this Beijing Summit? The next Shanghai Summit is coming soon on 6 November!
Pre-registration is already up and running, and we're well into bookings for it. Space is limited though, so don't miss out on booking your spot for this final Juwai A2A event for 2015!
New to our Juwai China Agent Summit? Hear what past agent attendees have to say right here.
Liked this article? Sign up for free to get Juwai Juwai Asia Market updates!