You've successfully copied this link.
New Juwai Admin launched!
By Juwai, 15 September 2015

We've just launched our new management system, Juwai Admin – a first of many upgrades to come!
The new platform introduces enhancements that make it easier than ever to upload and manage your profile pages and property listings.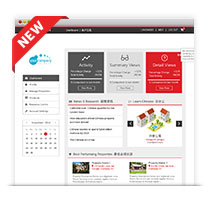 Here are three new features at a glance:
#1 New Dashboard
Your new Juwai Admin dashboard offers top line news and a clearer view of the performance of your listings. The new design also makes it easier navigate to other important information in the platform.
#2 Products & Services
We've added a host of new product sections, making it easier to find what's best for you. You can even get a recommendation instantly by simply filling in the form presented by the online Juwai representative upon first entering the site.
#3 New Resource Centre
Now you can stay up to date and get the latest China market news right from within Juwai Admin. You can also download tools and brochures to help you work better and smarter with Chinese buyers!
There's so much more we could say, but we wouldn't want to spoil your first-hand experience of the revamped Juwai Admin.
Instead, why not sign in now and check it out yourself right now?
Liked this article? Sign up for free to get Juwai Juwai Asia Market updates!