You've successfully copied this link.
China now home to the most billionaires in the world
By Juwai, 05 November 2015

China now boasts the most billionaires in the world, surpassing the US for the first time.
According to the Hurun Global Rich List, China's dollar billionaire population grew by 68.4% to 596 dollar billionaires, compared to 537 in the US.1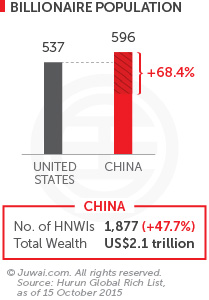 All together, China now boasts of 1,877 HNWIs, each with over 2 billion yuan (US$310 million). 606 were new faces in the list – making this year the fastest growth in wealthy Chinese ever seen.1
That means that in just one year, China created more wealth that any other country has ever achieved before.
What's more, real estate ranked as China's second biggest money-spinning industry. The predisposition towards property is commonly said to be inherent to Chinese, so it's no surprise that real estate is responsible for such a large portion of China's wealth creation.
Interesting to note is that 95% of those on the Hurun Global Rich List are self-made entrepreneurs who earned their massive wealth all on their own, characteristic of much of China's wealthy and growing upper-middle-class.
This offers good indication of China's financial sway and global impact. After all, China's total wealth – now at a staggering US$2.1 trillion – exceeds the GDP of certain countries, including India, Norway, and Russia.1
Top 5 richest men in China
Who reigns as the richest businessman in China this year? We give a quick lowdown on the 5 wealthiest tycoons:
#1: Wang Jianlin, Dalian Wanda
The title of "China's richest man" once again belongs to Wang Jianlin of Dalian Wanda – goliath Chinese developer. His fortune surged by 52% on the back of his cinema chain investment to hit US$34.4 billion.1 His foray into sports marketing, including a 20% stake in Atlético de Madrid and acquisition of the World Triathlon Corporation, also helped outstrip Li Ka-Shing as the "Richest Chinese in the World".1
#2: Jack Ma, Alibaba
Second in line is Jack Ma of Alibaba. His net worth dipped by 3% to US$22.7 billion due to the drop in value of Alibaba's stock, forcing him to relinquish his hold on top spot back to Wang Jianlin. However, the steady rise of Ant Financial – the mother company of Alipay – has rendered it as one of the most anticipated listings of 2016, and is valued at a whopping US$45 billion. In fact, Jack Ma still dominates as China's highest-profile entrepreneur.1
#3: Zong Qinghou, Wahaha
Zong Qinghou of F&B giant Wahaha firmly holds the third spot again this year with a total wealth of US$21.1 billion. Known as China's "Drinks King", Zong was formerly China's richest man back in 2010 and 2012.1
#4: Pony Ma, Tencent
Coming in fourth with US$18.8 billion is Pony Ma of Tencent1 – China's most valuable brand, which gave the world WeChat, one of the world's most powerful apps now with 600 million active users.2 Tencent is currently valued at US$44.7 billion, which surpasses the value of China Mobile and Alibaba's Taobao – China's largest online shopping platform.1
#5: Lei Jun, Xiaomi
Rounding out the top 5 is Lei Jun of Xiaomi, major smartphone and smart devices creator in China. With over 60 million Xiaomi smartphones sold, Lei Jun's personal fortune soared 104% to US$14.4 billion, putting him in the top 5 for the first time.1
Other Chinese real estate magnates
Besides Wang Jianlin, there are six other Chinese property moguls on the Top 20 list, including: Lu Zhiqiang of FanHai (#8), Zhang Jindong of Suning (#9), Lu Guanqiu of Wanxiang (#10), Yan Bin of Reignwood (#10), Xu Jiayin of Evergrande (#13), and Chen Lihua of Fu Wah International (#19).
All in all, the Hurun's Top 20 Rich List counts seven wealthy Chinese who made their fortune either partially or entirely in real estate.
And as the world watches China's wealthiest bring their investments forward on the international stage, it will be interesting to see how they impact overall Chinese investment and contribution to local economies everywhere.
Sources: 1. Hurun Global Rich List, as of 15 October 2015; 2. Statista.com
Liked this article? Sign up for free to get Juwai Juwai Asia Market updates!