You've successfully copied this link.
The UAE is captivating Chinese buyers – here's why
By Juwai, 08 August 2016

$273 million – that's how much Chinese buyers invested in the United Arab Emirates (UAE) during H1 2016.1
Indeed, the UAE may have a dry climate but to Chinese property investors, it's a veritable oasis of opportunity brimming with attractive pricing, world-beating yields, and a potential to develop into a global business and tourism hub in the coming years.
Furthermore, this latest sign of the growing presence of Chinese buyers in the UAE shows that it's not flash-in-the-pan trend. Rather, the stellar receipts recorded in H1 2016 are part of a long-term driving trend through which demand from Chinese buyers is becoming more dominant in the UAE market.
Chinese population in Dubai alone hit 230,000 in 2015 – up 53% compared to 150,000 Chinese in 2010.2
Enticing UAE market conditions captures Chinese attention
Current market conditions in the UAE are primed to keep this trend rolling.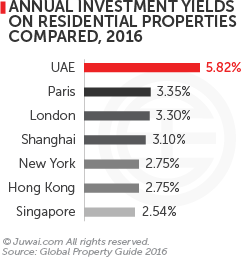 Real estate prices have come off in recent years – 15% y-o-y in 2015 alone, according to the IMF – but monthly tracking by UAE-based property consultancy Valustrat through Q1 & Q2 2016 shows buyers are increasingly seeing opportunities in the market and strong chances of a rebound, with stronger sales at key projects and signs of recovering prices in recent months.3
Apart from market cycles, average yields of close to 6% on UAE property are just too good for investors to ignore.4
Average yields in Dubai alone is estimated to be 8% to 10%5, compared to the 2%-3% returns in hub cities like Hong Kong, Singapore, and London.6
5 factors behind the UAE's compelling long-term growth
Chinese investors are some of the savviest on the bloc, and seeing them position themselves to ride the UAE wave is a pretty solid cue worth noting. We shed light on the five factors driving the UAE's multi-faceted long-term growth story:

#1: Dubai's 2020 Expo set to drive property price growth
The World Expo event due to be held between October 2020 and April 2021 in Dubai is expected to be a huge catalyst for price growth.
With 25 million visitors anticipated to converge in Dubai for this spectacular event – 70% who are expected to be international visitors – the UAE government is pulling out all stops to ensure its success.7
Already, the Dubai government has invested billions of dollars into its economy to build infrastructure for the event8, and – just as it has for host cities in the past – improved infrastructure will create value for property investors.
Upgrades to infrastructure and increased investor interest saw real estate prices grow 38% in Seville during and around its holding of the event in 1992, while Lisbon saw a 78% increase in property prices as a World Expo host city in 1998.9
To top it off, the Dubai World Expo's theme is on creating an improved future under the three subthemes of Opportunity, Mobility, and Sustainability7 – something that will resonate well with Chinese, who are increasingly becoming more aware about living sustainability and seeking better wellbeing abroad.

#2: Attractive education options for Chinese
While the UAE has long been famed for its tourism, development, and construction, education is now coming up strongly to becoming a new contender in luring in Chinese students because of a few things: vast options, cultural diversity, and safety.
To begin with, education facilities in the UAE offer a vast array of education system choices for students. From British to American to Australian to even Indian or Russian education systems, all these can be found in the UAE10, which makes the UAE eminently appealing to Chinese students and parents alike.
Dubai is already home to 26 branches of international universities from 11 countries, including the US and Canada.11
Furthermore, the UAE offers Chinese students the opportunity to receive an international education in a highly multicultural, modern, and safe environment. This is vital to note, as Chinese generally place heavy emphasis on safety and security.
Considering education is one of the principal motivations for Chinese overseas property investment, it's safe to say that the UAE is superbly positioned to draw even more Chinese property investment into the region. In fact, the rising significance and potential of Chinese students in the UAE is so profound that the first Chinese international school in Dubai is already in the works, and is slated to open in 2017.12

#3: Growing tourism hotspot for Chinese travellers
Events like the 2020 Expo, when combined with the UAE's tax-free shopping and range of unique attractions – Burj Khalifa, Shaikh Zayed Grand Mosque, bustling and exotic souks, to name a few – make the UAE an up-and-coming holiday hotspot for Chinese tourists.
450,000 Chinese travellers visited Dubai alone in 2015 – a 29% increase from 2014.13
This is because the UAE government has wised up to the needs of Chinese tourists by streamlining visa applications and introducing multi-entry visas14, as well as promoting Dubai as a dream travel destination during key holiday seasons in China.
Additionally, the UAE government has teamed up with Chinese companies to offer retail promotions to Chinese, such as the recently-announced 25% discount in Dubai malls for Chinese shoppers using UnionPay, China's most popular debit card.15
Even air carriers, who play a pivotal role in connecting the UAE with China, are getting into action as well. Emirates, Etihad, China Airlines, and Hainan Airlines16 are all riding the wave of booming tourism demand from China by expanding their range of services to not only include major cities like Beijing, Guangzhou, and Shanghai, but also lower-tier yet fast-growing cities such as Hangzhou, Chongqing, Zhengzhou, and Yinchuan.17

#4: Future global hub of the 21st century
The UAE government's visionary initiatives centering around the UAE Vision 2021 is set to make the UAE one of the best countries in the world by 2021 by focusing on six main sectors of Education, Health, Economy, Police and Security, Housing and Infrastructure, and Government Services.18
Together with its valuable strategic positioning as a trade and investment hub – its direct air and sea links to Europe, Africa, and the Middle East means shorter travel times for Chinese into those key markets – this makes the UAE even more desirable in the eyes of ever-progressive Chinese.
Even the number of Chinese companies operating in Dubai alone has soared from less than five in 2005 to over 4,000 at the end of 2015, with all four of China's largest banks present in the UAE region.19
China is now the UAE's largest trade partner with a total trade of $60 billion forecasted for 2016.19
And the UAE's principal location as a trade conduit is undoubtedly vital to Chinese companies – 60% of China's $33 billion worth of exports to the UAE are re-exported to Africa and Europe via the Jebel Ali port, the ninth-busiest container terminal port in the world.

#5: Springboard for China's 'One-Belt, One-Road'
It's this very strategic positioning within easy reach of some of the fastest-growing markets in the world that will sustain and propel Chinese investment into the UAE, even more so as China embarks on its 'One Belt, One Road' economic plan.
The 'One Belt, One Road' strategy is based on expanding the reach of Chinese companies across the world by developing trade infrastructure, negotiating trade deals, and winning market access for exports and investment throughout Central Asia, the Middle East, and Africa.
With this in mind, the UAE has signed a number of landmark deals with China, such as the establishment of a joint sovereign wealth fund with the UAE government to invest in projects linked to the 'One Belt, One Road' initiative20, plus a $35-billion currency swap agreement to boost trade and investment flows between the two countries.21
This bodes well for both China and the UAE, and will serve well to further bolster the existing long-term friendship between the two countries that dates all the way back to the 7th century.22
Chinese investment in UAE primed for future growth
This marks yet another major global market that is feeling the force of outbound investment from China. And with the centrality of the UAE to the 'One Belt, One Road' strategy, plus the UAE's compelling investment case mentioned earlier, Chinese investors look set to continue driving demand in the UAE.
This will be even more apparent as Dubai alone is expecting a 6.6% annual economic growth in 2020, compared with 6.3% in China.23
All these, combined with the UAE's existing economic flexibility and vitality, is reason enough to believe the UAE is well on its way to becoming a rising destination in many aspects, and this alone is sufficient to rake in rapt attention and demand from Chinese buyers.
Sources: 1. Dubai Land Department: H1 2016 Investment Summary; 2. Khaleej Times: Chinese investors set sights on Dubai homes; 3. Valustrat: Q1 2016 Dubai Real Estate Research; 4. China Daily: Chinese strike gold in Dubai with booming homes market; 5. IMF: Global Housing Watch; 6. Global Property Guide: Gross rental yields – United Arab Emirates compared to continent; 7. Expo 2020 Dubai; 8. Bloomberg: Dubai to invest $1 billion in roads to spur growth as Expo looms; 9. The National: Real estate price push for Expo host cities; 10. Vision: In a class of its own; 11. China Daily: More Chinese are studying in Dubai; 12. The Pie News: First Chinese school planned for Dubai; 13. Xinhua: Dubai lures record number of Chinese tourists in Q1; 14. China Daily: Flower of the desert; 15. China Outbound: Dubai takes measures to lure more Chinese tourists; 16. The National: Emirates to add two more Chinese destinations in 2016; 17. Khaleej Times: Emirates opens up new hateways in MidWest China; 18. Vision2021.ae; 19. Foreign Policy Institute: The UAE, China and the new 'Triple South'; 20. SWFI: China and UAE form joint investment fund; 21. Reuters: China, UAE renew 35 billion yuan currency swap deal; 22. Gulf News: Chinese Ambassador UAE and China enjoy a long-term friendship; 23. The National: Expo to help Dubai to grow faster than China by 2020;
Liked this article? Sign up for free to get Juwai Juwai Asia Market updates!