You've successfully copied this link.
Why Rio Olympics isn't drawing Chinese buyers to Brazil
By Juwai, 18 August 2016

Even though it seems like Chinese investment levels only go up, Chinese buying does vary by local conditions.
According to Goldman Sachs, the Olympics is a property goldmine that has boosted real estate prices in its host city in the past.1
Citing Sydney, Los Angeles, and Atlanta as prime examples, the Olympics generally translates into infrastructure development, tourism growth, and a stronger profile for the host city, and this has enticed many intrepid international property investors in the past.1
In fact, for Chinese buyers who are always on the lookout for prime investments, the Olympics is practically a gold standard investment opportunity beckoning them.
However, while the Rio Olympics has attracted the world's attention, Chinese property investors are strangely not flocking over to both Rio de Janeiro and Brazil.
Rio Olympics not a hit with Chinese investors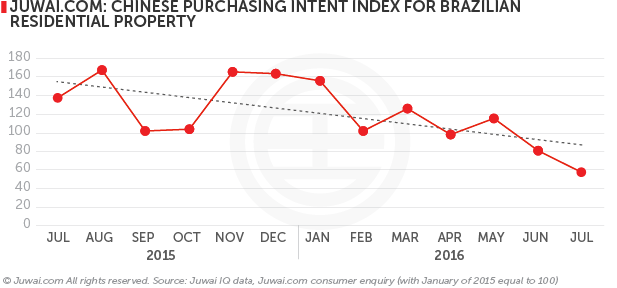 Indeed, even as Chinese interest over the Rio Olympics has been skyrocketing, Chinese buyer searches for Brazilian property remains on a steady decline.
Property search volume is a key predictive indicator for real estate demand, and Juwai's purchasing intent index shows a steady decline in Chinese searches for Brazil over the past 12 months, with volumes down 58% y-o-y in July and at their lowest level for 18 months.2
This is even more surprising, given Brazil's annual property yields is 5%3 and that infrastructure improvements resulting from the Olympics has driven a boom in public and private investment.
"Most Chinese property investors know very little about Brazil…so for Brazil to have its Olympic coming-out party at a time of upheaval and scandal is unfortunate," shares Matthew Moore, President for the Americas at Juwai.com, with Forbes.
Five reasons why Chinese buyers are currently not tempted by Brazil
We delve into this trend, and share five fundamental factors that may offer essential and valuable insights into the Chinese buyer psyche:
Currency exchange: The RMB has weakened 10.6% y-o-y against the Brazilian Real at the end of July 2016, and is down 23% compared with the start of 2016.4 This means it has become more expensive for Chinese investors to buy property in Brazil during the past year, and for the ever savvy business-minded Chinese, this does not make a sound deal at all when there are other countries offering better value for money.

Safety: Brazil may be blessed with great natural beauty, vitality, and strong long-term economic prospects, but the Organisation for Economic Development (OECD) gives Brazil one of the lowest scores for safety and personal security of the 38 countries in its coverage.5 For Chinese, who consider safety as one of their most important criteria when it comes to buying a property, this makes Brazil pale in comparison to other countries with a better safety record.

Lifestyle wellbeing: Chinese – jaded by hygiene and pollution problems in their own country – highly value public health and environmental standards when investing abroad. It's also a reason why they desire the clean and wholesome living found overseas, such as Australia and Canada. With recent heavy coverage on Brazil's water quality, Chinese buyers may have negative perceptions about Brazil, which could greatly impact their decision-making when deciding where to invest overseas. However, for areas where this may not be an accurate representation, destination marketing can play a positive role in reshaping perception of a locale to attract more tourism and investment.

Connectivity convenience: Despite the rapid growth in flight routes out of China, flying to Brazil from a major mainland hub, such as Shanghai, can take up to 40 hours.6 Combined with the cost of the flight, Brazil's distance may be yet another huge factor making mainland property investors have second thoughts about purchasing a property there.

Stability: Brazil's political tumult – the ongoing impeachment proceedings against Brazilian current President Dilma Rousseff, upcoming bribery trial for former President Luiz Inacio da Silva, and latest corruption probe dogging interim President Michel Temer7 – is world's away from China's seemingly stable political system. It goes without saying that this has greatly affected Brazil's appeal to Chinese Chinese buyers, who are careful investors.
Chinese investors eye Tokyo Olympics 2020 instead
The trends playing out in search volume for Brazilian real estate is contrasting sharply with the noticeable increase in Chinese buyers' interest in Japanese real estate.
The Tokyo Olympics is proving a huge motivator for property investors from China, with search volumes for Japan up 191% in 2015 alone.2
Aside from the Tokyo Olympics as a pull factor, buyers are attracted by Japan's reputation for safety, its stable political system, high lifestyle standards, extensive transport links with Mainland China via flights or ferry, and the fact that Japanese property was considered to be some 20% undervalued at the end of 2015, according to OECD estimates.
Interestingly, these pull factors are the exact contrast for the same reasons Chinese are turning away from Brazil, which goes to show how important these five motivations – safety, lifestyle wellbeing, connectivity convenience, stability, and currency exchange – are in influencing Chinese looking to buy overseas.
That said, beyond the Olympics, these five factors is applicable to any other city and country that is seeking to attract Chinese investment, especially emerging markets that may be a fresh alternative for Chinese buyers.
Read 9 things that Chinese consider when property hunting abroad.
So agents, don't forget to boost your pitch by ensuring you feature the above factors into your pitch, and go for gold.
As for those marketing property in Brazil, all hope is not lost. With Brazil a popular summer destination offering an envious tropical lifestyle, Chinese investor interest may return in future, especially if Brazil can clean up their waterways to regain their offering of a healthy and natural living environment.
In the meantime, let's sit back and enjoy the rest of the Rio Olympics.
Sources: 1. Goldman Sachs: Olympics and Economics; 2. Juwai IQ Data; 3. Global Property Guide: Latin American Rental Yields; 4. XE.Com: BRL/CNY exchange rates; 5. OECD: Better Life Index (Safety); 6. Ebookers: Shanghai to Rio flight details; 7. Los Angeles Times: Brazil's current and former presidents face trials. And the interim president is in hot water too
Liked this article? Sign up for free to get Juwai Juwai Asia Market updates!