You've successfully copied this link.
Juwai Update: Introducing newly-launched Juwai QR Codes
By Juwai, 30 September 2016

We've just rolled-out Juwai QR Codes and Brochure Downloads!
Here's sneak peek at these brand new offerings below:
Chinese Property Brochure
A pre-designed Chinese brochure for your property listing, Chinese Property Brochure will include a QR Code that links back to your property listing on Juwai.com.

Property Listing QR Code
If you prefer to stick to your own brochures and collateral, this option allows you to choose to download only the QR Code alone for a property listing of your choice, which you can then add to your own materials.

Chinese Company Page QR Code
While we have yet to launch Brochure Downloads for Chinese Company Pages, you can still download just the QR Code linking to your Chinese Company Page on Juwai.com, which you can add to your collateral.
Login now to Juwai Admin to know more!
What is a QR code?
QR code stands for Quick Response Code, and is a 2D bar code that is readable by QR bar code scanners and smartphones.
While QR codes have not taken off in most Western countries, they've boomed in China to become a way of life for Chinese – both young and old, alike.
Just take a walk around any city in China. You'll see a plethora of QR codes featured on almost anything – business cards, train tickets, bus stops, and even temporary QR code tattoos imprinted on promoters at events like car shows or game expos.
In fact, scanning QR codes has become such an ingrained habit that most Chinese in China would automatically pull up their WeChat-generated QR code rather than rattle off their phone numbers when asked to swap contacts.
How the QR code is changing China
Today, QR codes in China are used for everything from signing up for events and sharing a password-protected Wi-Fi network (think Xiaomi), to connecting with friends via mobile (think WeChat) and ordering/paying for food at restaurants and roadside food stalls.
Don't believe us? See for yourself.

QR code at a restaurant in China – customers can scan the QR code to see the menu and order their food before even entering the restaurant to be seated.

QR codes on a virtual supermarket wall launched by Yihaodian in China's subway stations1 – commuters can buy groceries and products just by scanning the QR codes, and everything will then be delivered to their doorsteps for free. Formerly under Walmart, Yihaodian was recently sold to JD.com in June.2

QR codes on Beijing's Metro Transportation Railway (MTR) – passengers on Beijing's Line 4 subway can borrow eBooks at the M Subway Library by simply scanning QR codes inside train cars.3 The M Subway Library is a public welfare programme between the National Library and Beijing MTR, which aims to provide qualified literary resources to the people via public transportation.3

QR Codes offering over 9,000 jobs from more than 500 companies at a high-tech job fair in Taiyuan, Shanxi4 – job hunters can scan for job descriptions, company information, electronic tickets, and to deliver their resumes to prospective employers.
Why are QR codes so well accepted in China?
Even back in 2013, QR code usage in China was already on a rise.5
A study by Kleiner Perkins Caufield & Byers revealed a four-fold increased5, while local QR code study Meeker reported 9 million QR codes being scanned monthly in China, compared to two million scans per month in 2012.5
This is because in China, QR codes do not simply redirect people from offline to an online site – it can also be used to offer discounts and promotions, to provide product information, and as means of encryption, verification, and authentication.
Beyond the fact that QR codes are versatile, convenient, cost-effective, engaging, and measurable, there are many other reasons as to why the QR code is so popular in China. Here are 5 driving factors:

#1 China's high internet mobile penetration and smartphone usage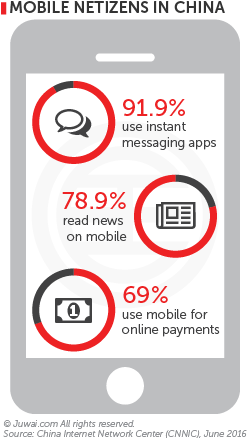 China is currently home to 656.8 million mobile internet users6 – more than any other country in the world.
That's also 92.5% of the 710 million internet users in China, who already make up 51.7% of China's total population.6
According to China Internet Network Center (CNNIC), 603 million (91.9%) of mobile netizens in China use instant messaging apps, 518 million (78.9%) go online via mobile for news, while 455 million (69%) use mobile for online payments.6
Besides that, Chinese mobile netizens also use their smartphones predominantly for mobile search, as well as online music and videos.6
Interestingly enough, 146 million (22%) of Chinese also have a habit of ordering food via food takeout apps, a figure that rose over 40% in the past six months6, but we digress.
What all these massive numbers show is that Chinese have taken to smartphones and mobile internet like ducks to water, and that China is now a mobile-first consumer market.
eMarketer estimates China's m-commerce, or mobile commerce, market to be worth nearly $1.5 trillion by 2019.7
#2 WeChat and WeChat Wallet
It's not impossible to say that it's Tencent's WeChat that has driven the proliferation of the QR code usage in China.
After all, each time the WeChat app is downloaded, a QR code reader is automatically embedded into the WeChat user's phone.
With 806 million monthly active users (MAUs) as of Q2 20168, WeChat is undoubtedly one of the most popular social media apps in China.
In short, WeChat was heavily instrumental in the initial rise of the QR code in China. Furthermore, with the launch of WeChat Wallet in 2015, Chinese are now using WeChat Wallet's QR code feature more than ever to pay for nearly everything in their daily lives.9
Book and pay for a taxi? Check. Pay bills? Check. Make a restaurant reservation? Go Dutch for your meal out with friends? Buy movie tickets? Check, check, check.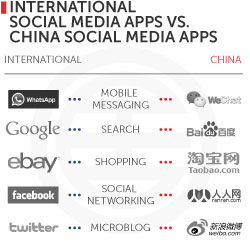 In a world saturated with tons of social media apps, WeChat is probably the one app in China that has become an indispensable way of life for most Chinese today. And while some could argue and say that life was fine before WeChat, most would probably shudder at the thought of living without it now.
That said, with such excellent efficiency and convenience at their fingertips, it's no wonder that mainland Chinese are so comfortable with cashless payment via QR code, and why the QR code technology and O2O (offline-to-online) strategy has such a high adoption rate in China.

#3 Competition broadens usability
Following WeChat's success, other major tech goliaths – such as Baidu and Alibaba – joined the fray by adding built-in scanners into their own apps, and by coming up with more strategies to maximise the marketability of the QR code.
A great example would be Alibaba's Singles' Day on 11 November – a massive shopping sales touted as a day for singles to splurge on themselves, which raked in $14.3 billion in 2015.10
Alibaba hosted a 4-hour star-studded Singles' Day countdown event, which was aired on TV on the eve of Single's Day. Not only did it drew massive attention from both online and offline customers, but it also drew record transactions for the products promoted.
How? The show allowed shoppers to scan QR codes for product information on the TV to enjoy special promotional prices when later purchasing said item online or in-store on Singles' Day.11
70% of sales for Singles' Day come from mobile devices, according to American research and advisory firm Gartner.11
Another example is Alibaba's 'Double 12' sales festival in 2014, when Alibaba placed a QR code on its Taobao marketplace website that allowed shoppers scan to win a lottery ticket. In just one minute, the QR code was scanned 200,000 times by shoppers!12
With such competition, this has naturally broadened the usability and applicability of the QR code in China.

#4 QR code breeds connection and engagement
With a QR code, brands are able to transform a transactional relationship into a more emotional relationship, as well as achieve a point-to-point connection with their customers.
For example, when a consumer scans the QR code offline to follow your brand online (say, on WeChat), they get to engage with your brand in a more personal and private setting, even as they familiarise themselves with your brand and offerings.
At the same time, you also get to retain a closer relationship with said consumer anytime, anywhere. In other words, even if your Chinese consumer scans your QR code while on holiday abroad, you can still maintain a connection with them even upon their return to China.

#5 Chinese culture
Interestingly, one of the reasons why QR codes work so well in China is because of Chinese culture and language differences in China.
Less than 1% of Chinese in China speaks fluent English, so having to type out site URLs in Latin alphabets is considerably foreign and not intuitive for Chinese. It's also one of the main reasons why most Chinese websites use numerical digits in their URLs instead.
Hence, having a QR code not only eliminates this problem, but is also a fast and fuss-free way to get Chinese consumers onto your online storefront or platform – a plus for Chinese, who are big on speed and convenience. Easy peasy.
In short, QR codes are so seamless and natural in China that it's a way of life.
That said, international real estate agents and developers looking to market to Chinese buyers can now leverage this tool through Juwai to drive engagement with Chinese buyers for their brand and properties.
In the meantime, we look forward to seeing how QR codes will continue to power m-commerce in China.
Sources: 1. CNN: Shanghai follows Seoul down to the virtual subway supermarket; 2. TechCrunch: Wallmart sells Yihaodian, its Chinese e-commerce marketplace, to Alibaba rival JD.com; 3. PSFK: QR-access transform commuter line into a library; 4. CRIENGLISH.com: Scan a QR code and get a job!; 5. TechCrunch: People actually use QR codes (in China); 6. China Internet Network Center (CNNIC), June 2016; 7. eMarketer: Ecommerce turns into Mcommerce in China; 8. China Internet Watch: WeChat monthly active users reached 806 million in Q2 2016; 9. ClickZ: How WeChat Wallet has kept QR codes alive in China; 10. Fortune: Alibaba rings up a record $14.3 billion in sales for Singles Day; 11. Wharton University of Pennsylvania: What can U.S retailers learn from Alibaba's Singles' Day success?; 12. AdAge: QR codes are alive and well and living in China; 13. Wired: Alibaba reveals a new kind of QR code to fight counterfeits; 14. Pioneering Out-of-Home: QR codes are alive and well in China;
Liked this article? Sign up for free to get Juwai Juwai Asia Market updates!