You've successfully copied this link.
Juwai participates in China's Boao Forum for Asia
By Juwai, 29 October 2016

Juwai Co-CEO Andrew Taylor took to the stage at this year's "Boao Forum for Asia – Global E-Commerce Leaders Summit 2015" in China's Silicon Valley, sharing insights on China and the internet evolution sweeping the world.
This closed door forum held in Hangzhou gathers around 20+ of China's E-commerce leaders, heads of China's e-commerce giants, government heads, and scholars to exchange dialogue about internet issues impacting the current and future economy and society.
Major themes this year included cross border e-commerce as well as offline to online commerce, for which logistics, payments and regulatory topics also played a big supporting role.
Taylor spoke at two sessions:.
Session 1 (28 October): Closed-Door Meeting – "Exploration and Innovation of E-Commerce Policies"
Session 2 (29 October): Internet Plus – "Business Opportunities and Realisation for E-Commerce Companies"
China is the next growth phase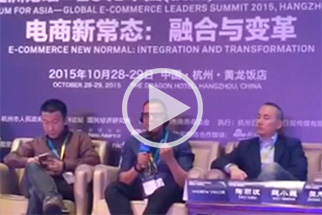 The internet of today has transformed virtually every industry beyond expectation, notes Taylor, and China is a tremendous opportunity that promises to be the next real growth phase.
"You're going to have suppliers and customers from around the world, not just in China," says Taylor, "And that's a market that no-one's ever seen before, particularly from this country."
"What I really like is that China's internet landscape is far more advanced and far more sophisticated than the West. They just happen to have a few big names, and that's about it. But there's an equal amount of big names just within one country here," said Taylor.
Boao Forum for Asia
A non-profit and non-governmental organisation, the Boao Forum for Asia (BFA) – or 博鳌亚洲论坛 (Bó'áo Yàzhōu Lùntán) in Chinese – aims to foster and deepen economic exchange, coordination, and cooperation within Asia, as well as between Asia and other parts of the world.
Today, the BFA has evolved into a high-end dialogue platform for governments, enterprises, experts, and scholars to hold joint discourses on issues regarding the economy, society, environment, and more.
Liked this article? Sign up for free to get Juwai Juwai Asia Market updates!