You've successfully copied this link.
Chinese property investors looking at London and beyond
By Juwai, 21 November 2016
Homes in the UK remain a perennial favourite with Chinese property investors.
Our research shows that Chinese spent around £3.5 billion on UK property this year, and MoneyWeek reports that 30% of new homes in London were bought by Chinese buyers.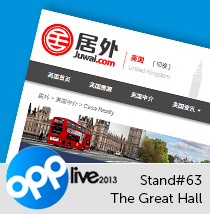 Perhaps this is driven by the fact that the UK is the second most popular education destination for Chinese to send their children to.
Central London remains top of mind for China's ultra wealthy, but Chinese investor interest has also spread to regional UK cities such as Edinburgh, Manchester, Oxford and Birmingham.
Interest in Edinburgh on Juwai.com saw a massive jump of 735%, while Oxford had increased views as much as 364% in the year up to August on Juwai.com.
With interest running high, Juwai.com is all set for OPPLive 2013 in London next week, the largest international symposium of the real estate industry and annual B2B conference welcoming property professionals from all over the world.
If you're in London attending the show, find us at Stand #63, located in The Great Hall at Central Hall Westminster.
Our very own Co-CEO, Andrew Taylor, will be speaking at the Booming Asia Conference on 2 panels about the impact of Asia on international properties!
DAY 1 (12:30 – 13:15) – Marketing Successfully To China
DAY 2 (16:15 – 17:00) – Intelligent Media & Marketing Selection – Intelligent Media & Marketing Buying
Register for your seat here!
Liked this article? Sign up for free to get Juwai Juwai Asia Market updates!