You've successfully copied this link.
Juwai rolls out new Juwai Mobile update for 2017
By Juwai, 28 December 2016

We're ushering in the new year with our revamped Juwai Mobile app that enables Chinese buyers to hunt for international property even easier than before!
Here's a quick sneak peek at what our new Juwai Mobile update will offer:
What's new?
#1 More intuitive homepage with added exposure
We've added a slider to promote property as well as editorial pieces and advertorial, as well as icons for faster, shortcut access to key sections – New Developer Projects, Residential, Commercial, and Luxe – and the major markets of most favoured by Chinese buyers – US, Australia, Canada, and the UK.
Beyond that, the new homepage also provides new exposure for Global New Developments (GND) projects, and additional mobile banner advertisement slots to help promote select properties, agents, or campaigns.
To enhance user experience and engagement for Chinese consumers, we've also included an editorial section neatly categorised under four different tabs – investment, immigration, education, and consultancy.

#2 New Editorial Channel Page to boost further awareness
The new Editorial Channel Page also features a new slider, which will drive more attention to select Juwai editorial pieces and advertorials.
Like the new Homepage, we've implemented four icons for quick links to main topics that motivate Chinese buyers – investment, immigration, education, and consultancy. Here, you will also find flash news under Juwai Express, which offers real time property-related news that allows for better user experience and engagement.

#3 Revamped Property Detail Page
Boasting a new and cleaner UI, the revamped Property Detail Page enables users to easily swipe to view property images and discover more concise property attributes and descriptions, including a clear floor plan, facilities display, interactive map, as well as agent details and contact.
Additionally, we've enlarged the enquiry section to drive more Chinese enquiries and conversion.
What's improved?
#1 Enhanced Navigation Bar to drive enquiries
We've upgraded our Navigation Bar to stay across the site for more intuitive user experience, whereby it appears when you scroll up but disappears when you scroll down.
Four shortcut icons at the bottom will also appear across the site, which conveniently redirects Chinese consumers to the Homepage, Editorial Channel page, Enquiry Box, and a pop-up window that directly connects to our Juwai Consumer Care team – allowing users to call the Juwai hotline or submit online enquiries from any pages on the mobile site.

#2 Streamlined filter sections for easier search and selection
We've cleaned up our country and property filters by region/area, price, number of bedrooms, and more (property type, sq. footage, etc) to offer users more intuitive filters to help smoothen their search process. Under the region/area tab, the dropdown menu then further filters by displaying major markets via country and cities for quicker access to hot cities.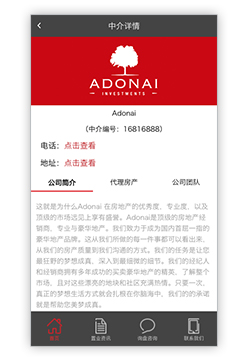 #3 Upgraded Chinese Company Page (CCP)
We've souped up our Chinese Company Page (CCP) to look more sophisticated.
Asides from the company name and logo being more prominently displayed along with contact and location details, these will all remain at the top throughout the whole navigation on the Chinese Company Page (CCP).
Three tabs then allows users to check out the company description under the 'Company Introduction' tab, while the next two tabs enables them to view the company's property listings and agent profile pages.
What's next?
Think the above add-ons and upgrades are fantastic? We've got more heading your way, including a new Android app that will soon be available!
After all, we're constantly on the job to improve our services for both our customers and consumers alike, so stay tuned for more exciting updates as we head further into 2017!
Liked this article? Sign up for free to get Juwai Juwai Asia Market updates!