You've successfully copied this link.
5 reasons the EB-5 program will still thrive under Trump
By Juwai, 20 January 2017

10,000 EB-5 visas are issued in the US each year, 90% which goes towards applicants from China.1
With the EB-5 immigrant investor program being dominated by Chinese, Donald Trump's new administration will be under close watch by thousands of Chinese investors who are waiting to see what Trump will do to the EB-5 Investor Visa Program, which has helped an estimated 35,000 Chinese attain US residency, and brought billions of dollars into US business projects between 2008 and 2015.2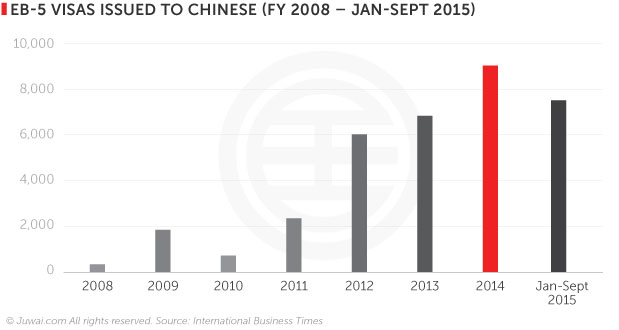 Raised concerns about immigration under Trump
Trump is assuming office after what amounts to a record year of investment by Chinese companies and individuals.
Chinese investors pumped an estimated $45.6 billion into various projects and companies in the US during 2016 – three times the $15 billion invested in 2015.3
That takes the total cumulative foreign direct investment (FDI) by Chinese companies and individuals into the US since 2000 to $109 billion, a sum which was likely bolstered by the EB-5 program.3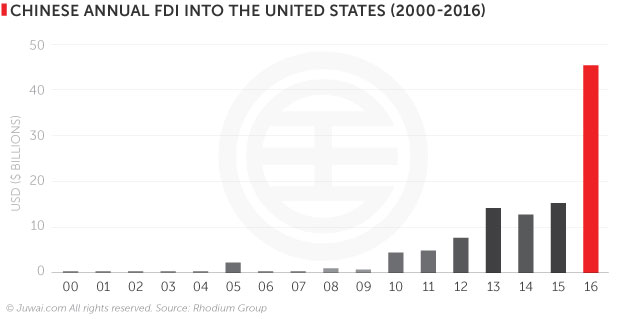 Donald Trump has vowed to be tough on China, though, and made frequent mention of immigration policy and trade relations with China throughout his campaign, which has led some to expect a rollback on the United States' EB-5 Investor Visa program.
What's interesting to note, however, is that real estate projects linked to Donald Trump's family business have been major beneficiaries of the EB-5 program, according to Bloomberg.4
The 50-storey Trump Bay Street apartment project – a development built by Kushner Companies, which is run by Trump's son-in-law Jared Kushner – has raised $50 million from EB-5 investments, with most of the money coming from Chinese investors.4
5 reasons why the EB-5 is set to stay
Nevertheless, while Donald Trump has moved to distance his family businesses from his job as the US President, we believe a Trump administration will at least look favourably on the program, or perhaps even extend it. Here are five reasons why:

#1 Rhetoric versus reality
Trump's campaign outbursts about trade, immigration, and Mexico achieved their goal of dominating the headlines and saving billions in campaign marketing. However, with the Presidential office now approaching, Trump has toned down his statements, indicating a softer approach from 20 January onwards.

#2 Jobs, jobs, jobs
Trump has stated that he will be 'the greatest jobs president that God ever created'. Considering the US Department of Commerce estimates that the EB-5 has created 174,000 new jobs for EB-5 projects approved in 2012 and 20135, it seems improbable that Trump will roll back on a program with such job creation impact.

#3 The guys behind the guy
Seeing as Trump's biggest supporters come from the US real estate industry, and it is highly unlikely that he will put together a bill that will not only alienate and make waves with one of his core support bases, but may also impact his own interests.

#4 The right kind of immigration
Although Trump has railed against illegal immigration, he wants to encourage formal, regulated immigration by wealthy individuals looking to do business in the US – and that's exactly the kind of people that the EB-5 program was set up to assist.

#5 Huge source of capital
Trump may not be universally admired, but the US is one of the most sought-after nations on the planet for investors and immigrants. As such, the EB-5 program can supply billions of dollars of capital for US businesses and projects. With Trump's drive to boost investment in the US, it is highly implausible that the new administration will roll back on the program.
That said, some changes are likely due to investment misallocation in the past, but these are unlikely to put off Chinese investors.
Guidelines to channel project investment into underdeveloped regions, as well as a possible threshold increase have been mooted, but there is such massive demand from Chinese – especially the Chinese high net worth individuals (HNWIs) – that any changes done to the EB-5 will have little impact.
So, despite the Trump victory rewriting the rulebooks of politics, it seems improbable that 'The Donald' will be making any major changes to the EB-5 program, and that's further reason to expect a steady flow of Chinese enquiries for US properties to continue into the coming year.
Sources: 1. Forbes: China's favorite U.S. visa program may have ally in Donald Trump; 2. International Business Times: EB-5 investor visa demand is booming, dominated by Chinese plying cash into US real estate projects; 3. Rhodium Group: Record deal making in 2016 pushes cumulative Chinese FDI in the US above $100 billion; 4. Bloomberg: Trump Tower funded by rich Chinese who invest cash for visas; 5. U.S. Department of Commerce: Estimating the investment and job creation impact of the EB-5 program
Liked this article? Sign up for free to get Juwai Juwai Asia Market updates!