You've successfully copied this link.
Juwai reveals Chinese buyer sentiments on South Korea
By Juwai, 28 June 2017

Undeterred by recent anti-South Korean sentiments in China1, Chinese buyer enquiries for South Korean property surged 350% on Juwai.com in Q1 2017.2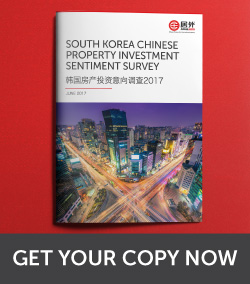 The Chinese love for South Korea has been of epic proportions in recent years, thanks to K-pop, Korean dramas, and Korean fashion which has fuelled the Hallyu phenomenon (also known as the Korean wave) that swept across China, and the world.3, 4
However, bilateral ties between South Korea and China has been strained lately due to diplomatic tensions over the THAAD missile defense system.5
Worsening Chinese views of South Korea, which has been circulating on Chinese social media since early March 2017, has even spurred an economic backlash as Chinese began boycotting everything South Korean.
Nevertheless, it seems such negative sentiments do not extend to property investment, as concluded from our latest Juwai Data that shows Chinese property investor interest in South Korea still going strong.
The 350% growth in Chinese buyer interest is the third successive increase riding the momentum of the previous two quarters, which saw enquiries from China rising 90.9% and 93.3% on Juwai.com, respectively.2
Juwai 'South Korea Chinese Property Investment Sentiment Survey'
This hike in interest correlates with findings from our recent Juwai survey conducted in June 2017, which suggests that Chinese investment interest in South Korea is still robust.
According to results from the survey, nearly 60% of Chinese respondents perceive South Korean property to be affordable, as well as a sound investment opportunity. Over half of them also believed South Korea to be a safe place to reside in, and 61% consider the South Korean lifestyle to be attractive and appealing.
However, Chinese consumers also think purchasing real estate in South Korea is no walk in the park, with most citing the diplomatic dispute between the two nations as their main stumbling block.
"The fact that 44 percent of buyers say that diplomatic tensions between the two countries could be an obstacle to investing in South Korea shows that political issues can unsettle potential investors. Nonetheless, Chinese investment in Korea has grown significantly over the past year," said Juwai.com COO Sue Jong on South China Morning Post.
Chinese consumers also weighed in on their preferences and criteria when investing in overseas property, with most respondents citing good return on investments (ROIs) and capital growth to be their biggest deciding factor when choosing where to invest abroad.
Interestingly, most Chinese respondents were not fazed by language barriers when choosing an investment destination abroad – 50% had the confidence to live in another country without learning the foreign language, while another 30% professed a desire to learn the language of said foreign country.
Seoul on the rise, as Chinese move on from Jeju
Last year saw Chinese commercial and residential investment investing approximately $2 billion in South Korean property6, but where are they putting that money?
For the past several years, Jeju Island has been one of the hottest spots for Chinese real estate investors in South Korea.7
Chinese now own 8.53 million sqm of land on Jeju, and that's most likely due to Jeju's investment immigration programme that offers permanent residency status to those who invest more than W500 million there.8
Rising property prices in Jeju, together with a change in residency permit approval by the Justice Ministry last November, which limits residence permits to only investors in tourist zones and imposes tougher rulings on development proposals, have caused a shift in Chinese investor trends, though.8
Chinese buyers are now moving on to other parts of South Korea, like Seoul, where they have been snapping up both residential and commercial property alike – data from the Seoul Metropolitan Government (SMG) reveals that as of Q1 2017, Chinese own 3,516 plots of land in Seoul.9, 10
This is especially true for Seoul's rising commercial property market, which currently reigns as one of the hottest commercial real estate markets in Asia – transaction volume leapt 140% y-o-y, thanks to its handsome investment returns, low volatility, and undervalued prime office buildings, according to the Financial Times.11
Residential purchases in Seoul by investors from mainland China has also steadily risen, and apartments in areas such as Banpo-dong in Seocho district9, Seongsu-dong in Seongdong district9, and the ever-popular Gangnam district are gaining much Chinese attention.10
Elsewhere in Seoul, Chinese are also eyeing residential apartments and studios in Eunpyeong district, as well as districts that home famous universities, such as Hongik University in Mapo district and Ewha Womans University in Seodaemun district.10
Is Chinese buyer presence in South Korea set to grow?
While it's hard to see how the current diplomatic dispute would play out in the future, indications seem to show that Chinese investment interest in South Korea has not fled, and that mainland property investors have not ruled out South Korea yet.
Given South Korea's geographical proximity to China, as well as improved relations since President Moon Jae-in took office12, we believe this upward trend will not be going away anytime soon, especially as the price appreciation in Seoul continue to thrive and entice investment-driven Chinese.
Sources: 1. The New York Times: South Korean stores feel China's wrath as U.S. missile system is deployed; 2. Juwai IQ Data: Q1 2017; 3. SCMP: Fuelled by fashion, the Korean wave is taking the world by storm; 4. Financial Times: China awash with Korean Wave fever; 5. CNBC: China lashes out as South Korea puts an American anti-missile system in place; 6. KB Financial Group; 7. Quartz: The Chinese are buying up South Korea's Jeju Island, and the islanders are not too pleased; 8. The Chosunilbo: Chinese investors sell off Jeju real estate; 9. The Korea Times: Chinese buying up real estate in Seoul; 10. Pulse: Chinese investors flock to Korean real-estate market; 11. Financial Times: Foreign buyers fire up South Korea commercial property market; 12. Financial Times: US uneasy as South Korea's Moon Jae-in tilts towards China;
Liked this article? Sign up for free to get Juwai Juwai Asia Market updates!