You've successfully copied this link.
Juwai releases Global Property Index Report Q1 2017
By Juwai, 15 August 2017

27 out of 45 housing markets that published housing statistics rose y-o-y in Q1 2017.
In our latest Juwai Global Property Index (GPI) Report – which provides Chinese real estate buyers with research for their property investment hunt abroad – we analyse the best-performing housing markets in the first quarter of the year.

Overview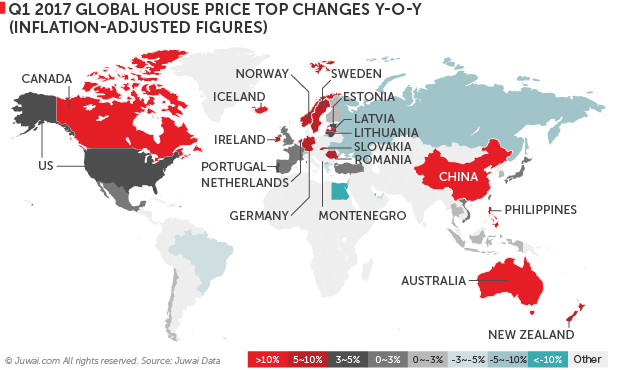 Momentum has begun to wane in global housing markets, which are beginning to lose steam in most of Asia, Latin America, and the Middle East. Nevertheless, property markets in Europe, Canada, and parts of Asia have remained robust in Q1 2017.
This quarter, Hong Kong reigned as the top performing global housing market that saw the biggest surge in home price increase, followed by most of Europe – six out of the top 10 housing markets in Q1 2017 were in Europe, and house prices grew in 17 out of its 23 European housing markets.
The 5 strongest markets in Q1 2017 were Hong Kong (+17.27%), Iceland (+16.01%), China (+13.16%), Canada (+11.70%), and Ireland (+8.91%).
In North America, home prices have continued its rally in Canada in spite of repeated cooling measures being imposed in the market, while US home prices – buoyed by bullish homebuilder sentiments – maintained its slow but steady rise.
Over at the Pacific Ocean, a slew of tax increases and loan restrictions in Australia failed to significantly cool property prices in Australia, which have continued to spike. In New Zealand, reconstruction work following the earthquake have led housing prices to accelerate, even in the face of a loan restriction imposed by the government at the end of last year.
Here in Asia, housing prices in four out of ten Asian markets fell y-o-y. Asides from Hong Kong, two other markets that rose significantly this quarter were the Philippines and Taiwan. Although home prices in China continued to surge, property prices in Shanghai declined.
Elsewhere, the downtrend continues, as housing markets in the Middle East, Latin America, and Africa either remained stagnant or saw falling housing prices, with the weakest performers being Egypt (-16.68%), Qatar (-10.63%), Russia (-8.33%), Macedonia (-7.92%), and Puerto Rico (-6.96%).
Regional snapshots:

North American markets rally
US home prices rise slowly, but sentiment remains bullish – although the S&P/Case-Shiller seasonally adjusted national home pricing merely grew 3.29% y-o-y, the slowest pace since Q3 2014, residential construction activity remained robust amidst supply shortage and President Trump's promise to ease building regulations.
Canadian housing prices withstand cooling measures to surge onwards – policy restrictions have been introduced repeatedly to no avail, as home prices in 11 major cities rose 11.7% y-o-y in Q1 2017, the biggest y-o-y growth since Q3 2006.

Pacific Ocean/Oceania markets bounce back
New Zealand housing prices accelerates – demand fell due to tightened policies on residential loans, shortage in housing supply, as well as the impact of a medley of school and public holidays. However, reconstruction work following the earthquake saw nationwide median property prices up by 7.26% y-o-y, significantly higher than the 3.63% charted the same period last year.
Australian property prices continue rising – despite tax increases or loan restrictions, combined housing prices in major cities grew 12.9% this quarter, with Sydney and Melbourne leading with 18.9% and 15.9% y-o-y increases, respectively.

European market boom prevails
Iceland market remains top performer in Europe – strong demand, limited housing supply (especially in Reykjavik), and spectacular economic growth rate of 7.2% in 2016 has propelled a 16.01% y-o-y housing price hike in Iceland in Q1 2017, the biggest growth since Q1 2006. With economic growth rate projected to be 5.7% in 2017, Iceland looks poised to stay strong.
Ireland's housing market rally continues – residential property prices jumped 8.91% y-o-y, thanks to rapid economic growth in Ireland.
Montenegro market charts surprising comeback – housing prices leapt 8.68% y-o-y this quarter, a sharp contrast from its previous position as the weakest housing market last quarter.
Romanian housing market continues its outstanding performance – average selling price of apartments were up 7.61% during the year to Q1 2017, while house prices grew 4.21% q-o-q.
Norwegian housing market improves significantly – nationwide property price index in Norway charted the biggest increase since Q1 2010, charting a 7.38% growth during the year to Q1 2017.
The Netherland's market on the rise – a modest economic growth did not deter housing prices from charting the largest rise in 16 years to hit 7.11%.
Other European countries that charted strong performances – Slovakia (+6.61%), Sweden (+6.59%), Germany (+5.79%), Latvia (+5.13%), Estonia (+4.76%), Portugal (+4.18%), and Lithuania (+3.56%).
Other European countries showing modest gains – the UK (+1.84%), Turkey (+1.84%), France (+1.62%), and Spain (+0.41%).

European markets still weak or in decline
Russia still the weakest market in Europe – bogged down by a weak economy, nationwide housing prices in Russia fell -8.33% this quarter, its smallest decline since Q4 2014.
Macedonia property prices slump – average residential property prices throughout the nation dropped -7.92% during the year to Q1 2017.
Ukraine housing market stays in decline – despite the official ending of its conflict with Russia, housing prices still fell for the fourteenth quarter in a row, charting a -5.05% drop this quarter.
Other European countries with weak housing prices – Greece (-3.13%), Switzerland (-1.69%), and Finland (-0.6%).

Asian markets polarise, with Hong Kong and China dominating
Hong Kong reigns as strongest housing market in Q1 2017 – property prices leapt 17.27%, even in the face of higher stamp duties being imposed from November 2016 onwards onto non-first time property buyers.
China's housing market continues to heat up – double-digit home prices continue in the China market, however, cooling measures have begun to show effect as housing prices in Shanghai charted a rare decline in Q1 2017.
Philippine housing prices boom – average housing prices of 3-bedroom apartments in the Makati CBD grew 7.04%. On a whole, robust economic performance has led property prices in Makati CBD to grow nearly 50% from Q1 2011 to Q4 2016.
Japan housing market slows down – a weak economic performance saw average prices of existing apartments and condominiums grow a mere 2.93%.
Vietnam property market still stagnant – even with a robust economy and revamp of housing laws to enable foreign buyers legally own, sell, and transfer real estate in Vietnam, housing prices only grew a meagre 1.13% y-o-y this quarter.
Taiwan market displays distinct improvement – although nationwide housing prices were merely up by 0.69%, that is a major contrast with the y-o-y slump of -7.65% charted the same period the year before.
Singapore market stays sluggish – while housing market demand is showing strong growth, housing prices still declined -3.45% in Q1 2017.
Thailand property market relatively weak – nationwide property prices dipped -1.37% y-o-y, but Thailand's economic growth remains strong, charting a growth rate of 3.3% in Q1 2017.
South Korea housing prices decelerates – nationwide property purchase price index dropped -1.35% y-o-y, compared to its 1.81% increase a year ago.
Indonesia housing prices slump lingers – property prices in Indonesia's 14 largest cities continued its ninth consecutive quarterly decline to slip -0.98% y-o-y.

Middle East home to two of the weakest markets in Q1 2017
Egypt bottoms as the worst-performing market – the devaluation of the Egyptian pound at the end of 2016 caused a slump in demand from local buyers, which eventually led to its nationwide real estate price index to plummet -16.68% y-o-y. Nevertheless, the government has made moves to bolster the market, such as removing the restrictions to allow foreign investors to buy Egyptian land and property.
Qatar housing market still in the doldrums – nationwide property price index declined -10.63% y-o-y, a significant contrast from the 9.36% increase charted a year ago.
Dubai market shows improved performance – while home prices fell -3.69% y-o-y, it's a huge improvement from the -9.26% decline last year. Q1 2017 also saw a strong increase in demand, with real estate transactions up by 45% y-o-y to reach 770 billion dirhams (US$20.96 billion).
Israeli housing market decelerates – nationwide average housing prices declined -0.54% y-o-y, which is starkly different from its previous growth of +5.24% (Q4 2016), +5.8% (Q3 2016), +5.31% (Q2 2016), and +6.32% (Q1 2016).

Latin America markets taper off
Brazilian housing market downtrend prevails – embroiled by political turbulence and plagued by the country's longest and most severe economic recession, housing prices in Sao Paulo fell -3.75% y-o-y and -0.58% q-o-q, the ninth quarterly decline in a row. In May 2017, Moody's revised Brazil's rating outlook from stable to negative.
Chile property market wanes – a decelerating economy led average price of new apartments to slip -0.37% y-o-y, a stark difference to its +6.75% spike a year ago.
Mexico market slows down significantly – nationwide housing price index grew a mere 0.17% y-o-y, compared to the 5.26% spike the year before, while housing prices dropped -2.24% q-o-q.
Check out our Juwai Global Property Price Trends Q1 2017 Infographic or download the full GPI Report in Chinese here!
Liked this article? Sign up for free to get Juwai Juwai Asia Market updates!