You've successfully copied this link.
Agent of the Month: Berkshire Hathaway HomeServices Verani Realty
By Juwai, 19 January 2018

Berkshire Hathaway HomeServices, a real estate brokerage franchise network affiliate of billionaire Warren Buffett, is one of the most respected names in the US real estate industry.
As part of the Berkshire Hathaway HomeServices family, Berkshire Hathaway HomeServices Verani Realty (Verani) has been serving the real estate needs of New Hampshire and northern Massachusetts since 1967.
With just shy of 500 licensed real estate agents today, Verani is dedicated to helping customers find their ideal homes in New Hampshire, Massachusetts, Maine, and Vermont.
Last October, Verani became the first in the Berkshire Hathaway Homeservices network to successfully close a sale in Hollis, New Hampshire, in just over two months with a Chinese buyer through Juwai.com.
We reached out to Susan Post, Director of Relocation & Business Development at Berkshire Hathaway HomeServices Verani Realty, for her experience and tips to achieving better success with Chinese buyers.
Marketing to Chinese buyers.
With Berkshire Hathaway HomeServices' newly-formed relationship with Juwai, Verani was quick to jump on board and understand the importance of servicing Chinese buyers.
"We've been able to talk with the agents on our monthly meeting, and let them know how important it is for them to set up their Juwai accounts," said Post, who explained that prior to the Berkshire Hathaway HomeServices marketing alliance with Juwai, there was no systematic regimen that Verani followed in order to attract Chinese buyers.
"We did have some Chinese buyers but they were few and far between, and I think our agents were a little bit unsure on how to deal with the financial aspect and all of that. For the Chinese buyer, how were we able to show their good faith deposits? How were we able to show to the sellers that they do have a viable buyer who can make an offer, and who also has the financial background to close on the transaction?" she shared.
In terms of the whole transaction process, Post was transparent in revealing some of the stumbling blocks they encountered in their Hollis, New Hampshire transaction, besides the language barrier and time zone differences.
"The beginning was a little bit challenging just because of trying to figure out the best way to communicate with the [Chinese] buyer, and then realizing that WeChat was best. We did have some issues with the Firewall when trying to get documents to the buyer for her signature for authorization, but the support from the [Juwai] China Desk was wonderful."
Post also shared that they had to educate some of their Chinese buyers on what they can get for their proposed price points in their desired locations around Boston or Massachusetts.
"It does take quite some time to educate the buyers on price points within the market. Boston is a saturated, urban market, but supply is still short with demand increasing year-over-year and sales prices continuing to increase. It's our job to educate our buyers that if they're looking for a 2-bedroom condo right in Boston, you can't get that for $250,000, even if your offer is cash," said Post.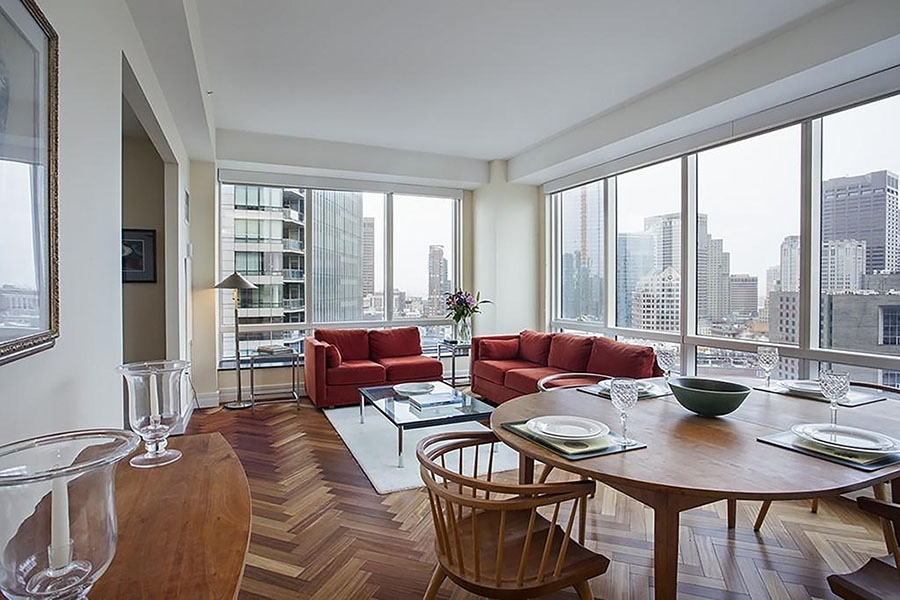 An apartment with a stunning view on 2 Avery Street, Boston, MA from Verani
3 tips for better success with Chinese buyers

#1 Listen to them
According to Post, one of the key success factors for Verani was to really listen to what Chinese buyers want, and stay connected in terms of communication, particularly with a time and language difference at play.
"They really do tell us what they like and what they don't like, so I think it's just about being very communicative with them," said Post.
"We have some really good agents here who speak Mandarin Chinese. They also understand the cultural and time differences, and are willing to put in the time and effort to make the process successful."

#2 Instill trust and confidence
Besides listening to what Chinese buyers want, Post revealed that it's vital to build up the Chinese buyers' faith in their agent.
"It's about gaining their trust in our agents and market knowledge, to ensure they really feel confident that our agents are trying to get the best property at the best price for them," said Post.
"We were able to do that with our Hollis, New Hampshire buyer, where the property was listed at a higher price but we were able to negotiate it to a lower price for her, so we were happy about that."

#3 Go the extra mile in terms of service
Last but not least, Post emphasized that offering extra services is essential to sweeten the deal for Chinese property investors. This could encompass everything from attending home inspection services on behalf of the Chinese buyers, to helping them adapt to their new home, and introducing the neighborhood, surrounding schools, and amenities available.
"We've been very good at giving them their neighborhood information. If they're looking at a particular property, we look at the neighborhood as a whole, and let them know if their property fits well into the neighborhood. We also give them information about walkability, town services, hospitals, schools and college locations," she said.
"We also take the time to drive them around so they can see where they are. For example, just because on the map they see that Boston and Cambridge are close in proximity on the map, but how long it takes to get between the two areas depends on the time that they are driving. If they are driving at the peak commute hour, it could take them over an hour, so the driveability depends on when and where you are going."
Beyond helping the Chinese buyer get to know their home, Post believes it's just as important to let them discover the neighbourhood and community as well.
"Typically, we make sure that they have the ability to see the homes that they are looking at, that they want to view and that they can afford. We are also able to drive them around making sure they are set up in the right location. There are different areas with different characteristics, and we try and suggest area that would be the best fit for their lifestyles," she shared.
Post also pointed out that providing information on resale value is great for buyers from China, as most of the Chinese real estate investors that Verani has met were motivated by the strong education offerings in Massachusetts and New Hampshire.
"The buyers that we're getting are coming over here more for the educational experience and want a home, as opposed to renting while they are here, so I think that's great."
Moving forward more success with the Chinese market
Fresh off their success and with a brand new year ahead, Verani is looking to implement a more dynamic and assertive approach in their China strategy for 2018.
According to Post, Verani has several offices in Massachusetts and in New Hampshire, and they are already in the midst of training their agents to help them understand that Chinese buyers are a unique kind of customer who is vastly different from the local buyers they are used to, which could pose a new set of challenges that their agents must adapt to and overcome.
"We try to put agents in the Chinese buyers' shoes – coming to a location that they've never seen before, and most of the time they don't know anyone. So, we do try to let them be more sensitive to that fact, as well understand that it can take a little bit longer than a traditional sale," said Post.
"Again, it's just growing that relationship so that the [Chinese] buyer puts their trust and confidence in our seasoned agents here who know the market."
Working with Juwai
"It's been wonderful and fantastic. Juwai has been very supportive and very responsive. When we had some issues with the Firewall, we took it to Juwai support and they were able to give us a great solution for a workaround," Post enthused.
"They've been fantastic from beginning to the end, and my agents and I have been thrilled with them. It's been a positive experience."
Liked this article? Sign up for free to get Juwai Juwai Asia Market updates!