You've successfully copied this link.
Top 5 Southeast Asian destinations for Chinese LGBT buyers
By Juwai, 28 August 2018

With a spending power of US$938 billion in 2017 alone1, China's 90 million LGBT consumers are emerging as the next rising market to note.2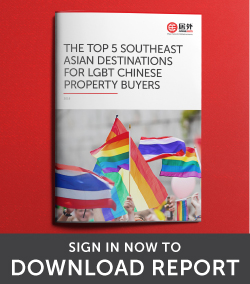 This is particularly so for real estate agents and developers seeking to woo the China market, as Chinese LGBT homebuyers are propelled to invest overseas by motivations that differ from heterosexual Chinese property buyers.
Interestingly, Southeast Asia is home to five of the globe's top destinations for Chinese LGBT international property buyers, and this is thanks to two factors driving this buyer interest: tolerance and affordability.
Unlike certain parts of Asia, Southeast Asia is the location of a number of cities that, for cultural reasons, display tolerant and broad-minded attitudes towards LBGT individuals. Case in point: Bangkok, which is well-known as being acceptant or even welcoming to LBGT travellers and investors. This open-mindedness is grounded in local history, but also stems from self-interest and a desire for beneficial international investment in any form.
The second reason that Southeast Asia accounts for more than half of the top destinations for Chinese LBGT international property buyers is due to its relative accessibility and affordability.
Geographic proximity, significantly lower initial purchase prices, and lower monthly costs put these markets within the reach of larger numbers of buyers. By contrast, in both mainland China and in other traditional investment markets – like Hong Kong, Singapore, and Sydney – high prices, fees, and restrictions, are making real estate investment more difficult.
Here are the 5 hottest investment destinations for LGBT homebuyers from China right now:

#1 Bangkok
Thailand is perhaps the most tolerant country in Asia, and Bangkok is known as Asia's gay capital. Same-sex sexual activity is legal in Thailand, and Buddhist monks often officiate over same-sex marriages.⁠3 Even now, gay-oriented nightspots cater to Chinese tourists, with local bar owners adding Chinese songs to their playlists, while nearly a dozen travel companies offer gay-themed trips to Thailand.⁠4
It's no wonder that Bangkok is viewed as a gay-friendly haven for both Chinese tourists and property buyers alike. At US$4,500 per square meter, new luxury condominium apartments in Bangkok sell for one-sixth the price of similar homes in Hong Kong. In other words, premium buyers can obtain larger homes, more central locations, and more premium fixtures in Bangkok than in Hong Kong and many other Asian and world cities.
Some Thai developers even offer services, such as children's play areas, gardens, fitness centers, and chauffeured Bentley limousines for residents' use. One such developer is Sansiri, who reports that Chinese buyers make up more than 80% of its foreign customers.⁠5
As for buyers in lower price brackets, Bangkok also offers affordable luxury condominiums that start from $130,000s – among the lowest in any major city popular with buyers from mainland China.
Despite Thailand's weakened economy, Bangkok property looks like an appealing investment to Chinese LBGT buyers. Bangkok land prices have climbed 1,000% over the past 30 years in the city⁠6, and prices for central condominiums have doubled in the last five years.⁠7
Even now, Chinese demand for property in Bangkok is growing rapidly, especially among LGBT buyers – Chinese property buyers had already made more enquiries for Bangkok real estate in H1 2018 than in all of 2017.8
45% of our Chinese LGBT buyer enquiries in Bangkok are for the purchaser's own use and 13% are for holiday use, according to Juwai.com consumer surveys.

#2 Phuket
Like Bangkok, Phuket is an appealing market for Chinese LGBT buyers seeking to fulfill both lifestyle and investment goals.
As one of the most popular beach holiday destinations in Asia for LGBT tourists, Phuket features dozens of LGBT-oriented venues, especially in the Patong area. Each April, thousands come for Phuket's week-long pride festival.
In Phuket, LGBT buyers most commonly purchase new properties with rental guarantees provided by developers, or short-term stay rentals that they can rent out or occupy while visiting. In smaller numbers, others come to live full-time.
"I have a lot of friends who don't feel safe in China and feel the need to hide. In Thailand, they don't have to worry," said Ji Chengfeng, a 37-year-old entrepreneur from Beijing, who was visiting Phuket on one of his frequent holidays in the kingdom.⁠4
In the wake of the 5 July 2018 Phuket ferry tragedy that saw 47 tourists – mostly from China – perish, Chinese buying enquiries for Phuket on Juwai.com dropped to 17% of the long term average, but indications are that this fall will be temporary. Even after the decrease, enquiries for Phuket property in mid-2018 were at nearly twice the level of the same period in 2017.

#3 Manila
Despite conservative attitudes, the LGBT lifestyle is almost universally accepted in the Philippines, particularly in Manila. The Philippines was home to Asia's first gay pride parade in 1994, and today Manila not only boasts a vibrant gay nightlife and advocacy community, but is hailed as one of the most LGBT-friendly places in Asia.
Chinese investors of all sorts feel reassured about buying in the Philippines due to Rodrigo Duterte's overt courting of their nation on issues both political and economic. Growth in the Manila market has been driven by the thriving business process outsourcing industry, which has also driven GDP growth – Q1 2018 saw the Philippines' annualised GDP grow at a rate of 6.8%, compared to 6.7% in 2017.
Prime residential prices in Manila have risen in each of the past three years, and rental rates have grown by 5–10% per annum.⁠9 Starting prices are low by Chinese standards – a one-bedroom apartment listed on Juwai.com in Quezon City has a suggested starting price of about US$62,000.⁠
LGBT interest in Manila property is high, and overall Chinese buying enquiries on Juwai.com were up 122% in Q1 2018, compared to the prior quarter.

#4 Phnom Penh
Cambodian culture is especially tolerant, so gay Chinese investors and expats in Phnom Penh consider it a sanctuary. Considerably less expensive or developed than Bangkok or Phuket, Phnom Penh nonetheless offers a robust LGBT-oriented nightlife and hospitality industry, and the city is appealing both to visit and to live in.
When it comes to real estate investment, Phnom Penh offers comparatively low property prices, strong economic growth, and a Chinese-oriented property industry in which nearly a dozen Chinese property developers are building or planning projects. In fact, most property showrooms have Mandarin-speaking staff.
Unlike nearby Thailand, where foreign buyers are limited to owning just 50% of any apartment building, foreigners in Cambodia may own the majority of units in a building. Additionally, because Cambodia is a key and eager participant in the Belt and Road Initiative (BRI), Chinese investors also reckon that investment in the country is viewed benignly by authorities in Beijing.
There are risks, however, including looming oversupply of new condo units and a thin rental market for the high-end condos that are so appealing to many Chinese buyers. Industry sources report that the Cambodian capital has 8,942 luxury apartments today, will have 22,828 by the end of 2018, and about 30,000 by 2020.⁠10 And while these new condos are considered inexpensive by global standards, these properties are still well out of the reach of local buyers.
To date, Chinese buyer demand is up 19% y-o-y in the first half of 2018. Mainland homebuyers are drawn to luxurious developments such as the Bridge, which offer rooftop pools, integrated gymnasium, reading lounge, sauna, playground, barbecue area, and an outdoor dining area at bargain prices by global standards. One-bedroom, pre-construction or off-the-plan apartments at the Bridge start at US$132,000.

#5 Ho Chi Minh City
While Vietnam has recognised same-sex marriages since 2015, the society's conservative nature still makes it somewhat unusual for most local gays to come out. For Chinese LBGT and other visitors and expats, however, the country is one of the most LGBT-tolerant nations in Asia. No city exemplifies this more than Ho Chi Minh City, the city formerly known as Saigon, and which many consider one of the most progressive cities in Southeast Asia.
Chinese LBGT buyers believe investment prospects in Ho Chi Minh City are good. Property investment does not seem to be affected by recent protests against proposals for special economic zones and their potential to be misused by China to obtain outsized influence in the country.
Yields can be as high as 6–8%, and this is largely due to a new subway and other investments. Already, property marketers are comparing Ho Chi Minh City to Shanghai even before the infrastructure construction and urbanization wave commences, with many claiming that tremendous gains in value are likely over the next decade.
Buyers from Greater China make up about 25 percent of all foreign buyers⁠11, and foreigners can acquire up to 30% of new condominium projects. Premium residences in the central city are priced at about half the value of equivalent units in Bangkok – less than 10% of the cost of similar homes in Hong Kong – while more affordably-priced units can begin at less than US$150,000.
And while Juwai data reveals that Ho Chi Minh City receives less investment than most of the others on this list, but demand has been growing since 2016. In the first half of 2018, Chinese buyers made 68% more buying enquiries than in the prior half. A typical unit of a one-bedroom, one-bath apartment in a new, luxury riverfront project in Ho Chi Minh City go for as little as US$250,000.⁠
Read Part 1, about the world's fastest-growing LGBT community.
Sources: 1. Jing Daily: The $900 billion missed opportunity: China's LGBTQ+ market; 2. Inkstone: The world's most popular gay dating app is made in China; 3. Thai Wedding Ltd.; 4. The Nation: Gay Chinese tourists flock to Thailand for fun, acceptance; 5. Thailand Property News: Chinese property fallout from Phuket disaster; 6. CBRE: Thailand ViewPoint: 30 years of the Bangkok land market; 7. Bloomberg: Bangkok's luxury apartment cost less than a studio in Hong Kong; 8. Juwai IQ Data H1 2018; 9. Santos Knight Frank Report in SCMP: Is Manila the next best location for property investment in Asia-Pacific?; 10. Reuters: In Cambodia's capital, Chinese buyers pump luxury property bubble; 11. CBRE Vietnam;
Liked this article? Sign up for free to get Juwai Juwai Asia Market updates!