You've successfully copied this link.
Juwai Chinese Global Property Investment Report 2018
By Juwai, 02 October 2018

In a mixed global market performance in 2017, Chinese property buyers and investors remain interested in overseas real estate and have even caused exceptional investment growth in certain countries.
Carrying on the growing trend of Chinese spending overseas, 2017 continued to break record highs in property purchases, reaching US$119.7 billion for the year, up from US$101.4 billion in 2016. That 18.1% growth pushed total Chinese spending on international properties to pass the US$430 billion mark at a time of perceived global market cooling, international trade tensions and capital controls.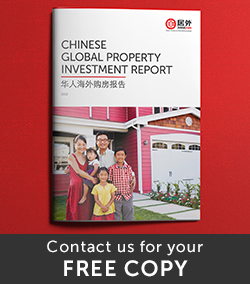 Growth
The Juwai Chinese Global Property Investment Report 2018 tracks investments in more countries than ever before, including Italy, Greece, France and Germany. Asia recorded the highest Chinese investment growth rate of 352.4% at US$32.9 billion in 2017. Europe followed suit with a 227.9% growth at US$25.6 billion.
World market
Traditional favourites such as US, Canada, New Zealand and Australia fared lower in 2017. Varied occurrences including a reversion to historic growth rates and a pullback in the US by 2016's biggest investors such as Anbang Insurance and the Wanda Group accentuated that trend. China remains the largest source of foreign investments in the U.S., clocking 15% of the total residential foreign buyer transactions.
While Chinese property investments in Australia fell, it remains larger than any other foreign nation at US$17.4 billion.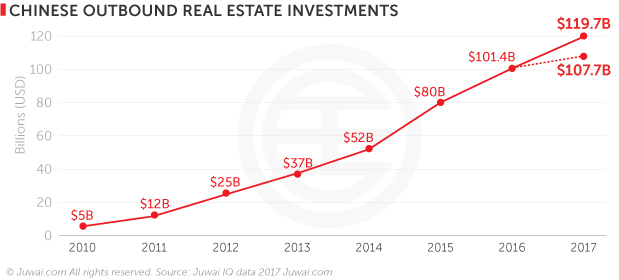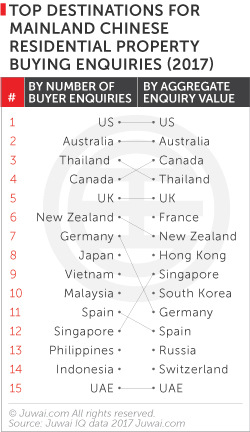 Shifting focus
At home, the Chinese government's capital control activities, including the buyers' shift to lower-priced properties, contributed to a muted Chinese international property investment growth in 2017. Chinese buyers have shifted their focus to asset diversifications, risk hedging, overseas education funding or higher returns to investments as opposed to fear of economic uncertainty.
Residential and commercial
The continued growth of personal wealth in China increased to US$30 trillion in 2017. A large portion of this was invested in the U.S., Australia, Hong Kong SAR and Malaysian residential markets.
As for commercial real estate, 54% of mainland Chinese investments worth US$53.8 billion were invested overseas.
Wealth
In 2017, the rise of Chinese upper-middle-class buyers in international property investment caused rapid growth in Southeast Asian investments, which are more physically and price-accessible to this demographic group.
There are now more Chinese billionaires than in the U.S.. With an estimated US$5.8 trillion worth of personal wealth in their control, the purchase of second homes, overseas education for their children and cross-border investments are appealing options.
The overarching view of the global property market is that potential Chinese property investors will simply turn their attention to other countries for real estate if faced with government restrictions.
The Juwai Chinese Global Property Investment Report 2018 provides the right intel for you to understand the possibilities for the global property market in 2019.
Would you like to know who the global property market top performers are? Get your free copy today.
Liked this article? Sign up for free to get Juwai Juwai Asia Market updates!