You've successfully copied this link.
Chinese demand for Japanese homes surges
By Juwai, 13 June 2019

There has been a dramatic surge in Chinese demand for Japanese residential property over the past 12 months. And you might be surprised by who is doing the buying.
After years of fluctuating within a relatively narrow band for several years, Chinese buying enquiries for Japanese real estate soared in the third quarter of 2018. Growth reached more than 1000% in the first quarter, compared to the same period in 2018.
Juwai.com attributes the rapid growth to the impact of capital controls, the demand for inexpensive and easily managed properties in close-by Japan, and enthusiasm about price growth in greater Tokyo. While Chinese buyer enquiries do not translate on a one-for-one basis into transactions, they are a useful proxy for demand.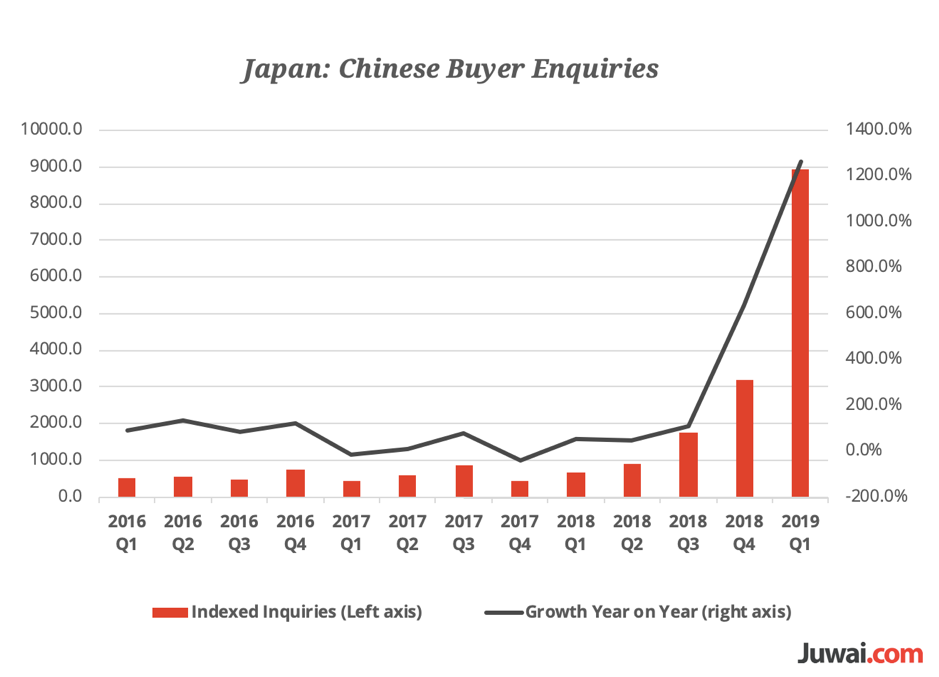 HNWI are not the ones buying Japanese property
China today has more billionaires than any other country, but it's not the high net worth individuals who are moving fastest into Japanese residential real estate.
Buyer interest is focused on 1LDK apartments, which in other markets would be called one-bedroom apartments. The median price of the apartments about which Chinese buyers enquire is US$180,000 (¥19.5 million). The least expensive greater Tokyo listing that offer for sale on Juwai.com to Chinese buyers is a small one-bedroom apartment in Suginami whose asking price is US$57,000 (¥6.2 million).
Japan attracts more capital than other countries
Since early 2017, capital controls have made expensive, new overseas investment increasingly difficult for Chinese buyers.
Capital controls and local market conditions have forced them to retreat from higher priced markets, such as the coastal states in the USA and Australia.
Some Chinese are selling their earlier investments in other countries and using the money to buy in Japan. Others have decided that an inexpensive Japanese apartment is easier to afford and manage than a home in California or New York. With prices now near their record highs, Tokyo property paradoxiacally looks like a good investment.
The expectation is that they will go higher because local demand remains strong and low inflation rates.
Apartment rental yields in China are only about 2.6%, and are not much better in Hong Kong or Singapore, traditional destinations for Chinese offshore investment. By contrast, yields in greater Tokyo can reach 5%.
While most Westerners still believe Japanese property is hugely expensive, it can feel like a bargain to Chinese buyers. In Shanghai or Beijing, US$1 million will only buy up to 53 square meters of prime residential space. In Tokyo, according to estate agency Knight Frank, $1 million would buy at least 40% more space, or about 76 square meters.
The Japanese way of life is appealing
The eight million Chinese tourists who visit Japan every year help drive property investment. Many Chinese consider Japan a model for their own country to aspire to in terms of quality of life. When they visit, they fall in love and often want to purchase a home here. Even so, 77% of Chinese property buyers are purchasing for investment.
There are two new factors in Chinese demand for Japanese real estate. Skiing is booming among Chinese. The country expects to have 300 million skiers by the time of the Beijing Winter Olympics in 2022, and most Chinese prefer to ski overseas.
Japan is their top destination.
We expect to see the Chinese share of the residential ski property market in Japan to increase from nearly nothing to at least 5% by 2025. To meet this growth, Juwai.com has been working hard to provide its users with more ski properties and related market data. That's why we just announced a partnership with SnowOnly.com.
Residency by investment
The second new phenomenon has to do with residency by investment. We've been surprised by the number of Chinese entrepreneurs who are obtaining Japanese residency visas. Chinese who are willing to start their own business in Japan can obtain visas for themselves and their family in as little as 4 months.
Among the advantages this can offer is the possibility of obtaining low-interest mortgage loans of just 1% or 2% to buy real estate.
Liked this article? Sign up for free to get Juwai Juwai Asia Market updates!