You've successfully copied this link.
Dubai offers Chinese home buyers plenty of real estate opportunities
By Juwai, 23 July 2019

Gulf state woos Chinese property investors with visas and retirement options.
S. Chadha, an expatriate who has lived in a luxurious Dubai downtown address for the past 12 years, has been looking out of his balcony each day, gawking at the increasing number of cranes perched on top of mushrooming construction sites.
"From my vantage point, I can easily count up to five buildings that are being constructed. There's probably more. I think developers are anticipating an influx of new residents, probably from China," said Chadha.
Chadha's remarks may not be off the mark. Chinese property investors have been casting their sights on the United Arab Emirates (UAE) as opportunities in saturated western markets such as the US and UK splutter following uncertainties created by ongoing Sino-US trade war and Brexit turbulence. Other factors driving Chinese investments into the UAE include the current trend of the real estate and stock markets in China and the depreciation of the Chinese yuan.
Dubai, the second largest city in the UAE, appeals to Chinese buyers. Juwai.com revealed that Chinese enquiries about Dubai properties rose 232 per cent from 2017 to 2018. Most (84.8 per cent) were enquiring about properties for investment purposes.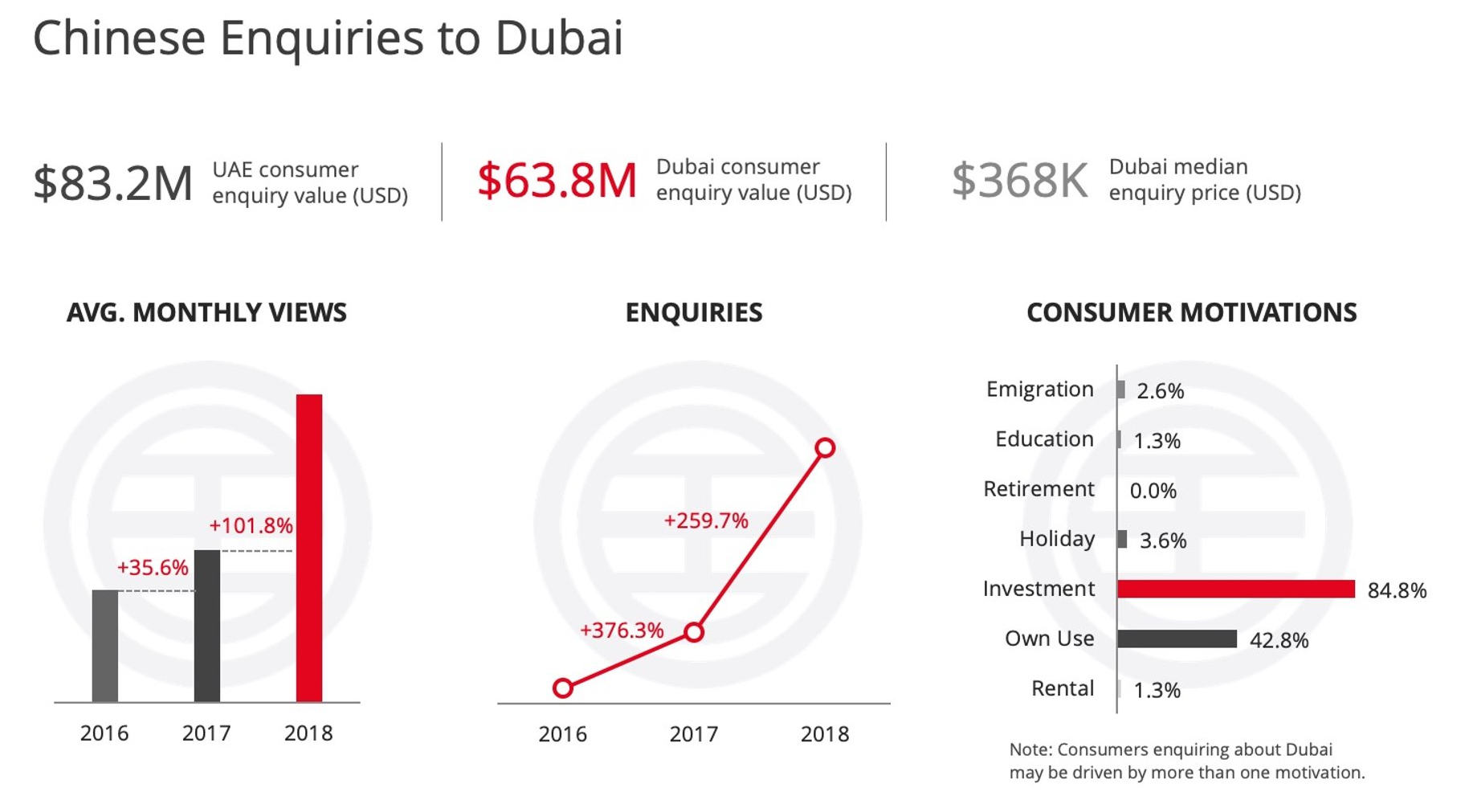 The government arm of Dubai Land Department (DLD) reported that investments by Chinese nationals accounted for some 1.7 billion dirhams (US$463 million) in the first three quarters of 2018. This figure makes them the sixth highest nationality investing in the emirate during this period, compared to its 15th ranking in 2017.1
Why Dubai is a great real estate investment destination for Chinese?
As part of the 'Belt and Road Initiative' unveiled in 2013 by China and aimed at cultivating trade and other economic partnerships with 68 countries, China has strengthened ties with the UAE as a whole. With 4,000 trading companies in the UAE and a surge in Chinese tourists, Dubai has become quite a hotspot for Chinese investors.
The number of Chinese expats in Dubai has increased by 53 percent over the last five years, with around 230,000 Chinese nationals currently living in the emirate. Following the visit of Chinese President Xi Jinping in July 2018, ties between China and the UAE became even stronger. 2
The desert city has been topping lists for global investments. It also ranks as the best place to live in the Middle East in this year's Mercer 'Quality of Living Survey', due to its stable political and social environment, business environment, education and public services.3. Dubai is also praised for its plurality, multiculturalism and tolerance, making it very cosmopolitan and welcoming to foreigners
The Gulf state has also implemented many initiatives to woo Chinese home buyers as part of its Global Promotional Investment Program. The scheme targets five countries. China is one of them besides the US, Japan, South Korea and India. Special investment task force from the government has been on promotional missions to China. DLD has even opened two offices in Beijing and Shanghai in the past two years, and plans to open another in Shenzhen and other mainland cities, according to a report by the Abu Dhabi-based The National newspaper.
Other initiatives include listing Chinese as the third major language in more than 100 Dubai schools, long term residency visas and retirement options. Dubai recently approved visas valid for between five and 10 years. Visas for expat workers and professionals normally last up to three years only. The new measures allow those who invest 5 million dirhams (US$1.36 million) in property; have a monthly income of 20,000 dirhams; or have more than one million dirhams in capital, to secure long-term visas.4
On top of it, Emaar, one of Dubai's top property developer, plans to develop the Middle East's largest Chinatown in the retail district of Dubai Creek Harbour, in a bid to make the Gulf state a second home for Chinese nationals.5
The UAE also allows full ownership of companies and free-hold properties. This coupled with a zero-tax regime are great draw cards for wealthy property investors.
Current state of Dubai property market
It's a "buyer's market", say industry experts. After nearly three years of a softening market due to a supply gut, Dubai's February 2019 all-residential property price index (RPPI) has shown a fall of 9.5 per cent, the biggest year-on-year decline since February 2016, according to Reidin.com.
Despite the continued influx of inventory, experts are optimistic and believe demand could strengthen given the recent approval of a range of legislation - mostly linked to property ownership such as to ease visa and foreign business ownership by the UAE cabinet. The city's property prices could further be buoyed by the thriving tourism sector and upcoming 2020 World Exposition.
Properties, on average, currently rake in rental yields at around 5.9 per cent, according to Global Property Guide. Compared to China's gross rental yield of just 2.1 per cent, this makes Dubai very attractive. Dubai, according to the latest data from Knight Frank, is also the world's least expensive ultra-prime market, with an average price of US$625 per square foot.
What is available in Dubai's real estate market?
In 2018, about 43,000 units were added to Dubai's total residential stock (which stood at around 491,000 units at end of 2017), providing a wide array of choices to pick from for prospective buyers, according to JLL MENA, a property consultancy company.
Both ready and off-plan properties appeal to Chinese buyers. Location, annual yield and selling prices also weigh heavily on purchasing decisions. Downtown Dubai, Greens and International City are the three most popular areas with Chinese buyers, reported Khaleej Times.
Downtown Dubai is favoured because of its central location and its cost-effective price. Most large Chinese companies are located near the Greens. Its proximity to large enterprises, public transport as well as the cosmopolitan and family-friendly environment make this area very attractive. International City is Dubai's most famous Chinese gathering area. Located next to Dragon Mart - a large mall for wholesale purchase of Chinese products - Chinese nationals who want to live a convenient life, tend to buy or rent an apartment here.
What to expect in the future?
Some property developers expect Chinese investments in the UAE's real estate sector to grow over 70 per cent during 2019, reinforcing the growth potential on offer in the country.6 Price declines in Dubai's real estate market are likely to persist given an oversupply in the market. The number of residential units in Dubai is scheduled to increase to 652,000 by the end of 2021, up from 520,000 at the end of last year. However, the Institute of International Finance (IIF), states that real estate in the region "has often operated on a model that emphasises excess for the sake of excess" in anticipation of future growth.7
Juwai.com noted that some Chinese will invest in property for own use in Dubai. But the majority of buyers are investment-oriented, trying to hedge the risks they are exposed to in the Chinese market by investing in overseas properties which provide better yields. According to the website, in 2017, when Chinese residential property investment fell in traditional big destination markets like the US and Australia, it saw an increase in enquiries for the UAE, especially about Dubai.
Property experts say Dubai and the UAE may also benefit from the increasingly tense relationship between China and the US
"We expect some Chinese investors will seek out less controversial markets. Dubai is well placed to win some of these dollars," said Carrie Law, CEO of Juwai.com.
Sources: 1. DBL – Khaleej Times: Chinese appetite for Dubai is rising; 2. Arabian Business: 2019 Prediction: Greater investment in high-end Dubai property; 3. Mercer – The First Group: Dubai tops quality of living survey; 4. ZAWYA : Dubai FDI's Global Promotional Investment Team announces preparations for investment mission to China; 4. South China Morning Post: Dubai offers long-term residence, retirement visas to lure wealthy Chinese to boost slumping property market; 5.CISION PR NEWSWIRE: Premier Developer, Emaar, to Build Middle East's Largest Chinatown at Dubai Creek Harbour; 6. Khaleesh Times: Chinese investments in UAE real estate set to grow 70% during 2019; 7. ZAWYA: GCC real estate slump continues, but there is light at end of the tunnel, says IIF
Liked this article? Sign up for free to get Juwai Juwai Asia Market updates!