You've successfully copied this link.
Skiing boom draws Chinese buyers to Japan
By Juwai, 20 August 2019

Japan's top cities and ski resorts attract Chinese buyers who see great investment opportunities in the country
Each winter, snow bunnies head to snow-capped mountains in Europe, the US and Canada for their annual skiing adventure. But lately, Niseko, a once-quiet skiing outpost in the northern island of Hokkaido in Japan, has been blinking on the skiing radar.
Relatively unknown before, Niseko is now abuzz with tourists, most of whom are from Asia, with an increasing number of them coming from mainland China. Hearing Mandarin being spoken on the slopes is now a common occurrence. This burgeoning ski village boasts one of the best snowfalls in the world and conditions for all levels of skiing. Ski enthusiasts across the world have reinforced it as the world's top ski destination by voting for the ski resort online and ranking it as number one in Japan.1
Why the surge in Chinese skiers?
The catalyst for the surge in Chinese skiers started when Beijing won the bid to host https://list.juwai.com/admin/sonata/news/post/1910/showthe 2022 Winter Olympics in 2015. Since then, the Chinese government has gone all out to promote winter sports. This has fuelled the construction of more than 700 domestic ski resorts (indoor and outdoor), but harsh weather, high prices and substandard services have driven Chinese snowhounds towards foreign destinations like Japan.2
According to the 2017 China Ski Industry White Book, Japanese resorts account for 50 percent of China's outbound winter sports tourists. Currently, China has about of 12.1 million skiers and snowboarders. It is estimated that more than half of them travel abroad. Japan, by far, is their most favoured destination, ahead of Switzerland, Italy and Canada.3
Chinese tourists boost property investments
As a result, the influx of Asian visitors is transforming the skiing industry in Japan and the property market that serves it. This is especially the case in Hokkaido, especially in Niseko Village, Hirafu, Hanazono and Annupuri, says a Financial Times report.4
Since April this year, 726,100 mainland Chinese have visited Japan, according to JTB Tourism Research & Consulting Co, boosting property investment by foreigners. For Chinese buyers, Japan serves as a model for their own country to aspire to in terms of quality of life. Buying a property in Japan means they are closer to their goal of owning a dream home. Even so, 77 per cent of Chinese property buyers are purchasing for investment, according to Juwai.com, a leading Chinese website for buyers of overseas property. Chinese buying enquiries on Juwai.com for Japanese real estate soared in the third quarter of 2018.
Why Japanese real estate is attractive
Real estate in Niseko or Hokkaido right now is benefiting from a thriving tourism market, and for the last few years, land values have risen by some 30 per cent.5 High quality Japanese construction and rapidly increasing yields on investment also make Japanese homes desirable, say property agents.
Several factors drive Chinese demand for Japanese real estate. Skiing accounts for one of them, according to a Niseko Real Estate report. China expects to have 300 million skiers by the time the Winter Olympics takes place. While locals may be learning the ropes at home, more adventurous and affluent Chinese head to Japan, where the mountains are larger and the powdery snow is fluffier and deeper.
Strict capital controls are also pushing Chinese buyers to look beyond traditional markets in the west. Since 2017, it has become more expensive and difficult for Chinese to invest in the US and the UK.
Japan, on the other hand, is not only closer to home but is relatively cheaper. On top of it, foreigners can own freehold land there – as opposed to the mainland, where all the land is on government leases.
Residency by investment is another plus. Chinese who are willing to start their own business in Japan can obtain visas for themselves and their family. Furthermore, Japan doesn't impose extra fees, taxes and regulations on foreign buyers.6
Where are the Chinese buying?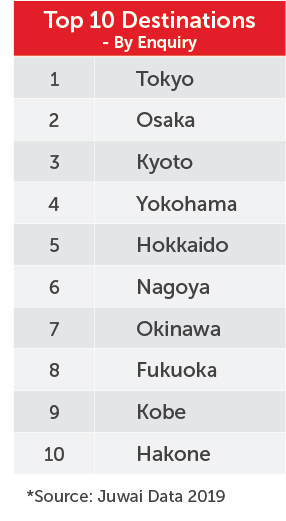 Ordinary residential areas in Tokyo and Osaka are most in demand with buyers looking for a second-home or an apartment. Budgets range between US$200,000 and US$600,000. Many also choose to rent out their purchased properties, an Asian Nikkei Review report reveals.
Tokyo, the capital, remains a primary target. Second pick would be Osaka, a one-time financial centre and now, a tourist hot spot. Kyoto, an historical city is also high on investors' lists, but while demand is high, supply is low. Yokohama which is only 30 minutes by train to Tokyo, offers a nice environment close to the ocean as well as cheaper property prices.7
However, it is Niseko which has seen the highest growth in enquiries out of any town in Japan, according to Juwai.com. With Asian buyers hungry for ski-in ski-out properties, Juwai.com forecasts Chinese share of the residential ski property market in Japan to increase from nearly nothing to at least five per cent by 2025.
Sources: 1. Asia EBT Travel News: Niseko Village is ranked Japan's number one ski resort; 2.SCMP: Why most of the 1.2 million skiers in China avoid local ski resorts; 3: OZY: How China plans to double the number of skiers worldwide; 4. Financial Times: Asia's snowflake generation; 5. SCMP: Japan's property market lures more Hong Kong investors; 6: Mnasionglobal: Hokkaido offers Strong Investment Opportunities in a growing Market; 7. Niseko Real Estate: Japan's property market lures more Asia;
Liked this article? Sign up for free to get Juwai Juwai Asia Market updates!