You've successfully copied this link.
Top 10 U.S. Cities for Asian Property Buyers in 2021
By Juwai, 05 March 2021

While the pandemic may have stalled Asian property buyers' activities, this has not damped their appetite for real estate investments – be it locally or internationally.1
Take the USA, for example. With the support of data recorded by Juwai IQI, the enquiry values show these property buyers have reached up to $3.78 billion U.S. dollars in the year 2020, with the likelihood of the numbers rising. While the pandemic has positively affected every sector, the U.S residential real estate has been remarkably resilient and rebounding.
The real estate sector has supported the country's economic recovery - 2020, a record-breaking year for the U.S. housing market.
Furthermore, with the introduction of the vaccination, many Asian buyers have revived interest in cross-border investments and factors such as immigration, education, and retirement.
Here is a look into the top 10 cities in the U.S. attracting Asian property buyers in 2020.
1. Seattle
With the Seattle housing market correcting itself in 2019 regarding several factors, real estate investors had plenty of attractive options heading into 2020. The Urban Land Institute's Emerging Trends in Real Estate 2020 describes Seattle real estate as " in expansionary mode," ranking the city as 10th in the nation in overall prospects.2 Additionally, Seattle's properties are spending more time on the market, which indicates that buyers are not feeling pressure to purchase the first suitable investment property that becomes available.
Renters have more options in the surrounding area - driven by development and redevelopment opportunities, investor demand, projected net migration, job density, and an overall strong economy.
2. Los Angeles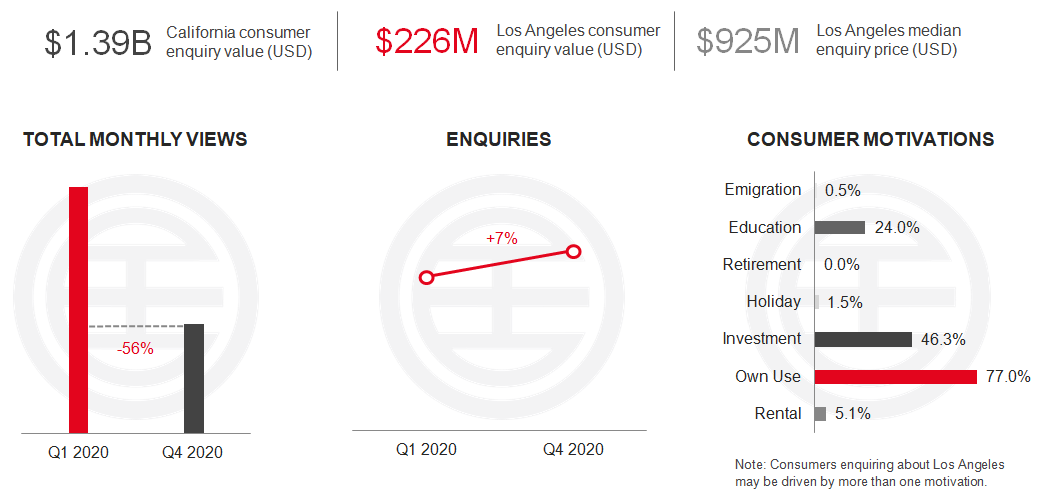 Los Angeles is distinctive because it captures the essence of a multi-ecological – melting pot of diverse cultures that is the spirit of L.A.3 Los Angeles is investing in infrastructure, subsequently making it a weapon to support economic growth. The city has a multi-ethnic population and has employed nearly 1.1 million people in the trade, transportation, and utilities. The government provides a variety of incentive programs that are made available to both small and large businesses.
The average rental stands at $2530, and the median home value in Los Angeles is $625,000. The intermediate luxury residential rentals across the world rose 1.3% over the years, while the capital values slowed to 0.7%. Los Angeles is also the centre of a five-county metropolitan area and basks in the glory of Hollywood, Beverly Hills, the Sunset Strip, and the famous beaches.
Tourism accelerated Los Angeles' economic prosperity in 2018 as visitors pumped an all-time high of $23.9 billion directly into the L.A. economy, generating a record $36.6 billion in total economic impact.
3. Orlando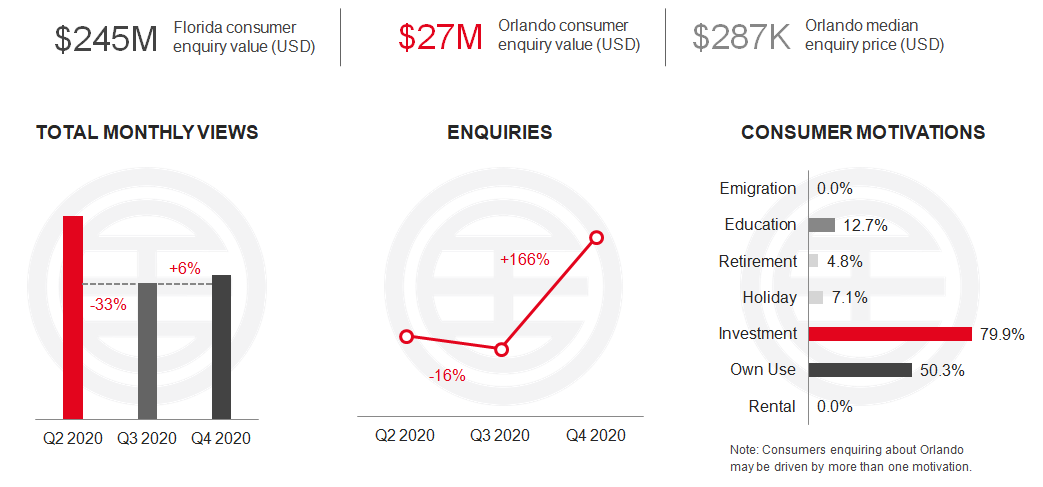 The demand for single-family homes has been on the rise in the Sunshine State for quite some time. What is even more interesting is that, despite low housing prices statewide, many home-seekers choose to rent instead of buy - causing rental rates to skyrocket and is expected to keep increasing in 2021.4 Furthermore, values are rising in the city and with no sign of slowing down. With the attractive prospect of low property taxes and insurance prices, there is no state income tax! Add warm weather and exceptional health care, and you can see why many Asian buyers, especially the generation of retirees, are moving to Florida.
With a growing population of over 2.5 million residents, the Orlando real estate market is fueled by job seekers, baby boomer retirees, and students who want to live in a " cheap and cheerful" area that offers a high quality of living at a reasonable cost.
4. Irvine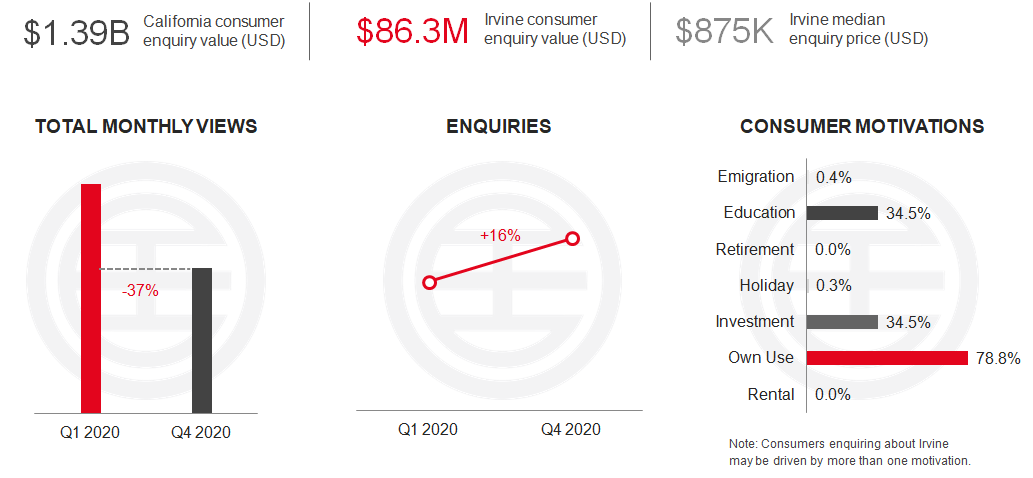 Irvine was and still an economic powerhouse, and it does not disappoint. With its well-deserved reputation as " Safest City in America," 5, a strategic location, the ability to attract and retain talent, its high educational attainment, its enviable quality of life, and its rich cultural diversity, Irvine's global economy makes an impression here and around the world. Strategically located in the middle of Orange County and Southern California, Irvine is home to cutting edge R&D universities such as the University of California.
With an ecosystem benefiting innovative start-ups, Asian buyers interested in business investments will enjoy a cost of business at least 50% less than Silicon Valley!
5. New York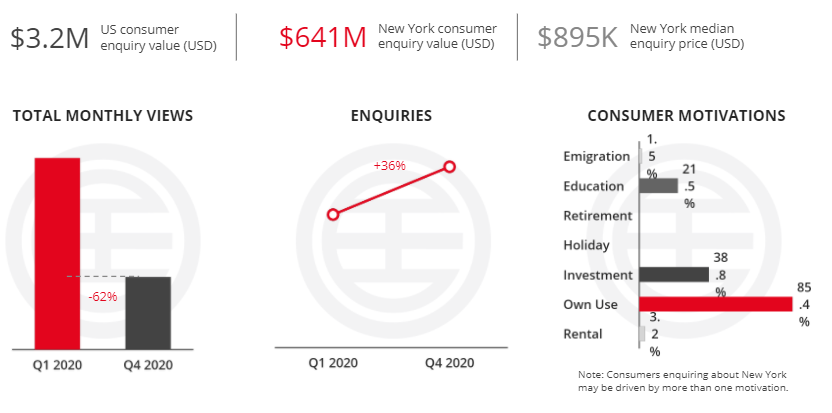 The New York State, famous for its natural treasures, such as the Niagara Falls, Finger Lakes and Adirondacks, the Empire State building draws an increasing number of visitors, making tourism a major driving force behind the business boom and job growth.6 With thriving business and service sectors, the area is marked by population mobility that ensures a stable rental property demand.
As a result, the New York State is a haven for real estate investors looking for relatively stable prices, appreciation and liquidity for income properties.
6. Boston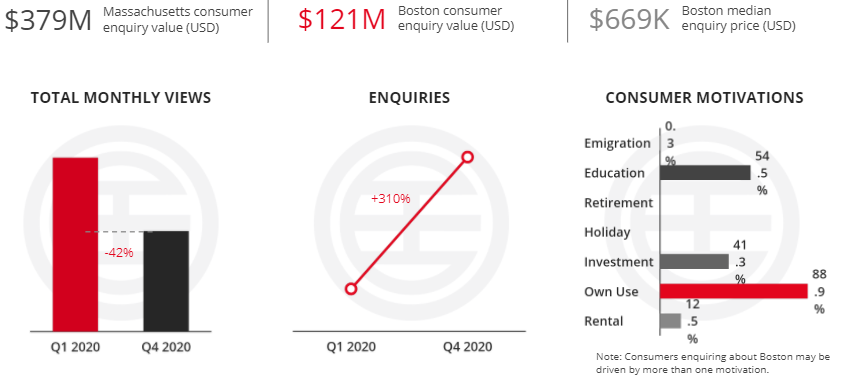 Boston, one of the oldest cities in the U.S, has also has seen a building boom in its housing market in such areas as Seaport District luxury condos and Midtown high rise condos in recent years. The Boston real estate market, is promising and shows a new increase in both buyers and sellers' opportunities. The median rent in properties has the Beacon Hill apartments for rent was around $1500 a month as of August 2018.
Given the mostly working-class population in the city, many of these renters cannot afford Beacon Hill condos for sale, selling for around $160 a square foot, so they are guaranteed to rent for the long term. Given the relatively high cost of Beacon Hill apartments for rent, this creates a surprisingly good return on investment for investors in the downtown Boston real estate market.
7. Houston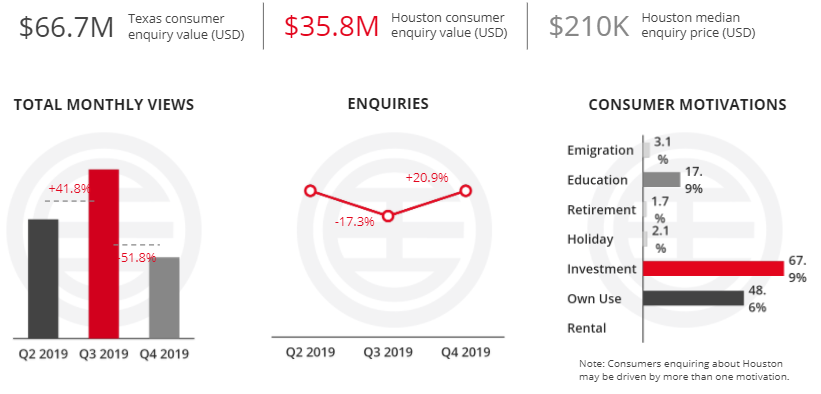 As the 4th largest city in the U.S., Houston is ranked second in population growth due to affordable rents, supporting a rental population spike between 2006 and 2018. The share of renters in single-family homes grew, indicating good signs for investors, as Houston has a lower vacancy risk. One thriving renter base for investors consists of Houston's high concentration of college students - with more than 315,000 students enrolled in over 100 local colleges.
The city is also home to the Texas Medical Center, the largest medical centre globally, with an estimated regional annual economic impact of $35 billion.
8. San Jose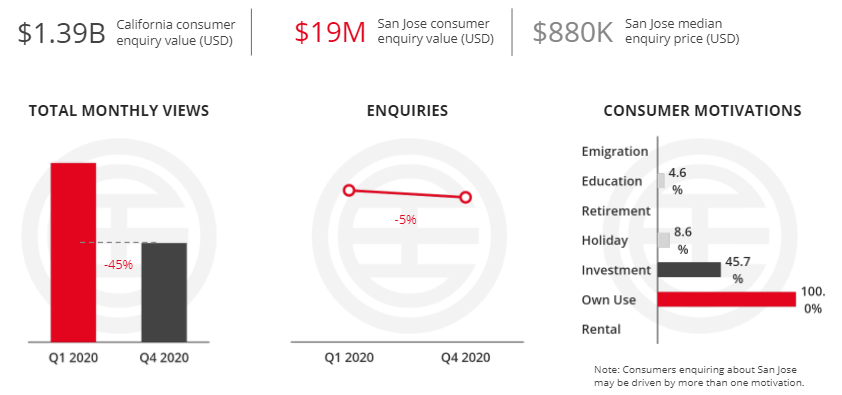 In 2020, the San Jose real estate market was a top-tier market for the traditional rental strategy. There are many reasons why the San Jose housing market is desirable. The reasons break down into four: a strong economy, growing population, lucrative investments, and high appreciation rates. San Jose was the second-fastest growing economy globally, with the San Jose real estate market surpassing the California real estate market.
This is best illustrated with unemployment rates, where San Jose's rate is 2.7%, which is the fourth-lowest in the nation. It is home to the headquarters of many tech giants, such as PayPal, eBay, and Cisco, becoming the second-best small business growth in the U.S. for two years in a row. Another reason to invest in the San Jose real estate market is the mere fact that San Jose rental properties are very lucrative.
The average rental income for traditional San Jose investment properties is a little over $3,000, much higher than the national rent. Long-term rental properties in the best neighbourhoods in San Jose have even higher income and return on investment averages.
9. San Francisco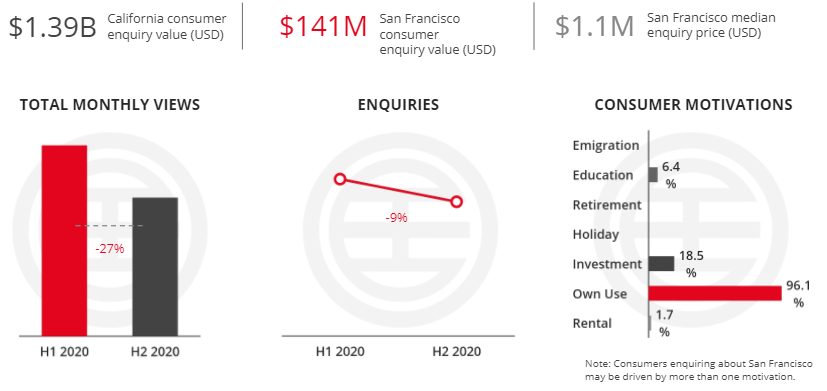 The San Francisco Bay area has continuously seen impressive economic growth, and the impact of the region's tech boom is noticeable across many sectors and the city's urban expansion. One sector that has been massively affected by this growth is the San Francisco real estate market. In recent years, prices have soared, and demand seems to be insatiable.
The strong economy of San Francisco continues to defy even the most optimistic projections. At just 2.9%, the city boasts one of the lowest unemployment rates in the country and its GDP per capita has recently exceeded the $100,000 mark.
Furthermore, the city's GDP registered a growth rate of 29% in the first half of the decade, making San Francisco one of the top 10 fastest growing economies in the U.S.
10. Dallas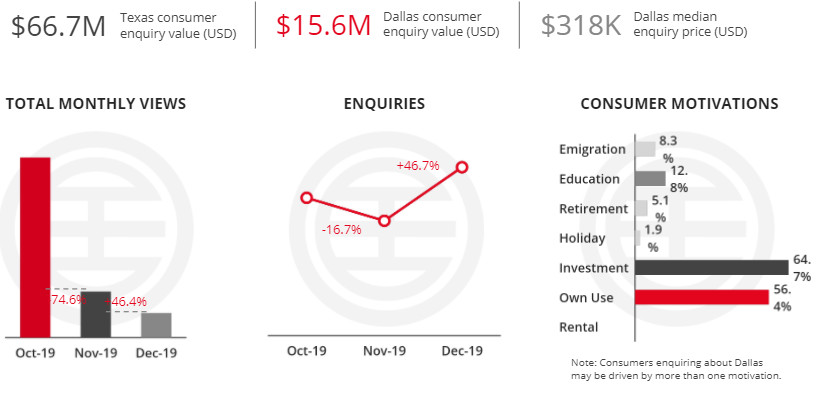 Dallas is one of the most recognizable and buzzworthy metropolitan areas in the U.S. — if not the world — and is considered a quasi-gateway city for investors looking for dependable, liquid real estate environments.
Fortunately, despite its popularity and skyrocketing growth, Dallas is still an accessible market with many upsides. The population of Texas continues to explode as people move to the state in droves, according to the Dallas Business Journal. In the Dallas metropolitan area alone, the population grew by nearly 2% last year, helping Texas to add more residents last year than any other state in the U.S.
While many other parts of the country are still struggling to recover, Dallas is still a job hub and creates a land rush that has made Dallas and the rest of North Texas one of the countries' fastest-growing areas.
Sources: 1.Emerging Trends in Real Estate; 2. Here's what the 2021 housing market will look like in Seattle; 3. Why Invest in Los Angeles Real Estate?; 4. The Orlando Real Estate Market: What Investors Should Know For 2021; 5. Irvine is Safest City of its Size for 15th Year; 6. Top Five Reasons You Should Totally Visit New York City
Liked this article? Sign up for free to get Juwai Juwai Asia Market updates!